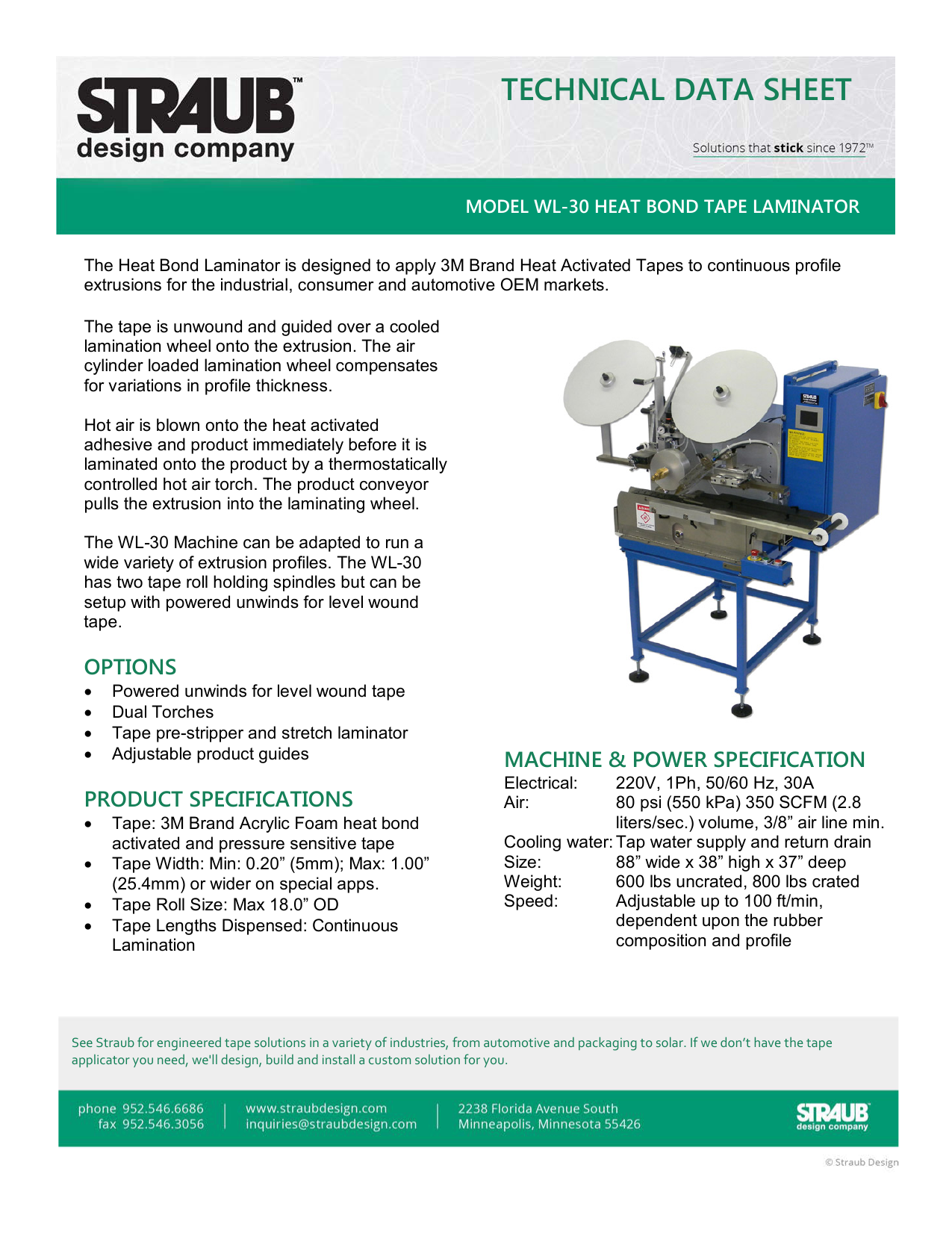 TECHNICAL DATA SHEET
MODEL WL-30 HEAT BOND TAPE LAMINATOR
The Heat Bond Laminator is designed to apply 3M Brand Heat Activated Tapes to continuous profile
extrusions for the industrial, consumer and automotive OEM markets.
The tape is unwound and guided over a cooled
lamination wheel onto the extrusion. The air
cylinder loaded lamination wheel compensates
for variations in profile thickness.
Hot air is blown onto the heat activated
adhesive and product immediately before it is
laminated onto the product by a thermostatically
controlled hot air torch. The product conveyor
pulls the extrusion into the laminating wheel.
The WL-30 Machine can be adapted to run a
wide variety of extrusion profiles. The WL-30
has two tape roll holding spindles but can be
setup with powered unwinds for level wound
tape.
OPTIONS
•
•
•
•
Powered unwinds for level wound tape
Dual Torches
Tape pre-stripper and stretch laminator
Adjustable product guides
PRODUCT SPECIFICATIONS
•
•
•
•
Tape: 3M Brand Acrylic Foam heat bond
activated and pressure sensitive tape
Tape Width: Min: 0.20" (5mm); Max: 1.00"
(25.4mm) or wider on special apps.
Tape Roll Size: Max 18.0" OD
Tape Lengths Dispensed: Continuous
Lamination
MACHINE & POWER SPECIFICATION
Electrical:
Air:
220V, 1Ph, 50/60 Hz, 30A
80 psi (550 kPa) 350 SCFM (2.8
liters/sec.) volume, 3/8" air line min.
Cooling water: Tap water supply and return drain
Size:
88" wide x 38" high x 37" deep
Weight:
600 lbs uncrated, 800 lbs crated
Speed:
Adjustable up to 100 ft/min,
dependent upon the rubber
composition and profile
See Straub for engineered tape solutions in a variety of industries, from automotive and packaging to solar. If we don't have the tape
applicator you need, we'll design, build and install a custom solution for you.

* Your assessment is very important for improving the work of artificial intelligence, which forms the content of this project