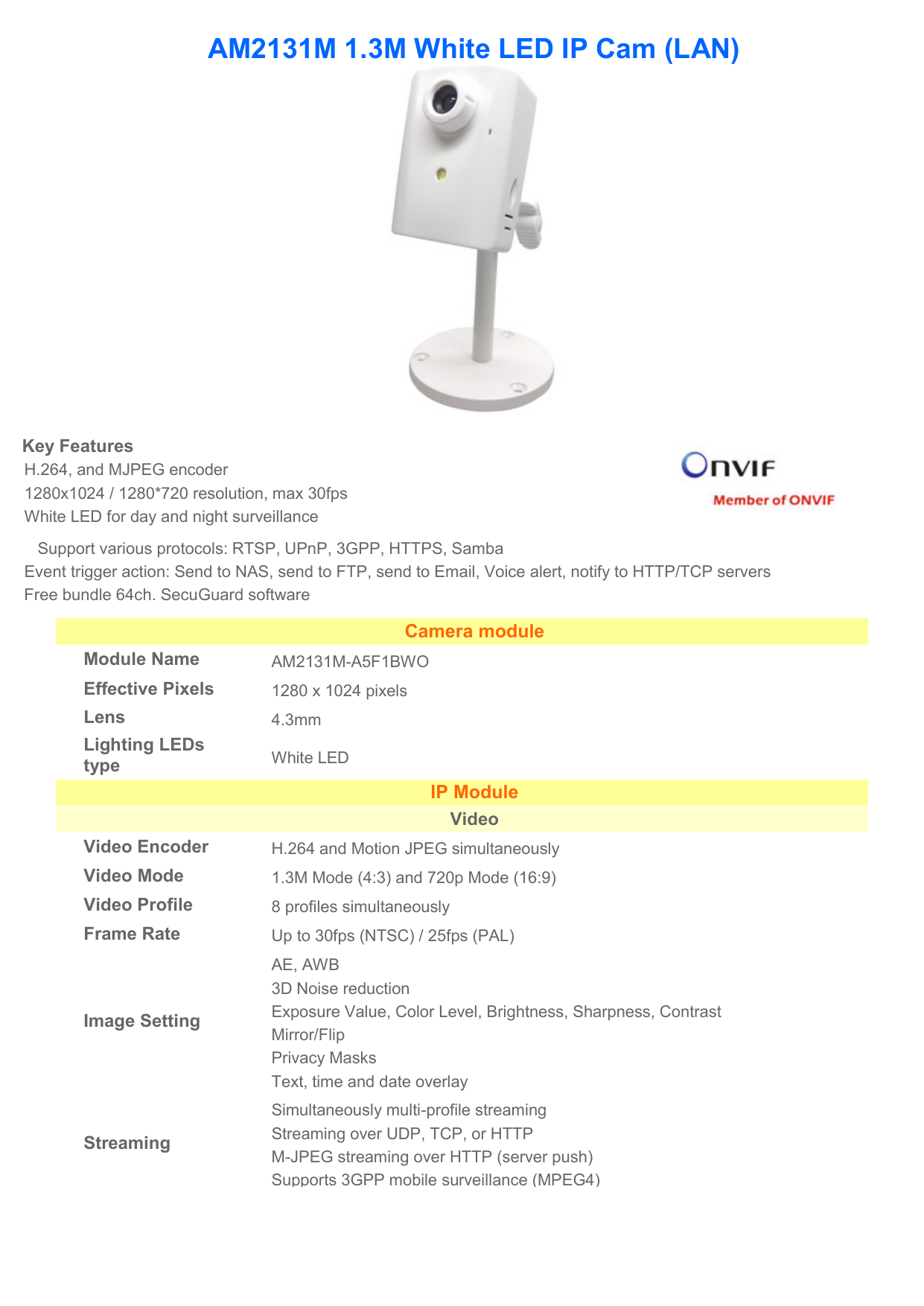 AM2131M 1.3M White LED IP Cam (LAN)
Key Features
H.264, and MJPEG encoder
1280x1024 / 1280*720 resolution, max 30fps
White LED for day and night surveillance
Support various protocols: RTSP, UPnP, 3GPP, HTTPS, Samba
Event trigger action: Send to NAS, send to FTP, send to Email, Voice alert, notify to HTTP/TCP servers
Free bundle 64ch. SecuGuard software
Camera module
Module Name
AM2131M-A5F1BWO
Effective Pixels
1280 x 1024 pixels
Lens
4.3mm
Lighting LEDs
type
White LED
IP Module
Video
Video Encoder
H.264 and Motion JPEG simultaneously
Video Mode
1.3M Mode (4:3) and 720p Mode (16:9)
Video Profile
8 profiles simultaneously
Frame Rate
Up to 30fps (NTSC) / 25fps (PAL)
Image Setting
AE, AWB
3D Noise reduction
Exposure Value, Color Level, Brightness, Sharpness, Contrast
Mirror/Flip
Privacy Masks
Text, time and date overlay
Streaming
Simultaneously multi-profile streaming
Streaming over UDP, TCP, or HTTP
M-JPEG streaming over HTTP (server push)
Supports 3GPP mobile surveillance (MPEG4)
Controllable frame rate and bandwidth
Constant and variable bit rate (MPEG4 / H.264)
ROI
Region of Interest
2 windows, free scale region of interest
Audio
Audio Encoder
RTSP: G.711 64kbps, G.726 32kbps
3GPP: AMR
Audio Streaming
One-way or two-way
Audio Input /
Output
Built-in MIC
Line out
Network
Ethernet
10/100M auto negotiation
Supported
Protocols
IPv6, IPv4, TCP, UDP, HTTP, HTTPS, SMTP, FTP, NTP, DNS, DDNS, DHCP,
DIPS, ARP, Bonjour, UPnP, RTSP, RTP, RTCP, IGMP, PPPoE, 3GPP, Samba,
ICMP
DDNS
DIPS
NAT Transversal
UPnP NAT transversal
Security
Password protection, IP address filtering, HTTPS encrypted data transmission,
user access log
Users
20 simultaneous unicast users
System Integration
ONVIF
Open API for software integration
Alarm Triggers
Intelligent video motion detection
Audio Detection
Motion Detection
Video motion detection up to 10 windows
•
•
Alarm Events
Video Buffer
•
•
File upload via FTP or email
File upload via Samba to NAS
Notification via email, HTTP, and TCP
Audio alerting output (speaker)
Pre- and post- alarm buffering
General
Power Supply
Connectors
12V DC external power adapter
RJ-45 10BaseT/100BaseTX
12V DC power jack
Audio out
Factory default reset
Indication LED
Green and orange LEDs
Operating
Temperature
0°C to 40°C
Operating
20% ~ 80% (non-condensing)
Humidity
Dimension
H x W x D: TBD
Viewing System
OS
Windows® XP, Vista, 7, 8
Browser
IE 6.0 or later, Firefox 2.0 or later, Safari, Google Chrome
Cell Phone
With 3GPP player, iPhone, Android
Video Player
VLC, Quick Time, Real Player, Core Player
Software
Search &
Installation
IP Wizard II
64ch. SecuGuard™
•
•
•
•
Bundled NVR
Program
•
•
•
•
•
•
•
•
64ch. multi-channel supports Tri-decoder
16ch. video playback (synchronization)
Smart & re-sizeable digital zoom.
Snapshot and edit
Motion, DI, Scheduler recording
Fast rewind and forward (MPEG4, H.264, MJPEG rewind)
32x24 motion detection grids
Smart search (by time, by motion )
E-MAP
Event schedule setting
Remote service
Camera tampering
※ The product design and dimensions may change without previous notice for improvement of performance.