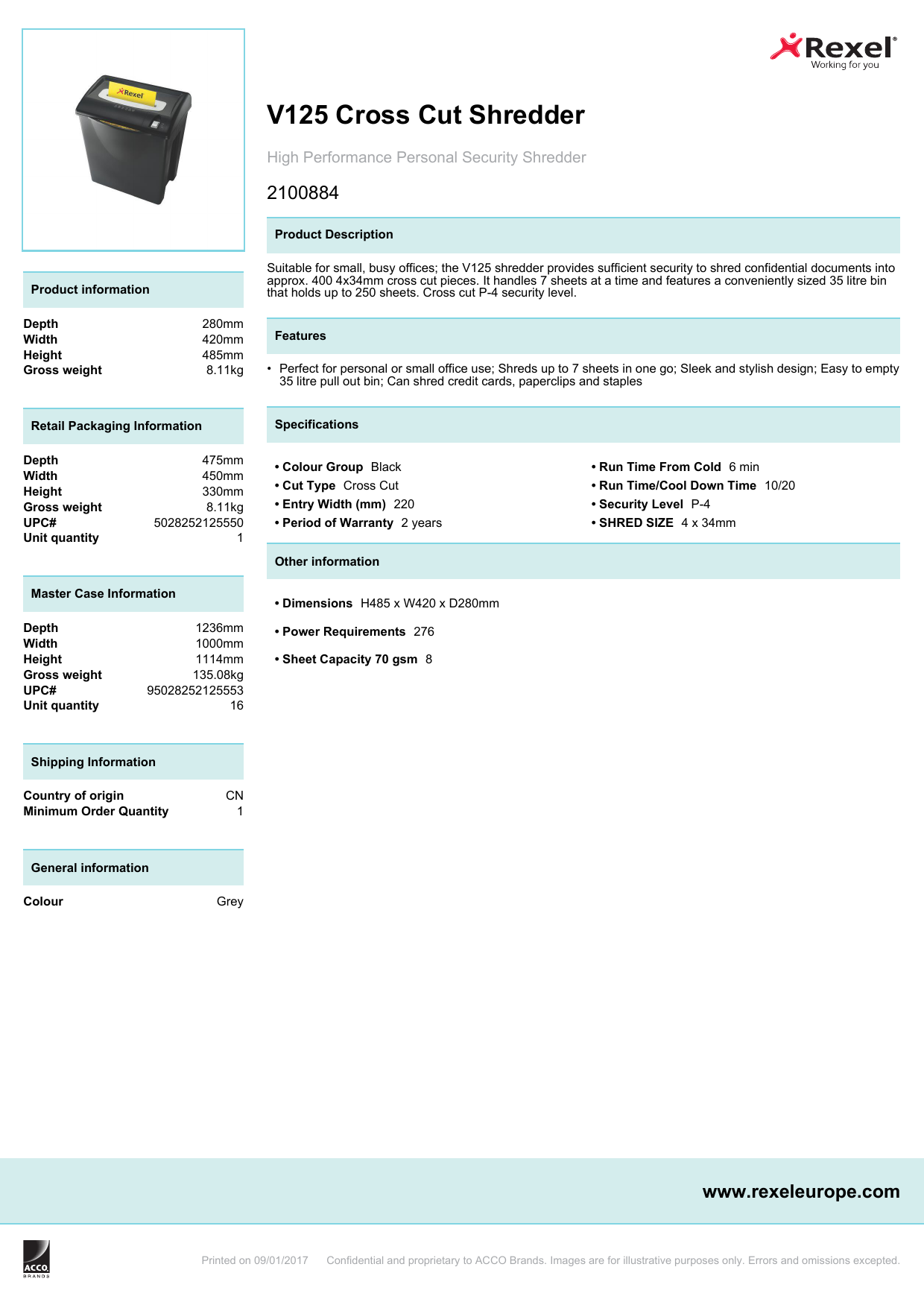 V125 Cross Cut Shredder
High Performance Personal Security Shredder
2100884
Product Description
Suitable for small, busy offices; the V125 shredder provides sufficient security to shred confidential documents into
approx. 400 4x34mm cross cut pieces. It handles 7 sheets at a time and features a conveniently sized 35 litre bin
that holds up to 250 sheets. Cross cut P-4 security level.
Product information
Depth
Width
Height
Gross weight
280mm
420mm
485mm
8.11kg
• Perfect for personal or small office use; Shreds up to 7 sheets in one go; Sleek and stylish design; Easy to empty
35 litre pull out bin; Can shred credit cards, paperclips and staples
Specifications
Retail Packaging Information
Depth
Width
Height
Gross weight
UPC#
Unit quantity
Features
475mm
450mm
330mm
8.11kg
5028252125550
1
• Colour Group Black
• Cut Type Cross Cut
• Entry Width (mm) 220
• Period of Warranty 2 years
• Run Time From Cold 6 min
• Run Time/Cool Down Time 10/20
• Security Level P-4
• SHRED SIZE 4 x 34mm
Other information
Master Case Information
Depth
Width
Height
Gross weight
UPC#
Unit quantity
• Dimensions H485 x W420 x D280mm
1236mm
1000mm
1114mm
135.08kg
95028252125553
16
• Power Requirements 276
• Sheet Capacity 70 gsm 8
Shipping Information
Country of origin
Minimum Order Quantity
CN
1
General information
Colour
Grey
www.rexeleurope.com
Printed on 09/01/2017
Confidential and proprietary to ACCO Brands. Images are for illustrative purposes only. Errors and omissions excepted.

* Your assessment is very important for improving the work of artificial intelligence, which forms the content of this project