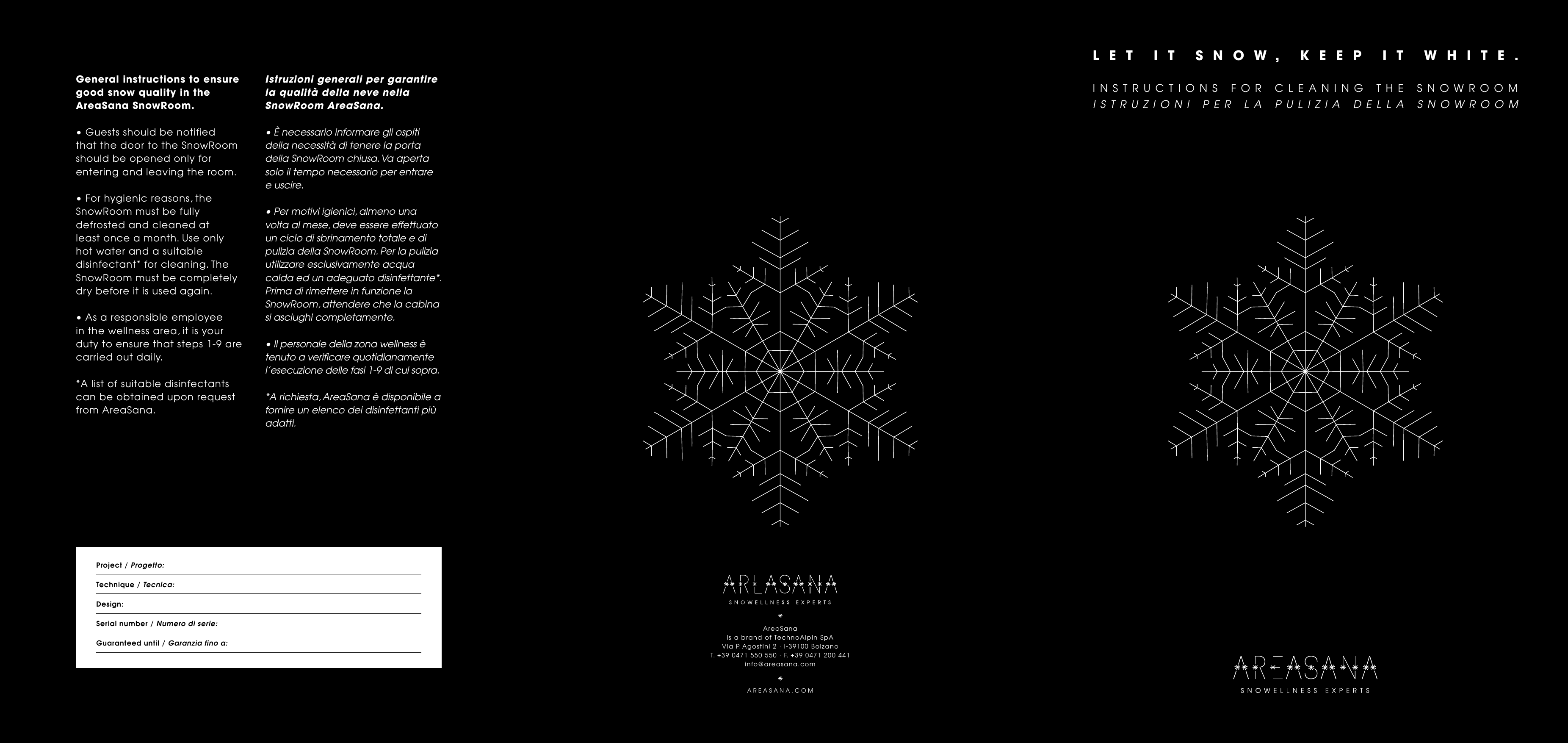 L e t
General instructions to ensure
good snow quality in the
AreaSana SnowRoom.
Istruzioni generali per garantire
la qualità della neve nella
SnowRoom AreaSana.
• Guests should be notified
that the door to the SnowRoom
should be opened only for
entering and leaving the room.
• È necessario informare gli ospiti
della necessità di tenere la porta
della SnowRoom chiusa. Va aperta
solo il tempo necessario per entrare
e uscire.
• For hygienic reasons, the
SnowRoom must be fully
defrosted and cleaned at
least once a month. Use only
hot water and a suitable
disinfectant* for cleaning. The
SnowRoom must be completely
dry before it is used again.
• As a responsible employee
in the wellness area, it is your
duty to ensure that steps 1-9 are
carried out daily.
*A list of suitable disinfectants
can be obtained upon request
from AreaSana.
• Per motivi igienici, almeno una
volta al mese, deve essere effettuato
un ciclo di sbrinamento totale e di
pulizia della SnowRoom. Per la pulizia
utilizzare esclusivamente acqua
calda ed un adeguato disinfettante*.
Prima di rimettere in funzione la
SnowRoom, attendere che la cabina
si asciughi completamente.
• Il personale della zona wellness è
tenuto a verificare quotidianamente
l'esecuzione delle fasi 1-9 di cui sopra.
*A richiesta, AreaSana è disponibile a
fornire un elenco dei disinfettanti più
adatti.
Technique / Tecnica:
Design:
Guaranteed until / Garanzia fino a:
s n o w ,
I n s t r u c t i o n s f o r
I s t r u z i o n i p e r l a
Project / Progetto:
Serial number / Numero di serie:
i t
A re a S a n a
i s a b ra n d of Te c h n oA l p i n S p A
Vi a P. A gos ti n i 2 · I - 39100 Bol za n o
T. + 39 0471 550 550 · F. + 39 0471 200 441
i n fo@ a re a s a n a . c om
areasana.com
k e e p
i t
w h i t e .
c l e a n i n g t h e
p u l i z i a d e l l a
S n o w R o o m
S n o w R o o m
CL EA N I N G
TH E SN OW R OOM
IN 9 STEPS
2
1
3
4
la p ul i z i a
d ella Sn ow R oom
IN 9 FA SI
Before starting the
Prima dell'innevamento
After snowfall, check
Dopo l'innevamento
After snowfall, take the
Dopo l'innevamento
After snowfall, clear the snow from the floor
Dopo l'innevamento liberare l'area dalla neve
snow, cover the seats
proteggere le sedute
the ceiling of the
controllare il soffitto
sheet off the seats
rimuovere il telo dalle
Increase your guests' safety by clearing a path through
Prendetevi cura della sicurezza degli ospiti, tenendo
Before starting the snow,
con un telo
SnowRoom
Eliminate gli eventuali
This will leave them clean
sedute
the snow. The aim is to create a safe, non-slip path they
libera manualmente dalla neve un'area di passaggio sul
spread the tarpaulin
Prima di avviare
Remove any accumulations
depositi di neve
and free of snow before
Prima di fare entrare gli
can use to enter and leave the SnowRoom. Shovel the
pavimento. Create una zona antiscivolo per l'entrata e
provided over the seat
l'innevamento della
of snow on the ceiling
accumulatisi sul soffitto
guests are allowed into the
ospiti nella SnowRoom,
cleared snow towards the walls where it will accumulate
l'uscita degli ospiti dalla SnowRoom. Col tempo la neve
surfaces so they remain free
SnowRoom, coprite le
in the area where your
nella zona in cui sosteranno
SnowRoom.
rimuovere il telo dalle
in time to form a natural cold store. This will help cool the
che avrete rimosso disponendola in prossimità delle pareti
of snow.
sedute con un telo, in
guests will be. They can be
gli ospiti. In altre zone
sedute in modo che esse
room and lower energy costs.
si accumulerà. Questo deposito svolgerà l'importante
modo che non vengano
left in other areas of the
della SnowRoom possono
siano pulite e prive di neve.
ricoperte dalla neve.
SnowRoom. They are not
invece rimanere. In caso di
modo viene mantenuta la temperatura interna della
a real danger if they fall
caduta, non rappresentano
SnowRoom, con la conseguente riduzione dei costi
because they consist of
comunque un pericolo in
energetici.
powder snow.
quanto sono composti da
funzione di accumulatore del freddo naturale: in questo
soffice neve in polvere.
Daily time needed in the
6
5
7
8
9
morning: 10 minutes
Dispendio di tempo
la mattina: 10 minuti
Daily time needed
in the evening: 10 minutes
Dispendio di tempo
la sera: 10 minuti
After snowfall, clean
Dopo l'innevamento
Allowing guests into
Ingresso degli ospiti
Checks during guest
Controllo durante
The SnowRoom should
Dopo la chiusura
End of cleaning and
Fine del ciclo di pulizia
the air vent(s)
pulire la(e) presa(e)
the SnowRoom
nella SnowRoom
occupation
l'accesso degli ospiti
be cleaned once the
pulire la SnowRoom
usage cycle
e di utilizzo
To ensure proper air
d'aria
After steps 1-5 have been
Una volta prese tutte
Check the return air vents
Controllate regolarmente la(e)
guests have left
A fine giornata, con la pala
Start again with step 1 of
Prima dell'innevamento,
circulation, always keep the
Per garantire una buona
taken, the SnowRoom is
le precauzioni indicate
regularly and make sure
presa(e) d'aria e assicuratevi
Remove any dirty snow
in dotazione rimuovete
these instructions before
ripartite dalla fase 1delle
air vents free of snow and
circolazione dell'aria e
ready to welcome guests.
nei punti precedenti, la
they are free of snow and
che restino sempre prive di
and ice from the floor using
dal pavimento la neve
starting the snow.
presenti istruzioni.
obstructions. Otherwise,
quindi un raffreddamento
SnowRoom è pronta ad
obstructions. Remove any
neve e ostacoli. Eliminate il
the shovel provided. Ensure
sporca e il ghiaccio.
optimal cooling cannot be
ideale della SnowRoom,
accogliere i suoi ospiti.
ice build-up on the floor in
ghiaccio dal pavimento in
that the drain in the floor is
È particolarmente
guaranteed.
tenete la(e) presa(e) d'aria
the area where your guests
ogni zona accessibile da
not blocked. You can also
importante liberare lo
sempre pulita(e) e priva di
will be. Check the operation
parte degli ospiti. Controllate
use hot water for this.
scarico. A tale scopo è
neve e ostacoli.
of the SnowRoom door. It
il funzionamento della
possibile utilizzare anche
must always open and close
porta della SnowRoom per
dell'acqua calda.
properly.
assicurarvi che si apra e si
chiuda sempre correttamente.

* Your assessment is very important for improving the work of artificial intelligence, which forms the content of this project