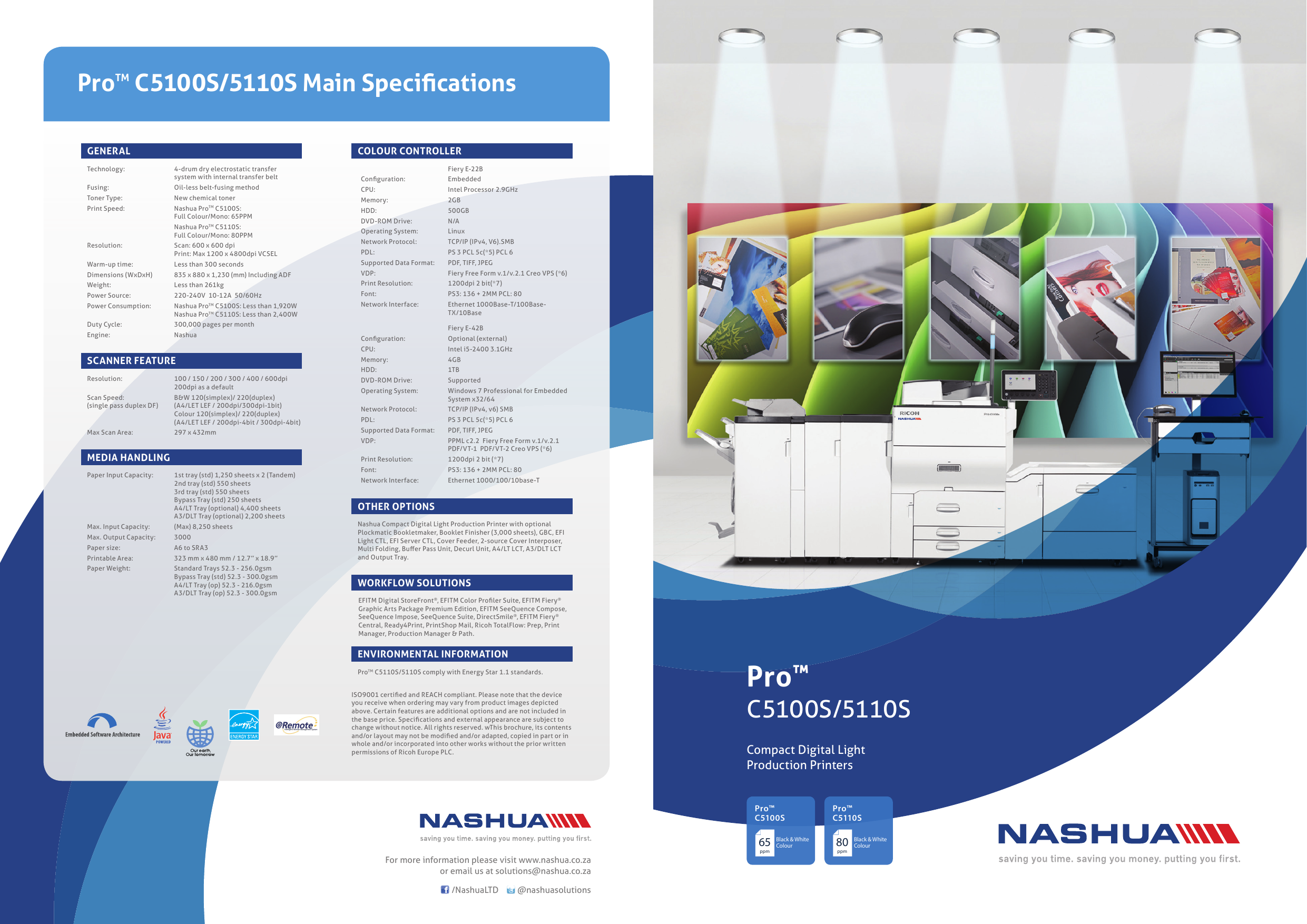 Aficio SPC430DN Main Specifications
TM
ProTM C5100S/5110S Main Specifications
GENERAL
Technology:
COLOUR CONTROLLER
4-drum dry electrostatic transfer
system with internal transfer belt
Configuration:
Embedded
Fusing:
Oil-less belt-fusing method
CPU:
Intel Processor 2.9GHz
Toner Type:
New chemical toner
Memory:
2GB
Print Speed:
Nashua ProTM C5100S:
Full Colour/Mono: 65PPM
HDD:
500GB
Nashua Pro C5110S:
Full Colour/Mono: 80PPM
DVD-ROM Drive:
N/A
Operating System:
Linux
Network Protocol:
TCP/IP (IPv4, V6).SMB
PDL:
PS 3 PCL 5c(*5) PCL 6
TM
Fiery E-22B
Resolution:
Scan: 600 x 600 dpi
Print: Max 1200 x 4800dpi VCSEL
Warm-up time:
Less than 300 seconds
Supported Data Format:
PDF, TIFF, JPEG
Dimensions (WxDxH)
835 x 880 x 1,230 (mm) Including ADF
VDP:
Fiery Free Form v.1/v.2.1 Creo VPS (*6)
Weight:
Less than 261kg
Print Resolution:
1200dpi 2 bit(*7)
Power Source:
220-240V 10-12A 50/60Hz
Font:
PS3: 136 + 2MM PCL: 80
Power Consumption:
Nashua ProTM C5100S: Less than 1,920W
Nashua ProTM C5110S: Less than 2,400W
Network Interface:
Ethernet 1000Base-T/100BaseTX/10Base
Duty Cycle:
300,000 pages per month
Engine:
Nashua
Fiery E-42B
Configuration:
Optional (external)
CPU:
Intel i5-2400 3.1GHz
SCANNER FEATURE
Memory:
4GB
HDD:
1TB
Resolution:
100 / 150 / 200 / 300 / 400 / 600dpi
200dpi as a default
DVD-ROM Drive:
Supported
B&W 120(simplex)/ 220(duplex)
(A4/LET LEF / 200dpi/300dpi-1bit)
Colour 120(simplex)/ 220(duplex)
(A4/LET LEF / 200dpi-4bit / 300dpi-4bit)
Operating System:
Windows 7 Professional for Embedded
System x32/64
Network Protocol:
TCP/IP (IPv4, v6) SMB
PDL:
PS 3 PCL 5c(*5) PCL 6
Supported Data Format:
PDF, TIFF, JPEG
VDP:
PPML c2.2 Fiery Free Form v.1/v.2.1
PDF/VT-1 PDF/VT-2 Creo VPS (*6)
Print Resolution:
1200dpi 2 bit (*7)
Font:
PS3: 136 + 2MM PCL: 80
Network Interface:
Ethernet 1000/100/10base-T
Scan Speed:
(single pass duplex DF)
Max Scan Area:
297 x 432mm
MEDIA HANDLING
Paper Input Capacity:
1st tray (std) 1,250 sheets x 2 (Tandem)
2nd tray (std) 550 sheets
3rd tray (std) 550 sheets
Bypass Tray (std) 250 sheets
A4/LT Tray (optional) 4,400 sheets
A3/DLT Tray (optional) 2,200 sheets
Max. Input Capacity:
(Max) 8,250 sheets
Max. Output Capacity:
3000
Paper size:
A6 to SRA3
Printable Area:
323 mm x 480 mm / 12.7" x 18.9"
Paper Weight:
Standard Trays 52.3 - 256.0gsm
Bypass Tray (std) 52.3 - 300.0gsm
A4/LT Tray (op) 52.3 - 216.0gsm
A3/DLT Tray (op) 52.3 - 300.0gsm
OTHER OPTIONS
Nashua Compact Digital Light Production Printer with optional
Plockmatic Bookletmaker, Booklet Finisher (3,000 sheets), GBC, EFI
Light CTL, EFI Server CTL, Cover Feeder, 2-source Cover Interposer,
Multi Folding, Buffer Pass Unit, Decurl Unit, A4/LT LCT, A3/DLT LCT
and Output Tray.
WORKFLOW SOLUTIONS
EFITM Digital StoreFront ®, EFITM Color Profiler Suite, EFITM Fiery ®
Graphic Arts Package Premium Edition, EFITM SeeQuence Compose,
SeeQuence Impose, SeeQuence Suite, DirectSmile ®, EFITM Fiery ®
Central, Ready4Print, PrintShop Mail, Ricoh TotalFlow: Prep, Print
Manager, Production Manager & Path.
ENVIRONMENTAL INFORMATION
ProTM C5110S/5110S comply with Energy Star 1.1 standards.
ISO9001 certified and REACH compliant. Please note that the device
you receive when ordering may vary from product images depicted
above. Certain features are additional options and are not included in
the base price. Specifications and external appearance are subject to
change without notice. All rights reserved. wThis brochure, its contents
and/or layout may not be modified and/or adapted, copied in part or in
whole and/or incorporated into other works without the prior written
permissions of Ricoh Europe PLC.
Pro™
C5100S/5110S
Compact Digital Light
Production Printers
Pro™
C5100S
65
ppm
For more information please visit www.nashua.co.za
or email us at solutions@nashua.co.za
/NashuaLTD
@nashuasolutions
Black & White
Colour
Pro™
C5110S
80
ppm
Black & White
Colour
High colour production values without the cost
Enhanced technology. Versatile performance.
Nashua Limited is not only a leading distributor of digital office automation and document output solutions
High image quality
in Southern Africa, but is also a leading provider in the marketplace in the Managed Document Services
(MDS) field.
This new generation digital printer offers outstanding colour
Nashua's MDS approach analyses an organisation's processes and document workflow. Working with Nashua
output so you can cut time and costs on light print runs. The
can revolutionise the way your organisation manages information. Nashua's end goal is aimed at
latest VCSEL technology and new toner formulation ensure
implementing workflow and information management solutions that reduce cost and complexity, thus
supreme image quality for professional results.
improving operational effectiveness.
Companies that fully embrace the Nashua MDS measure can find that it serves as a potent catalyst for
business and technology change. Greater enterprise value will accrue from enhanced controls, improved
information quality and a more streamlined structure, thus resulting in huge cost savings and minimized
complexities.
Broad paper handling
With enhanced paper handling capability, this printer will
In this economic climate, you need innovative technology that helps you reduce
operation costs and boost performance even more than ever.
Nashua's ProTM C5100S series light production printer helps you do just that.
support heavy coated as well as textured media and up to SRA3
paper size. It enables you to increase your productivity and
capture more jobs such as business cards and invitation cards
for example.
High image quality and broad paper handling lets you extend your existing
offering, or promote in-house printing, to increase both revenue and profits.
• Extremely high image quality
Ease of use for everyone with
simple operation
• Broad media support
• Easy to use design
New large separated operational panel with customisable home
• Maximum uptime
screen allows programme short cuts to be set for frequently used
• Small footprint
job operations. Includes Status Light Pole so you can monitor
operation from a distance and 'on the fly' toner replacement to
maximise uptime and productivity.
The perfect fit
With its smaller footprint, the Pro TM C5100S series needs limited
installation space. So it can fit more easily into your workspace
whilst it offers you the versatility and performance of larger and
more expensive printers.
Designed to maximise your success
Extends your capabilities
Controller Choice
High productivity
The Pro TM C5100S series supports two types of EFITM Fiery
• Runs at up to 80 pages per minute in B/W and colour
servers that incorporate the latest FS100 Fiery Platform. The EFI
• Paper handling and print quality is improved by advance toner Fiery Embedded server, E-22B, integrates seamlessly and helps
transfer technology and elastic fusing belt
simplify job and colour management. The EFI Fiery External
• Delivers high productivity in low volume runs helping you meet server, E-42B, incorporates the features of the other server and
tight delivery schedules
delivers higher performance.
Improve your RIP productivity
The latest laser technology
Our innovative VSCEL technology gives best in class resolution of
up to 4800 dpi creating outstanding image quality. VCSEL has as
many as 40 laser beams emitting simultaneously to give
exceptionally accurate and smooth, professional image quality.
The E-22B incorporates a high-performance 2.9 GHz Intel
processor, 2GB memory and an impressive 500 GB HDD. The
E-42B with its extended 4GB memory and a powerful 1TB HDD,
delivers even greater robust functionality. These outstanding
options will improve productivity of complex print jobs and
support finishing options to suit your requirements and broaden
your client offering.
Broad paper support
Usability
The Pro TM C5100S series gives your business more print
• Designed to maximise uptime and ensure simple
opportunities to offer your customers and grow market share.
troubleshooting processes
• Higher printing performance on heavy media – textured and • Status Light Pole – can see operational status even from
coated – for business cards, post cards, invitation cards, a distance
brochures, manuals and more
• Operation panel features animations for user ease
• 'On the Fly' toner bottle replacement enables continuous usage
• Supports 52-256 gsm in duplex mode
ww
• Fusing nip width can be optimised for improved envelope printing
Optimises your environment
All the options you need to succeed
Maximises uptime
3
2
• Paper weight detection prevents mismatching of paper weight to setting which could cause incomplete fusing or downtime
• Multi-feeding detection avoids misfeeds of pre-printed paper – 1
so print quality is assured and problems avoided
7
9
• Status Light Pole allow operation to be monitored from a distance
• Operation panel features animations that easily guide the user 4
8
through the clearance process should a jam occur
6
5
1
Pro™ C5100S/5110S
6
2,000 Sheet SRA3 LCT
Enhanced Paper library
2
Colour LCD Panel
7
3,000 Booklet Finisher (100 sheets staple)
The extensive library holds over 200 profiles tested and proven
3
220-sheet Auto Reverse Document Feeder
8
Multi Folding Unit
4
Front Access Draw
9
Buffer Pass Unit
5
2 Standard Paper Trays 1,250 sheet paper trays
(tandem), 2 x 550-sheet and Bypass Tray of 250
deliver 3,850 sheet capacity in total
by Nashua. There's also a custom library for personalised media
profiles along with a back-up capacity for an additional 1,000
profiles. It gives real scope to take advantage of a diverse range
of different print opportunities.
4,000 A4/LCT Large Capacity Tray
(not illustrated)
2-Tray Cover Interposer Unit
(not illustrated)
Nashua ProAct
Energy saving
• New recovery methods from energy save mode reduce power consumption
• Power On/Off timer reduces TCO and energy costs
• Both Energy Star and BAM compliant
Nashua ProAct is an innovative fleet management solution that helps Nashua to
increase our office efficiency and productivity for all of our document output devices,
through constant monitoring of your printers or MFP's. Nashua ProAct reports critical
status and condition information to our technical data centers. Moreover this solution
is provided to you at no cost as it allows us to deliver our best possible service!
So how does it work? Nashua ProAct collects data on an ongoing basis and delivers the information in the
form of customisable statistics and analysis reports, thus assisting our service departments' efficient
maintenance of your print infrastructure resulting in advanced performance levels. Meter readings are
automatically synchronized with Nashua's ProAct server, eliminating manual capturing of the data while
delivering increased billing accuracy. Lastly adaptive service management proactively manages your toner
supplies, ensuring the right supplies are delivered to you at the right time without you having to lift a finger!