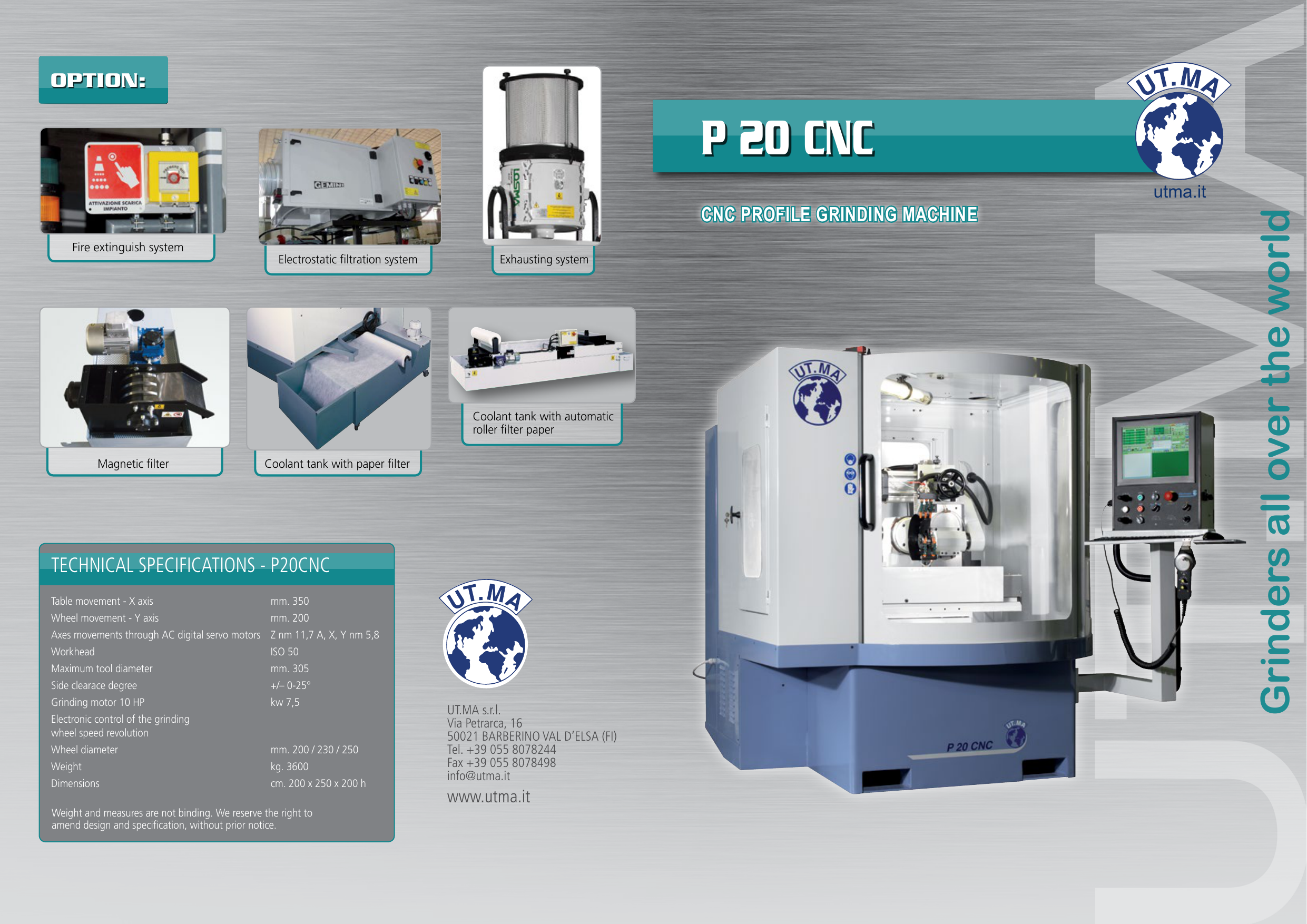 Option:
P 20 CNC
Fire extinguish system
Electrostatic filtration system
Exhausting system
Coolant tank with automatic
roller filter paper
Magnetic filter
Coolant tank with paper filter
TECHNICAL SPECIFICATIONS - P20CNC
Table movement - X axis mm. 350
Wheel movement - Y axis mm. 200
Axes movements through AC digital servo motors Z nm 11,7 A, X, Y nm 5,8
Workhead ISO 50
Maximum tool diameter mm. 305
Side clearace degree +/– 0-25°
Grinding motor 10 HP kw 7,5
Electronic control of the grinding
wheel speed revolution
Wheel diameter mm. 200 / 230 / 250
Weight kg. 3600
Dimensions cm. 200 x 250 x 200 h
Weight and measures are not binding. We reserve the right to
amend design and specification, without prior notice.
UT.MA s.r.l.
Via Petrarca, 16
50021 barberino val d'elsa (FI)
Tel. +39 055 8078244
Fax +39 055 8078498
info@utma.it
www.utma.it
Grinders all over the world
CNC PROFILE GRINDING MACHINE
utma.it
P 20 CNC PROFILE GRINDING MACHINE
Machine Features
P20 CNC allows profiling of carbide and HSS cutting tools including inserts/plates, carbide cutters, router bits
and HSS corrugate back knives.
The P20 CNC was designed for maximum flexibility and
ease of operation. All MENU driven software allows operator to input the requested values and create a program
in minutes that can be stored in the computer hard disk.
Tool manufacturers will appreciate the speed and ease
of making one special profile tool or hundreds of the
same profile. With the universal 50 internal taper in the
A-axis workhead, it is fast and simple to change from
inserts to router bits to cutters and back in a very few
minutes.
With the UTMA P20-CNC, the engineering and design
concept to work cost efficiently with single special tools
or long runs of similar tools has been realized in a very
dynamic and practical way.
P20 CNC grinds:
– HSS corrugate knives
– Brazing cuttes
– Carbide insert knives
TIRED OF THE SAME OLD GRIND?
Perk up your moulder knife production with the UT.MA P20 CNC Profile Grinder the world's first
fully automated profile knife grinder.
No templates required
Grind knives direct from CAD drawings.
Fast and accurate
10-HP grinding motor with variable speed control is
five times more powerful than standard manual profile grinders. The quick-change grinding wheel grinds
against the cutting edge limiting any burning to the
bottom of the grind.
Skilled knife grinders are hard to find
CNC attracts the new generation of machine
operators.
Who owns the UT.MA P20 CNC?
Moulding & millwork companies who grind
custom knives in the original heads. Toolmakers
mass produce HSS knives, carbide inserts, brazed
cutterheads and router bits.
Operator safe
When is the investment justified?
Fully-enclosed cabinet eliminates standing over the
knife grinding process.
Labor saving
If you grind profile tools more than 6 hours a day
or are considering buying a second manual machine,
you seriously need to check out the UT.MA P20 CNC
Profile Grinder.
P 20 cnc
CNC PROFILE GRINDER FOR CARBIDE AND HSS CUTTERS,
INSERTS KNIVES AND ROUTER BITS
Four CNC controlled axes - X, Y, A, Z
AC digital servo motors on all CNC axes
Electronic speed variator for grinding wheel
Simple, fast teach-in tool positioning
Fast, simple programming
The P20-CNC allows
the importing of
DXF drawings made
on CAD systems
Accepts DXF CAD drawings
Operator friendly CAD/CAM menu
CNC automatically grinds the knives freeing the machine operator to perform other value-added tasks.
PC control panel with Window
software with a clear graphic
control panel. Menu driven
program for short learning curve
and short set-up time.
7,5 kw powerful grinding wheel
motor and a heavy duty machine
structure allow to use the machine
even under the most demanding
conditions.
Probe to check the correct cutter division.
It is a crucial element to reach an accurate
profiling on HSS cutter heads.
Micrometric Preset Stations for grinding wheel
set up. External to the P20-CNC, the Micrometric
preset Stations allow accurate checking and
control of wheel and tool specifications.

* Your assessment is very important for improving the work of artificial intelligence, which forms the content of this project