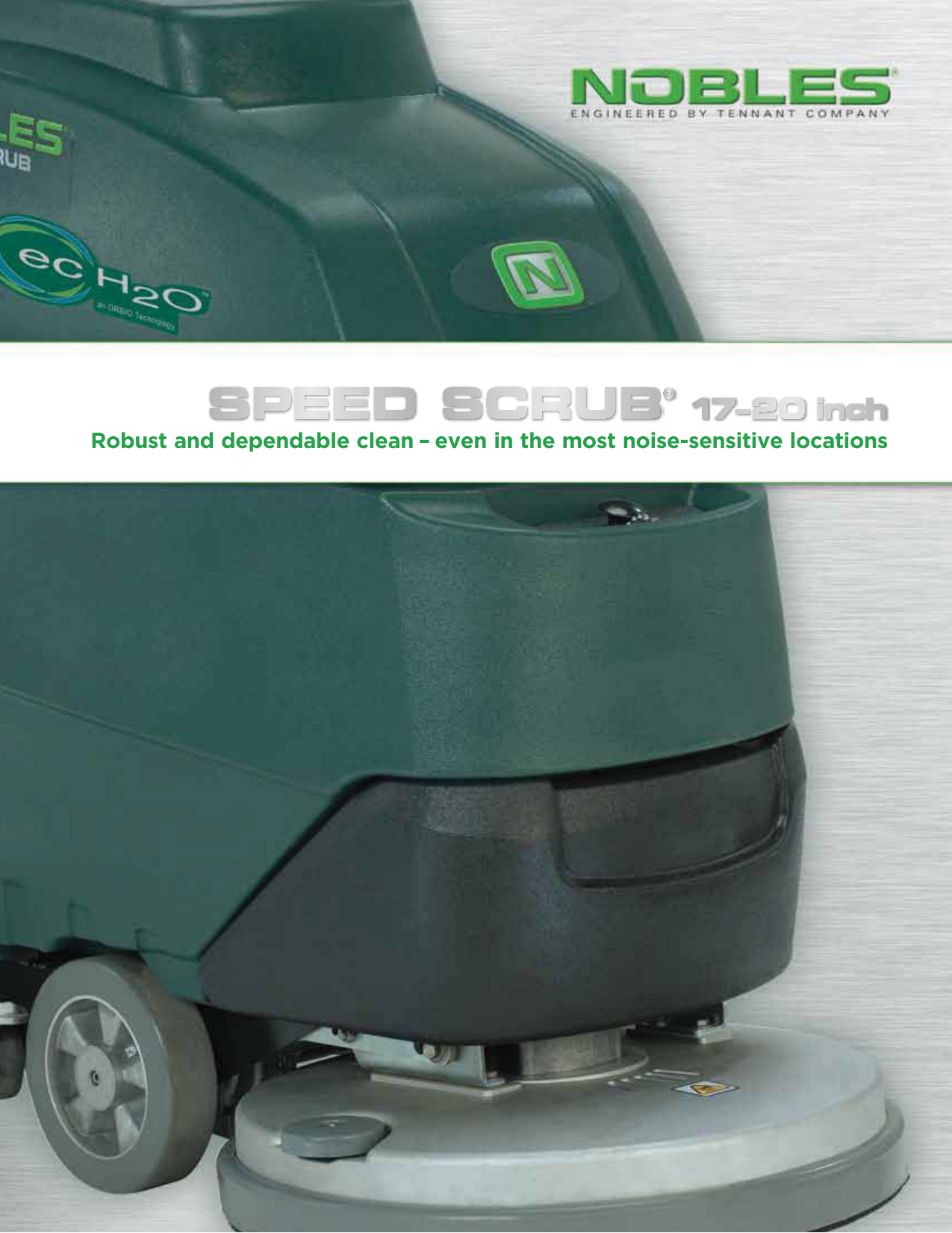 Robust and dependable clean – even in the most noise-sensitive locations
Reliable, effective cleaning results.
Anytime. Every time.
The Speed Scrub®
It's rugged
• Non-corroding cast aluminum scrub
decks and squeegee frames
• Tested to over 100,000 real-world
vacuum cycles
It performs
• Outstanding water recovery – even
in 180-degree turns
• Top of the line results in any
application, thanks to powerful
scrub motor and exceptional
down pressure
• Reduce water consumption with
optional ec-H2O™ or FaST®
technologies
• Quiet 68.5 dBA noise level
It's easy
• Simple, familiar Quick-Train™ controls
• Easy, no-tool brush and squeegee
replacement
Five no-nonsense features
motor
1.Powerful
Get a reliable clean
noise level
2.Low
The Speed Scrub
from the 1.0 hp
brush motor, which
delivers vigorous
230 rpm agitation;
especially when
combined with up
to 90 pounds of
pad pressure.
can clean in the
quietest places at
68.5 dBA.
charger
3.On-board
No need to worry
about where to
charge the machine.
Just find any 120
volt outlet, plug it
in, and you're good
to go.
Built to be
tough. Made to be easy.
EXCLUSIVE TECHNOLOGIES
(optional cleaning innovations)
ec-H2O technology electrically converts water into
an innovative cleaning solution that cleans
effectively, saves money, improves safety, and
reduces environmental impact compared to daily
cleaning floor chemicals and methods.
FaST Foam Scrubbing Technology uses up
to 70% less water and 90% less chemicals to
improve floor traction as certified by NFSI,
helping reduce the risk of slip and fall accidents.
Both technologies increase scrub time up to three times
using a single tank of water.
and easy
4.Quick
brush/squeegee
replacement
No tools are needed
to replace brushes
or blades, and
operators can
stop worrying and
messing around
with squeegee
adjustments, it's
factory set.
warranty
5. Iron-clad
3 years/2500 hours
on parts and labor
(excluding batteries).
10 years on tanks.
Specifications
Cleaning path
ec-H2O™ and FaST
technologies are NFSI
(National Floor Safety
Institute) Certified. NFSI certified
products must pass a 2-phase wet
slip resistance process and have
been shown to reduce the potential for slip-and-fall accidents.
®
ec-H2O and FaST
technologies are
registered by NSF
International. NSF
International is an independent,
not-for-profit organization that
ensures formulation and labels on
these products meet appropriate
food safety regulations.
(3 models available)
17 in / 430 mm
20 in / 500 mm
20 in / 500 mm
Pad assist
Pad assist
Transaxle drive
Solution tank capacity
Productivity
10.5 gal / 40 L
(per hour)
Theoretical max
Estimated actual*
20,230 ft2 / 1,880 m2 23,800 ft2 / 2,210 m2 23,800 ft2 / 2,210 m2
(conventional)
Estimated actual* (ec-H2O/FaST)
8,440 ft2 / 785 m2
10,125 ft2 / 940 m2
13,500 ft2 / 1,250 m2
11,250 ft2 / 1,045 m2
13,500 ft2 / 1,255 m2
15,300 ft2 / 1,420 m2
Solution flow rates
Conventional
0-0.4 gpm / 0-1.5 lpm
(fully variable)
ec-H2O/FaST
0.13 gpm / 0.50 lpm
Scrub motors
1.0 hp / 0.746 kW
Scrub motor speed
230 rpm
Brush/pad down pressure
50 & 90 lb / 23 & 41 kg
15 gal / 57 L
Recovery tank capacity
(includes demisting chamber)
Vacuum fan
ec-H2O and FaST
technologies may
contribute to LEED or
LEED-EBOM (Existing
Building: Operations &
Maintenance) points, provided
other appropriate criteria are met.
For more information on obtaining
LEED points, please contact your
sales rep or refer to the USGBC
website at: www.usgbc.org
FaST is a Green Seal
(GS-37) Certified
Detergent. Green Seal
evaluates and certifies
cleaning products based on
criteria such as the toxicity of the
product, skin and eye irritation,
skin sensitization, combustibility,
toxicity to aquatic life, and
packaging.
Motor
0.5 hp / 0.370 kW
Stages
2-stage
Water lift
40 in / 1,020 mm
Propel speed (variable to)
Transport
NA
NA
2.6 mph / 4.2 km/h
Scrubbing
NA
NA
2.4 mph / 3.9 km/h
(2) 12V, 105 AH
(2) 12V, 130 AH
(2) 12V, 155 AH
2.5 hrs
2.5 hrs
3.0 hrs
NA
NA
3.0° / 5.0°
NA
NA
9°
Batteries (24 V system, charger included)
Run time**
Gradeability
(ramp climb)
Scrubbing/transporting
Trailer ramps
(full)
(empty)
Speed control
Variable speed potentiometer
Product length
48 in / 1,220 mm
50.25 in / 1,275 mm
20 in / 500 mm
21.5 in / 550 mm
Product width (body)
Product width (scrub head)
50.25 in / 1,275 mm
18 in / 460 mm
Product width (squeegee)
21.5 in / 550 mm
30 in / 760 mm
Product height
43 in / 1,090 mm
Product weight
Conserve
Resources
Reduce
Detergents
Increase
Safety
Less batteries
With batteries (2) 12V
Minimum aisle turn
Improve
Air Quality
Reduce
Noise
Nobles
701 North Lilac Drive
Minneapolis, MN 55422
USA/Canada: +1.800.553.8033
Quebec: +1.800.361.9050
www.nobles.com
nobles@tennantco.com
Sound level***
(operator's ear)
Warranty
203 lb / 92 kg
205 lb / 93 kg
216 lb / 98 kg
315 lb / 143 kg
340 lb / 154 kg
386 lb / 175 kg
51.5 in / 1,310 mm
53 in / 1,350 mm
53 in / 1,350 mm
68.5 dBA
See your local representative for warranty information
* Estimated coverage rates use the practical speed and empty/fill time standards from the 2004 ISSA Cleaning Times handbook.
** Run times are based on Continuous Scrubbing Run Times.
*** Sound levels per ISO 11201 as recommended by the American Association of Cleaning Equipment Manufacturers & OSHA.
Specifications subject to change without notice.
1.612.001.am.en Speed Scrub 17-20 Brochure
3/13
©2013 The Tennant Company logo and other trademarks designated with the symbol "®" are trademarks of Tennant Company registered in the United States and/or other countries. Tennant Company's
products are sold and serviced through subsidiaries of Tennant Company and distributors.