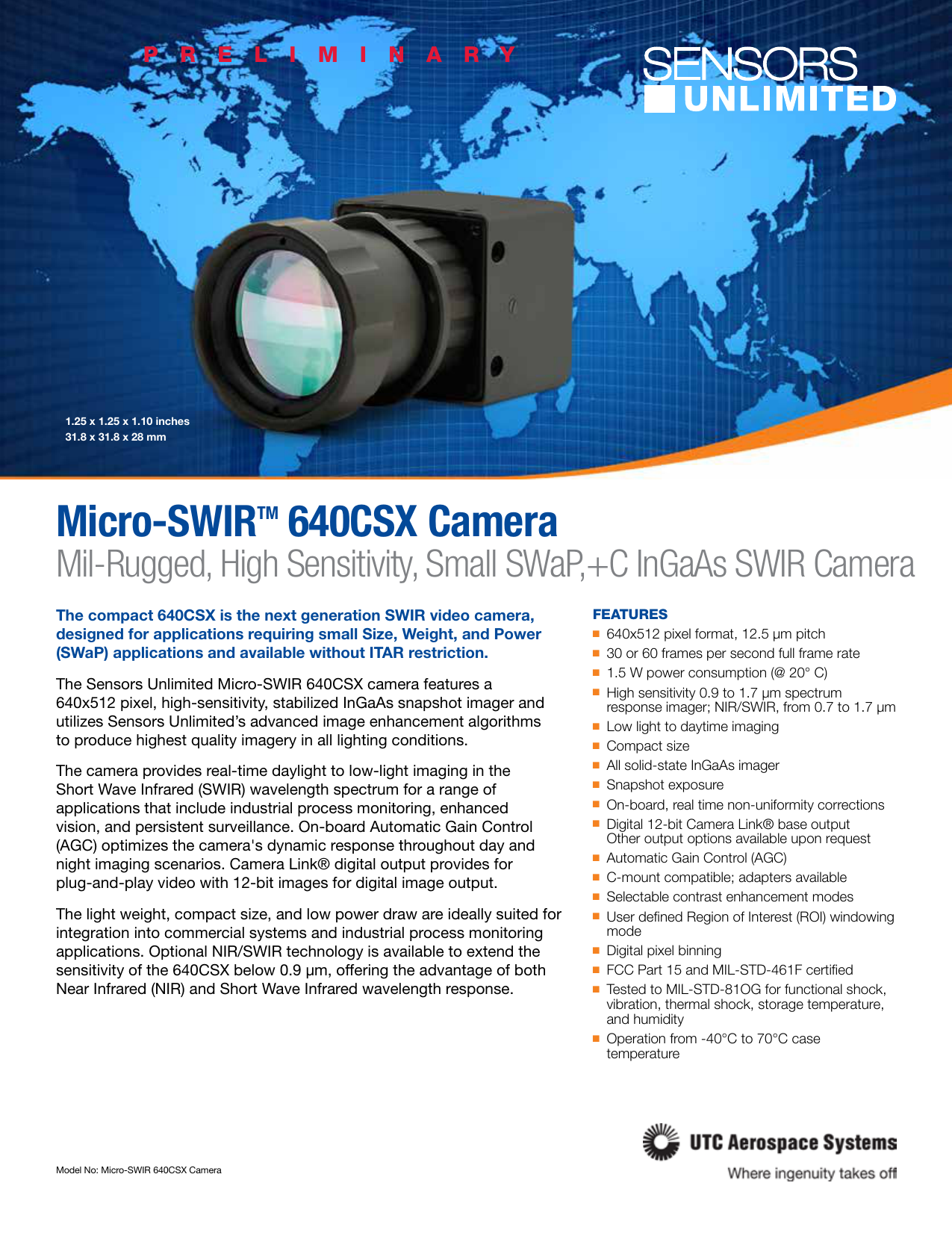 P
R
E
L
I
M
I
N
A
R Y
1.25 x 1.25 x 1.10 inches
31.8 x 31.8 x 28 mm
Micro-SWIRtm 640CSX Camera
Mil-Rugged, High Sensitivity, Small SWaP,+C InGaAs SWIR Camera
The compact 640CSX is the next generation SWIR video camera,
designed for applications requiring small Size, Weight, and Power
(SWaP) applications and available without ITAR restriction.
The Sensors Unlimited Micro-SWIR 640CSX camera features a
640x512 pixel, high-sensitivity, stabilized InGaAs snapshot imager and
utilizes Sensors Unlimited's advanced image enhancement algorithms
to produce highest quality imagery in all lighting conditions.
The camera provides real-time daylight to low-light imaging in the
Short Wave Infrared (SWIR) wavelength spectrum for a range of
applications that include industrial process monitoring, enhanced
vision, and persistent surveillance. On-board Automatic Gain Control
(AGC) optimizes the camera's dynamic response throughout day and
night imaging scenarios. Camera Link® digital output provides for
plug-and-play video with 12-bit images for digital image output.
The light weight, compact size, and low power draw are ideally suited for
integration into commercial systems and industrial process monitoring
applications. Optional NIR/SWIR technology is available to extend the
sensitivity of the 640CSX below 0.9 μm, offering the advantage of both
Near Infrared (NIR) and Short Wave Infrared wavelength response.
Model No: Micro-SWIR 640CSX Camera
FEATURES
640x512 pixel format, 12.5 μm pitch
■■ 30 or 60 frames per second full frame rate
■■ 1.5 W power consumption (@ 20° C)
■■ High sensitivity 0.9 to 1.7 μm spectrum
response imager; NIR/SWIR, from 0.7 to 1.7 μm
■■ Low light to daytime imaging
■■ Compact size
■■ All solid-state InGaAs imager
■■ Snapshot exposure
■■ On-board, real time non-uniformity corrections
■■ Digital 12-bit Camera Link® base output
Other output options available upon request
■■ Automatic Gain Control (AGC)
■■ C-mount compatible; adapters available
■■ Selectable contrast enhancement modes
■■ User defined Region of Interest (ROI) windowing
mode
■■ Digital pixel binning
■■ FCC Part 15 and MIL-STD-461F certified
■■ Tested to MIL-STD-81OG for functional shock,
vibration, thermal shock, storage temperature,
and humidity
■■ Operation from -40°C to 70°C case
temperature
■■
MECHANICAL SPECIFICATIONS
SU640CSX-12.5B-ENC housed series
Model
Dimensions (width x height x depth)
(excludes connectors, excludes lens)
Weight
SU640CSX-12.5B-OEM
ENC Series: 1.25"W x 1.25"H x 1.10"D 31.8 x 31.8 x 28 mm
OEM Series: 1.25"W x 1.25"H x 1.10"D 31.8 x 31.8 x 28 mm
ENC Series: <45 grams
OEM Series: <41 grams
Lens mount
C-mount
26 Pin SDR standard connector
Camera Link Connector
Board-to-board connector option for OEM model
Power Input Connector
14 Pin SDR standard connector
Pixel Pitch
12.5 µm
Focal Plane Array Format
640 x 512 pixels
Active Area
8.0 mm x 6.4 mm (10.2 mm diagonal)
ENVIRONMENTAL & POWER SPECIFICATIONS
Operating Case Temperature
-40˚C to 70˚C
Storage Temperature
-54°C to 85°C
Humidity
95% RH non-condensing
Power Requirements:
DC Voltage
Steady State Power
Max Power
Functional Shock, Random Vibration,
Thermal Shock
DC Voltage: +4.5-16V
Power: 1.5 W at 20°C case temperature, max <4.25 W
MIL-STD-810G compliant design
ELECTRICAL SPECIFICATIONS
Optical Fill Factor
100 %
Spectral Response
Standard, 0.9 µm to 1.7 µm
NIR/SWIR, 0.7 µm to 1.7 µm
Quantum Efficiency
Standard, > 65% from 1 µm to 1.6 µm
NIR/SWIR, > 65% from 0.9 µm to 1.6 µm
30 fps
Digital Output Frame
60 fps
Mean Detectivity, D* 1 (cm√Hz/W)
> 2.5 x 1013
> 2.8 x 1013
Noise Equivalent Irradiance 1
( photons/cm2/s)
< 9.7 x 108
< 1.2 x 109
Noise (RMS) 1
< 35 electrons (typical)
< 25 electrons (typical)
Dynamic Range 1
> 2500:1 at low gain
> 800:1 at high gain
> 2500:1 at low gain
> 1100:1 at high gain
Operability 2
> 99 %
Exposure Times
Proconfigured: 200 µs to 33 ms
User configurable
Image Correction
2-point (offset and gain) pixel by pixel, user selectable
Output Format
12 bit base Camera Link®
Other output options available
Scan Mode
Continuous with user configurable trigger modes
λ = 1.55 µm, exposure time = 33 ms (30fps), 16.67 ms (60 fps), case temperature = 20°C, highest
sensitivity gain setting, no lens, x1 digital gain with enhancement, AGC, and correction off
1
2
The fraction of pixels with responsivity deviation between +/- 35% from the mean.
POLYTEC GmbH
Tel: +49 (72 43) 604-1540
Polytec-Platz 1 - 7
Fax: +49 (72 43) 69944
For additional information:
Sensors Unlimited, Inc.
D -76337 Waldbronn
GERMANY
330 Carter Road, Suite 100
E-Mail: osm@polytec.dePrinceton,
www.polytec.de New Jersey 08540 USA
Ph: +1.609.333.8200
sui_sales@utas.utc.com
www.sensorsinc.com
Model No: Micro-SWIR 640CSX Camera Doc No: 4110-0419 Rev: 1 Jan 2016
© 2016, Sensors Unlimited, Inc. reserves the right to make product design or specification changes without notice. Camera Link® is a registered trademark of the Automated Imaging Association.