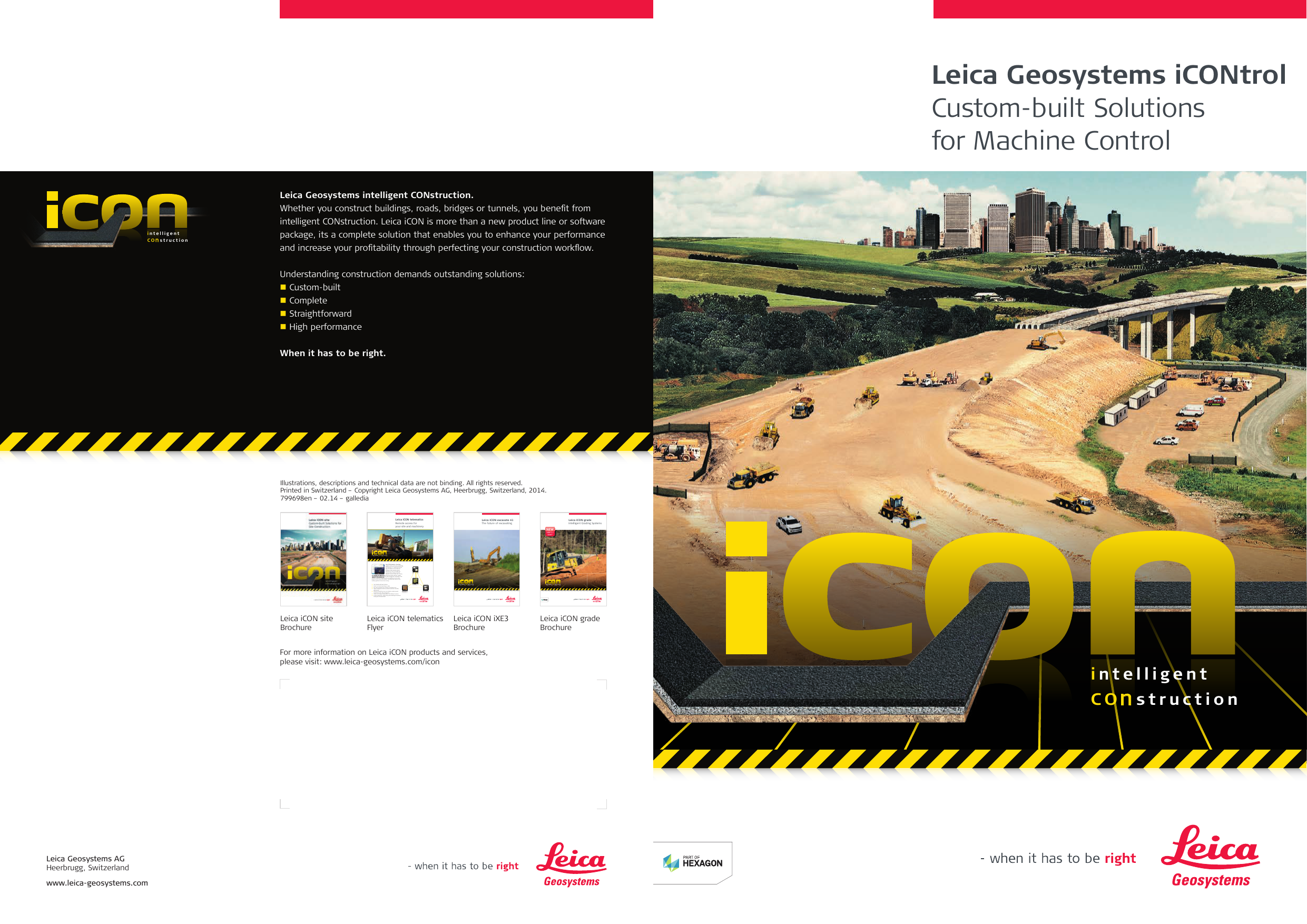 Leica Geosystems iCONtrol
Custom-built Solutions
for Machine Control
intelligent
C On s t r u c t i o n
Leica Geosystems intelligent CONstruction.
Whether you construct buildings, roads, bridges or tunnels, you benefit from
intelligent CONstruction. Leica iCON is more than a new product line or software
package, its a complete solution that enables you to enhance your performance
and increase your profitability through perfecting your construction workflow. Understanding construction demands outstanding solutions:
 Custom-built
 Complete
 Straightforward
 High performance
When it has to be right.
Illustrations, descriptions and technical data are not binding. All rights reserved.
Printed in Switzerland – Copyright Leica Geosystems AG, Heerbrugg, Switzerland, 2014.
799698en – 02.14 – galledia
Leica iCON telematics
Remote access for
your site and machinery
Leica iCON excavate 41
The future of excavating
Leica iCON grade
Intelligent Grading Systems
NEW
iGD4 and
iGD4SP
i nt e l l i g e n t C O ns t r uc t i o n
Leica iCON telematics. Save time,
speed up work, push your productivity.
iCON telematics is a web-based suite of
tools that allow you to increase the
efficiency of your machine control
operations on site and manage your
machinery fleet remotely. The iCON
telematics services include fast and easy
data transfer from office to site and to construction machines, remote
support for the operators and basic fleet management functionality. iCON
telematics seamlessly integrates with your workflow on construction
projects and the Leica iCON solutions, simplifying work processes and
enabling significant time and cost savings.

User-friendly web-based interface



Several user levels depending on usage
Easy communication from the office to the fleet on site
Project management tool to synchronise data from the office

Multiple functionality via one user interface: remote support,
remote file transfer, fleet management
Create and manage multiple projects with different machines
i nt e l l i g e n t C O ns t r uc t i o n
i nt e l l i g e n t C O ns t r uc t i o n
with the site


Leica iCON site
Brochure
Increase productivity, simplify design data handling and monitor &
manage your fleet operations
Leica iCON telematics
Flyer
Leica iCON iXE3
Brochure
For more information on Leica iCON products and services,
please visit: www.leica-geosystems.com/icon
Leica iCON grade
Brochure
intelligent
C On s t r u c t i o n
Leica Geosystems AG
Heerbrugg, Switzerland
www.leica-geosystems.com
Leica Geosystems intelligent CONstruction
Enhancing your performance
Leica Geosystems
Your trusted partner
Fully understanding construction carried us beyond the ordinary. Leica iCON is more than a new
product line and a software package, it enables you to enhance your performance and increase
your profitability through perfecting your construction workflow.
Leica iCON is the result of a vision, based on our commitment to provide you with high standard
product and service solutions. With our standards being strongly interlinked, we believe they
establish a solid foundation for shared growth and success.
iCONstruct
iCONtrol
Tailor-made hardware ­and software
solutions for positioning and measurement tasks on
site.
Provides you with
a comprehensive
portfolio of powerful
machine control
solutions that
communicate seamlessly with your iCONstruct
sensors on site and office software.




Custom-built
Straightforward
Extendable
Interchangeable
Quality
Trust
Reliability
Partnership
Innovation
 Intelligent and flexible control system for
construction machinery
 Reliable and seamless sensor communication
 Streamlined workflow & data handling
Versatility
i nt e l l ig e nt C O ns t r uc t i o n
iCONsult
iCONnect
An extensive support
network providing
clear guidance on
intelligent CONstruction benefits to grow
your business.
Offers easy data
transfer from office
to site and machine,
remote support
for operators on the
machine, and basic fleet
management functionality.
 Worldwide network
 Personal service
 Professional consultancy




Simplifies work processes, saving time and cost
Instant guidance and checks
Real-time data guarantees accurate jobs
High productivity
Leica Customer
Care Packages
Cost of
Ownership
Competition
Leica iCON
Time
iCONsult
Partnership is our commitment to you,
around the globe, anytime, anywhere.
iCONnect
Connect to your site anytime.
Customer Support
Worldwide support network with hotline,
web-based support, seminars, customised
trainings and consulting service.
Wireless data transfer and remote
support
iCONnect offers a telematic solution for
easy data transfer from office to site
and machine, remote support for
operators on the machine, and basic
fleet management functionality.
Customer Care Packages (CCPs)
Tailored service packages allow you to
maximise the benefits from your investment.
High quality, lowest cost of
ownership
Proven quality of Leica Geosystems solutions
reduces your cost of ownership significantly.
Worldwide Service Network
Extensive support network and broad service
offerings include certification services, repairs
and product upgrades.
Product information at your fingertips
24/7 access through myWorld platform
providing information and keeping you
and your product portfolio up-to-date.
SmartNet
Integrated 24/7 GNSS Network RTK and
DGNSS service. Easy access to precise
correction data. Network RTK users experience the best availability, reliability
and traceability.
Understanding construction.
Choose your solution
Enjoy a boost in productivity
Leica iCON telematics
Save time, speed up work,
boost your productivity
Leica iCON telematics is part of our iCONnect service, offering easy data transfer from your office to the site and machine.
Plus, it provides remote support for operators on the machine and basic fleet management functionality. This makes iCON
telematics ideal for simplifying your work processes considerably – saving you time and money.
iGx2 Grading solution
Graphical representation of common grading applications such as
housing and building pads, sports
fields and road maintenance.
 Direct grade or slope offset adjustment
 One-touch access to sensor selection
 Blade position in real-time, relative to
surface
iGx3 Grading solution
Provides functionality for larger
projects and applications such as
residential and commercial site
construction, infrastructure projects and landfill. The addition of
SP Technology enhances dozer
performance in the application.
 Section, profile and 2D/3D view
 Supports several data formats including
DWG/DXF, LandXML
 Customisable 3D views
Take your on-site workflow to the next level with iCONtrol machine control solutions from Leica Geosystems. iCONtrol
makes it even easier for you to leverage the entire range of intelligent, tailor-made iCON products. It communicates
seamlessly with the iCONstruct sensors and iCON office to enable a smooth workflow and increase productivity on site.
iXE2 Excavating solution
Typical excavating applications
like trenching, basement and
embankments are efficiently
guided by a real-time visualisation of bucket position.
View
View provides the office manager the ability to
remotely view the operator's screen. View enables
remote diagnostic. In case the operator needs help,
the off-site supervisor can take action on the machine's screen via remote access. Support personnel
can use this function to provide quick when the
incident occurs.
Leica iCON excavate iXE2
Excavating solution
Full 2D functionality presented
on multicolour panel. Simple and
intuitive user interface which
provides ease-of-use.
Leica iCON grade iGx2
Grading solution
Easy monitoring of the blade
position. Main function keys
for easy operation.
PowerSnap Concept
Unique patented snap-on & snap-off
capability. Contact free. Easy upgrade 2D ->
3D. Intelligent storage of machine data.
Sync
Design data for construction sites often need to be updated.
Sync offers the possibility to upload the latest design data to
your fleet immediately. Manually uploading data via USB stick is
no longer required. Data can be transferred remotely in both
directions from the field to the office. Remotely validate
individual project files on machines in your fleet, ensuring they
are up-to-date.
Track
Track is a fleet management tool which seamlessly
integrates within the Leica iCON portfolio. It allows you
to monitor the fleet in real time and provide reports.
Entry and exits can be monitored for multiple user
defined geographical areas. Several reports can be
created, such as activity, routing and others filtered by
calendar, time, geographical area and machine type.
Leica iCON excavate iXE3
Excavating solution
Full visual guidance of the bucket –
see the job as you want. Menu
keys give the operator an easy
overview of functions.
Leica iCON grade iGx3
Grading solution
Fully customisable 3D views
of your machine and job site.
Auto/manual information is
presented on the screen.
iCP41 & iCP42 –
control panels
Combines complete 2D and 3D functionality in ONE panel. Toggle
between 2D and 3D by a simple touch of a button. Presented on a
7" large graphic colour touch screen.
Understanding construction.
Leica Geosystems intelligent construction solutions grow with your business, meaning you have one convenient software
package for the entire construction site. Upgrade your 2D machine control system to 3D and benefit from advanced
functionality. Expand your possibilities with iCONnect services for remote support, easy data transfer and fleet management services. Whatever you need, Leica iCON has the solution for enhancing your on-site workflow.
Understanding construction.





Profile view of bucket position
Direction of excavation - view
Cross section view
Actual height & offset height
Selectable reference method
iXE3 Excavating solution
3D excavator guidance for
complex road design projects
and site preparation.
Empowers the machine operator
to have control over their work
without relying on others to
guide the bucket.
 Create simple terrain models directly
on the screen – get the power of
3D without plans!
 One-touch switching between 2D &
3D views – see it how you want to!
 Complex jobs are made simple –
construct complex geometries,
profiles and grades in a fraction of
the normal time
 Fully integrated "real" 2D functionality
Leica Geosystems iCONtrol
The complete solution for all
machine control tasks on site
D
E
P
T
H
M
A
S
T
E
R
CL
CL
With Leica iCON, you have the accuracy and perfor­mance you need for all your construction tasks. iCON
combines best-in-class positioning instruments and
machine control systems with powerful application
software tailored for construction and the latest
communications technology. They work together to
ensure you handle on-site tasks more efficiently than
ever before and get the high-quality results you need.
Successful on site measurement, whether checking,
setting-out or using machine control systems depends
upon the preparation and integrity of the design
data. The software application used to prepare
design data must maintain this integrity whether it
comes in the form of a paper plan or a complete 3D
digital model. Leica iCON office, a complete data
preparation, editing and reporting software package
can fulfill this requirement and much more.
iCONstruct
iCONstruct is the perfect support for the
on-site machine control solution. The same
design data is used for machine operations
and for the iCONstruct field solution. This
means preparing data only once by using
Leica iCON office. iCONstruct field enables
measurement functionality in an easy-to-use
and intuitive way to site personnel.
 Bring the designed model to the field by
setting-out Points or Lines
 Check an actual surface against the
design with the Cut & Fill app
 Calculate the volume of a stockpile or pit
to know the amount of truck loadings
 Compare constructed vs. designed model
by using the As-built app
SP Technology
Contractors can now boost their productivity
and performance even more while benefiting
from new ways to use existing equipment.
The innovative SP Technology opens new
opportunities for dozers:
 Combining ease-of-use and
unrivalled flexibility
 Highest precision at the fastest speed
 Faster results without losing accuracy
 Work at higher speeds
By using inertial guidance with the most
responsive hydraulic control on the market,
GNSS performance is significantly enhanced.
Machines equipped with SP Technology
have reduced need for rework and increased
uptime during poor GNSS coverage or
temporararily interrupted correction signals.
Bulk Earthworks
In the process of shaping a landscape
and preparing it for a road project,
the efficiency in using heavy
equipment like bulldozers,
excavators and material is of key
importance.
The flexibility of the iCONtrol
solution provides a high return on
investment in typical applications
such as:
 Site development
 Construction of embankments
 Land recontouring
 Cut & Fill operations
Leica iCON grade offers guided as
well as automated solutions and
Leica iCON excavate offers guided
solutions.
Filling & Road Preparation
For the applications of cutting to subgrade
and the building (filling) process through
different sublayers of material on a road
construction project, the iCON grade solution
offers significant time and cost savings.
SP Technology speeds up grading with a
dozer, helping you spread material for sub
formation layers faster and more precise.
For the preparation of layers, a grading
solution with customisable views and
flexibility offers end users high efficiency
and use of their machinery.
Benefits with iCON grade
 Flexibility to work with laser, TPS or
GNSS technology
 Support for multiple data formats
 Consistent user interface between all
machine platforms
Trenching & Residential
Trenching – a standard application
 Any application where there is a
buried utility or a need for controlled
water flow (water and sewage,
electricity, gas, communications)
Basement – a standard application
 Applications where depth and slope
can be controlled from a laser or a
reference point
 Setting up a housing project without
having to depend on traditional
set-out processes
 Doing the difficult blind cut applications
with full control of your bucket tip
Leica iCON excavate iXE2 & iCON grade
iGx2 offer flexible configurable solutions
for these typical applications.
Finishing layers
Fine grading work for roads, parking lots,
airport runways etc. is usually done with
a grader.
The Leica iCON grade iGG3 grading
solution provides highest precision and
flexibility for fast, high quality results.
 Smooth, highly accurate grading to
3D project design
 Easy operation with full 3D graphical
guidance in the cab
For paving applications with high precision
and productivity use Leica PaveSmart 3D.
 No stringlines or stakes needed –
significant time and money savings
 Greatly simplified jobsite logistics
 Precise 3D machine control saves
material and improves your paving
results
Leica iCON telematics
The perfect tool for office to field
communication. You can manage your
fleet remotely via the iCON telematics
web portal. Having the latest design
data in the field is essential for site
performance.
Applications:
 View: Provides remote support
functionality. View and operate the
machine screen remotely from the
office.
 Sync: Create projects on the web
portal and assign various machines
from your fleet. Upload the latest
design data to all machines used in
your individual project.
 Track: Keep track on your fleet.
Generate individual or periodic reports.
Understanding construction.