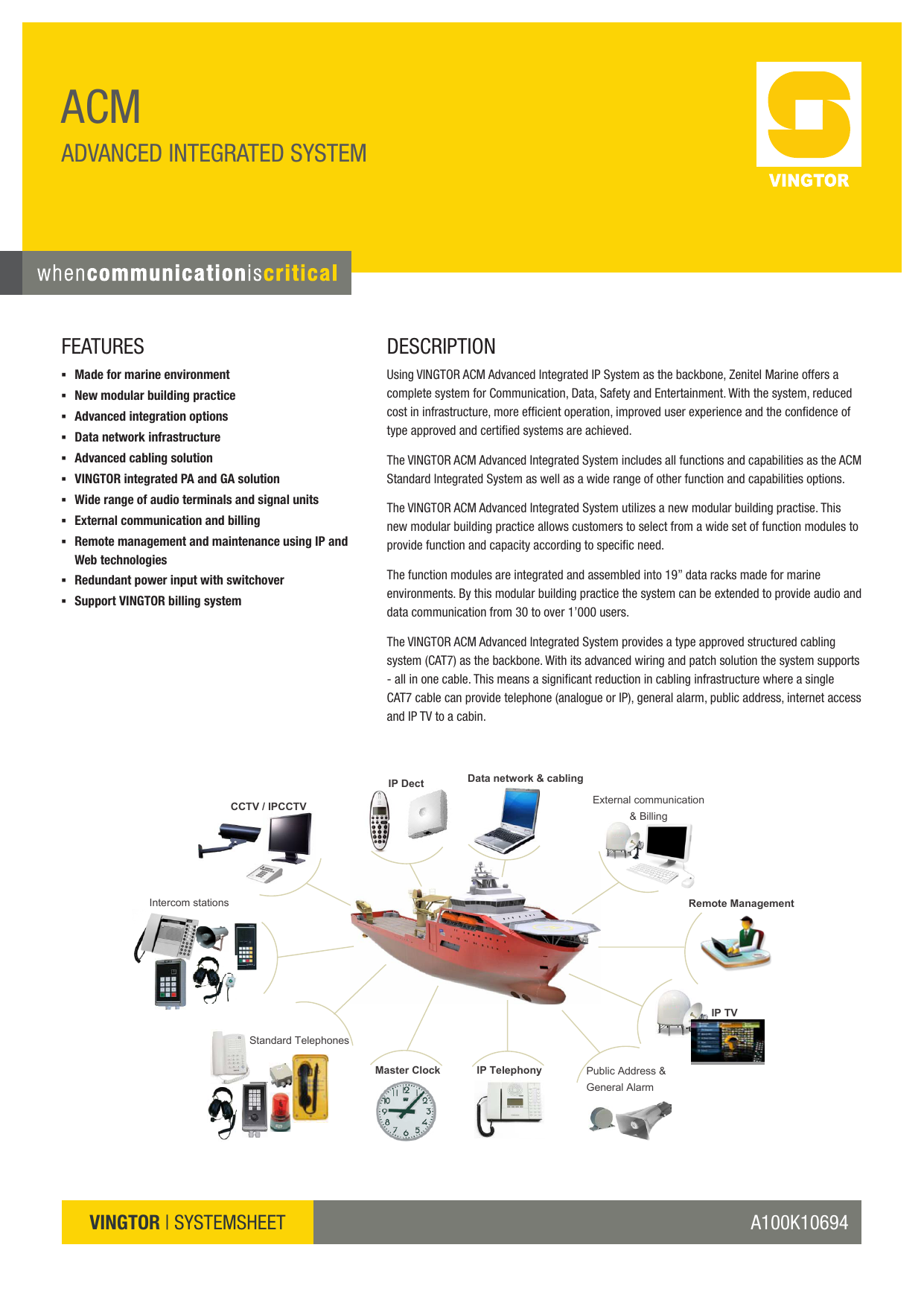 ACM
ADVANCED INTEGRATED SYSTEM
FEATURES
DESCRIPTION
▪▪ Made for marine environment
Using VINGTOR ACM Advanced Integrated IP System as the backbone, Zenitel Marine offers a
complete system for Communication, Data, Safety and Entertainment. With the system, reduced
cost in infrastructure, more efficient operation, improved user experience and the confidence of
type approved and certified systems are achieved.
▪▪ New modular building practice
▪▪ Advanced integration options
▪▪ Data network infrastructure
▪▪ Advanced cabling solution
▪▪ VINGTOR integrated PA and GA solution
▪▪ Wide range of audio terminals and signal units
▪▪ External communication and billing
▪▪ Remote management and maintenance using IP and
Web technologies
▪▪ Redundant power input with switchover
▪▪ Support VINGTOR billing system
The VINGTOR ACM Advanced Integrated System includes all functions and capabilities as the ACM
Standard Integrated System as well as a wide range of other function and capabilities options.
The VINGTOR ACM Advanced Integrated System utilizes a new modular building practise. This
new modular building practice allows customers to select from a wide set of function modules to
provide function and capacity according to specific need.
The function modules are integrated and assembled into 19" data racks made for marine
environments. By this modular building practice the system can be extended to provide audio and
data communication from 30 to over 1'000 users.
The VINGTOR ACM Advanced Integrated System provides a type approved structured cabling
system (CAT7) as the backbone. With its advanced wiring and patch solution the system supports
- all in one cable. This means a significant reduction in cabling infrastructure where a single
CAT7 cable can provide telephone (analogue or IP), general alarm, public address, internet access
and IP TV to a cabin.
IP Dect
Data network & cabling
External communication
CCTV / IPCCTV
& Billing
Intercom stations
Remote Management
IP TV
Standard Telephones
Master Clock
IP Telephony
Public Address &
General Alarm
VINGTOR | SYSTEMSHEET
A100K10694
www.vingtor.com
Zenitel Norway AS
SPECIFICATIONS
Data networking
Managed layer two IP switching
Virtual LAN support
24 or 48 ports per switch
Up to 3 IP switches per rack
19" rack
Supply voltage
230V AC main / 230V AC emergency
Temperature
0 to +55 C environment
Remote system management
AlphaWeb
Humidity range
10% to 90% RH
Connections
Depending on exchange size
Serial port
1 x RS232
Serial port
1 x RS232/422/485
Ethernet
2 x 10/100 Mbps, RJ-45
Ext. teleph. trunks
Capacity
Signalling
Max. 30 trunk channels
ISDN and QSIG PRI, ISDN BRI,
Analogue FXO, SIP (VoIP)
PA and General Alarm
6 zones PA or 6 zones PA/GA with A and B loop
Dimensions CAB 1 (HxWxD)
2100 x 800 x 600 mm
Dimensions CAB 2 (HxWxD)
2100 x 600 x 600 mm
Weight
Depends on equipment included
Mounting
O
SYSTEM UNITS
ORDER NUMBER
DESCRIPTION
ORDER NUMBER
DESCRIPTION
ACM-CAB42-600 Empty 19" cabinet 42HU - HWD 2100x600x600 w/
ventilation fan and bracket
ACM-CAB42-800 Empty 19" cabinet 42HU - HWD 2100x800x600 w/
ventilation fan and bracket
ACM Stations
IP Intercom
1008010000
1008010000
1008031000
1008097100
IP CRM V Master
IP Flush Master, Display
Handset for IP Flush Master
IP CRM DAK Module
ACM Intercom modules
1159607200
ACM-E7 Module
1159620200
ACM-E20 Module
1159626200
ACM-E26 Module
Traditional intercom
1020603700
3006202025
VMP-430 Main Station, Console 20196, IP-44
VMP-221 Handset, Panel Mounted, IP-44
External Communication
3006204094
MP-114 Analogue Media Gateway - 4FXO
3006204099
MP-118 Analogue Media Gateway - 8FXO
2200003000
GSM Media Gateway
3006204005
92580 GSM Multi Band Antenna with 10m Cable
92580 GSM Multi Band Antenna with 20m Cable
Watertight
1020600305
3006202035
1020600315
3006202031
1020159000
VMP-530 Main Station, Wall Mounted w/o Loudspeaker 26033 IP-65
VMP-530VHM Main Station w/Handmic.
VMP-503 Main Station w/Built-in 50 ohm L/S WT - IP-65
VMP-503PA Main Station, Portable ACM W/5M Cable with 4-PIN Plug
CD-4 Plug Box 4- PIN IP-66
System management
1009291120
1009647902
1009647904
1009647908
1009647916
1009647932
Additional equipment for above
1020600750
VMP-36-PEL Headset with Boom Mic, on/off Switch Box, 10m Cable
w/o Plug, IP-54
3006202029
VMP-36-PELP Portable Headset with Boom Mic, on/off Box, 10m
Cable w/7-p, IP-54
3006090486
MT9 Throat Mic. MT9 for VSP-36-PEL/PELP, P-MT7, VMP-36-PEL/
PELP
1020600988
CD-7-VMP Plugbox WT - IP-66
System racks
3006204022
3006204023
Dataswitch modules
3006210005
3006210001
3006204027
3006204028
3006204025
3006210001
3006204075
3006204073
Alphapro professional for USB
VINGTOR Billing – 2 external trunks
VINGTOR Billing – 4 external trunks
VINGTOR Billing – 8 external trunks
VINGTOR Billing – 16 external trunks
VINGTOR Billing – 32 external trunks
MRX-SWITCH Data Switch – 4 ports
92745 4 Port PoE Switch and 1 Regular Ethernet Port w/Power
Supply
ACM-DS24V01 Data Switch 24 Ports TJ45 Allied TELESIS AT8000S/24
ACM-DS48 Data Switch 48 Ports RJ45 Allied TELESIS AT-8000S/48
ACM-DS24/POE "POE Data Switch 19"/24Port" SRW224G4P/15W220V AC, 632W
92745 4 Port PoE Switch and 1 Regular Ethernet Port w/Power
Supply
ACM-PP48 Patch Panel RJ45 Sohome 48 Patches
ACM-PC-7 CAT 7 GG45 Screened Snap-in Conn. for 2220040001
Public Adress and General alarm Modules
1152100001
Conventional PA Control Unit
1152100002
PA and GA Redundant Control Unit
1152100003
PA and GA Redundant Control Unit (DNV)
1152100004
Loudhailing Logic with Interface to ACM Module
1152000001
19" Power Amplifier 120W/100V - 220V AC/24V DC - 3HU +1HU vent
1152000002
19" Power Amplifier 240W/100V - 220V AC/24V DC - 3HU+1HU vent
1152000003
19" Power Amplifier 400W/100V - 220V AC/24V DC - 3HU+1HU vent
DOC.NO.
A100K10694
05.11.2012
Indoor wall/desk mounted
1007034210
VMP-619 Desk Master Station Desk or Wall w/ Handset and D-10
Dialer
1007034310
VMP-D619 Desk/Wall Master Station With Handset and Display
Additional equipment for above
3006090304
64P0006 Complette R&M Screw Teleph. Plug 1x8 PIN Flush RJ45
3006202024
VMP-211 Handset for Industrial Stations Wall Mounted, IP-44
1020600700
VMP-250 Handset for Industrial Stations Wall Mounted - IP-66
3006202023
VMP-204 Amplifier f/PAMEX/VMP Ver.01, IP-65
See product catalogue for other system items
sales@vingtor.com
Zenitel and its subsidiaries assume no responsibility for any errors that may appear in this publication, or for damages arising from the information therein. STENTOFON and VINGTOR products are developed and marketed by Zenitel.
The company's Quality Assurance System is certified to meet the requirements in NS-EN ISO 9001. Zenitel reserves the right to modify designs and alter specifications without notice.
ZENITEL PROPRIETARY. This document and its supplementing elements, contain Zenitel or third party information which is proprietary and confidential. Any disclosure, copying, distribution or use is prohibited, if not otherwise
explicitly agreed in writing with Zenitel. Any authorized reproduction, in part or in whole, must include this legend. Zenitel – All rights reserved.

* Your assessment is very important for improving the work of artificial intelligence, which forms the content of this project