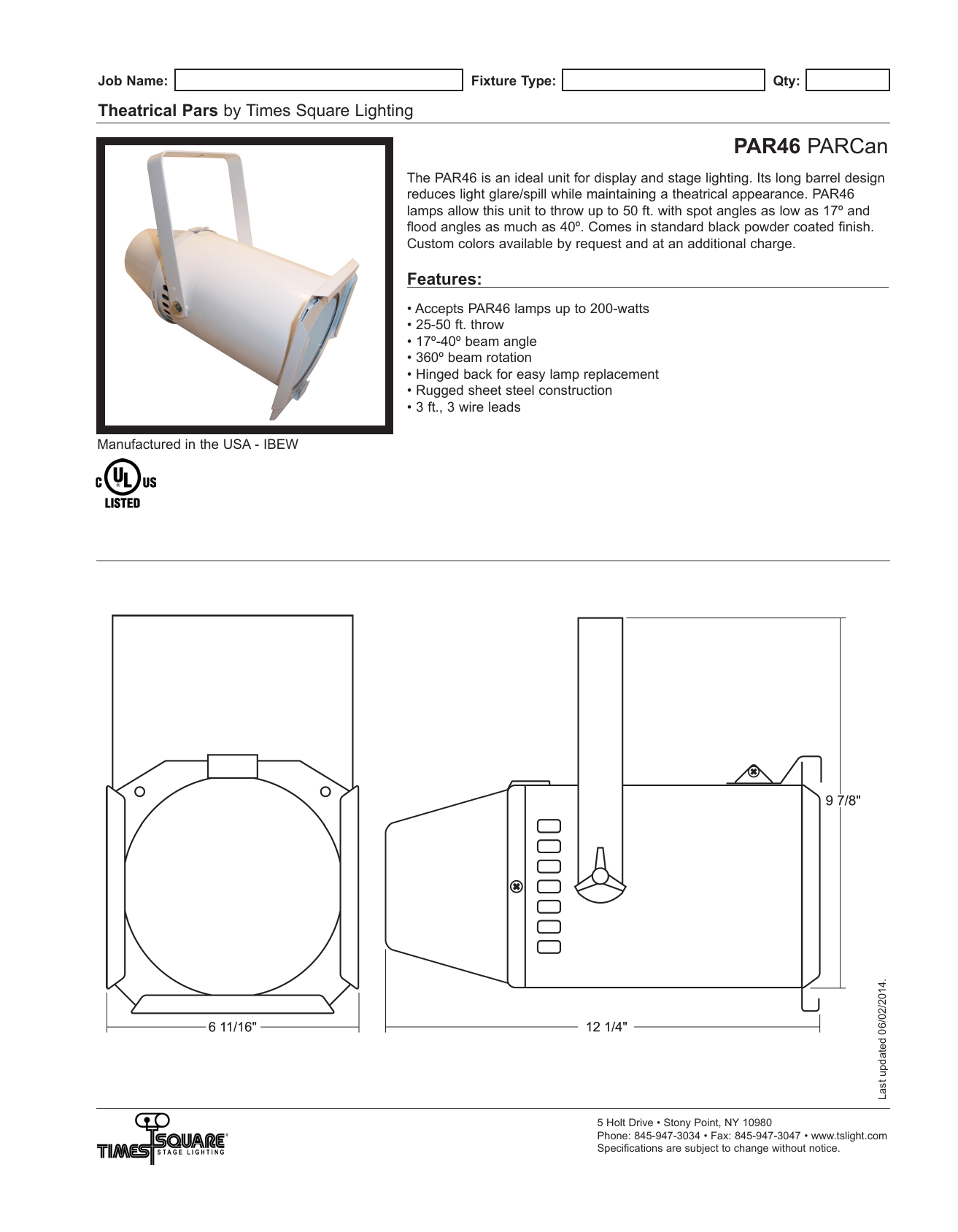 Job Name:
Fixture Type:
Qty:
Theatrical Pars by Times Square Lighting
PAR46 PARCan
The PAR46 is an ideal unit for display and stage lighting. Its long barrel design
reduces light glare/spill while maintaining a theatrical appearance. PAR46
lamps allow this unit to throw up to 50 ft. with spot angles as low as 17º and
flood angles as much as 40º. Comes in standard black powder coated finish.
Custom colors available by request and at an additional charge.
Features:
• Accepts PAR46 lamps up to 200-watts
• 25-50 ft. throw
• 17º-40º beam angle
• 360º beam rotation
• Hinged back for easy lamp replacement
• Rugged sheet steel construction
• 3 ft., 3 wire leads
Last updated 06/02/2014.
Manufactured in the USA - IBEW
5 Holt Drive • Stony Point, NY 10980
Phone: 845-947-3034 • Fax: 845-947-3047 • www.tslight.com
Specifications are subject to change without notice.
PAR46 PARCan
Specify:
PAR46
-
-
-
-
MODEL NUMBER
FINISH
CONNECTOR (optional)
MOUNTING (optional)
ACCESSORIES (optional)
PAR46
-B
- E2867
-TB4
-P6BD4
Example:
Photometric Data
Mounting Options
See index for details.
200PAR46/3NSP 8ºx12º
Distance
Beam Spread
Footcandles
5'
1'
1240
10'
2'
310
15'
3'
138
20'
4'
78
200PAR46/3MFL 13ºx27º
Distance
Beam Spread
Footcandles
5'
2.25'
460
10'
4.5'
115
15'
7'
51
20'
9.5'
29
TB4
6" Portable wall mount/table base for
floor, wall or table use.
TB8
8" x 8" Portable table base for floor or
table use.
PCE
Economy pipe clamp with thumb screw
adjustment. Perfect for smaller fixtures.
1/4" to 1 1/2" O.D.
CM
Medium duty pipe clamp for small to
large fixtures. For pipes 1/8" to 1" O.D.
PC9M
Heavy duty pipe clamp for large, heavy
fixtures. For pipes 1/2" to 1 1/2" O.D.
SC
1/8" diameter, 30" long steel safety cable
with snap ring. Used as added security
when large or heavy fixtures are being
used.
Male Connectors
E2867
E876
600G
Edison Plug
Twist Lock
Stage Pin
Lamp Types
Finish
200PAR46/3NSP 200W; 2000Hrs;
8°x12° Beam; 31000 CBCP; 2750°K
Color Temp
B Black
W White
CC
Custom Color
200PAR46/3MFL 200W; 2000Hrs;
13°x27° Beam; 11500 CBCP; 2750°K
Color Temp
Accessories
P6BD4
*P6CF
P6CFG
Barndoor
Color Frame
Glass Color Filter
*Item included with the purchase of fixture.

* Your assessment is very important for improving the work of artificial intelligence, which forms the content of this project