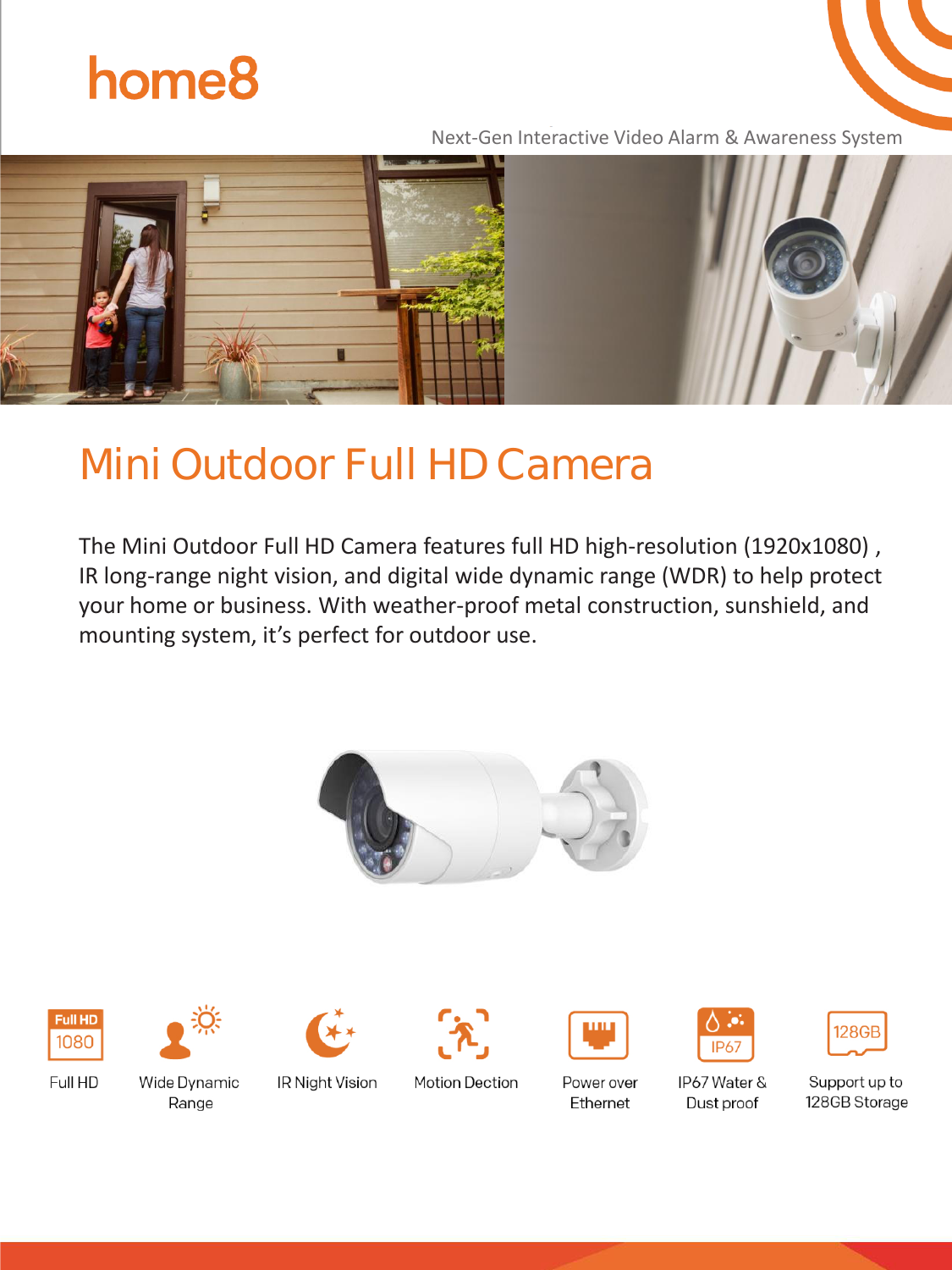 Next-Gen Interactive Video Alarm & Awareness System
Mini Outdoor Full HD Camera
The Mini Outdoor Full HD Camera features full HD high-resolution (1920x1080) ,
IR long-range night vision, and digital wide dynamic range (WDR) to help protect
your home or business. With weather-proof metal construction, sunshield, and
mounting system, it's perfect for outdoor use.
BENEFITS
•
•
•
•
•
Enhanced visibility under high-contrast lighting condition
Full HD quality during day and night
Complete protection against dust and water
Connect Mini Outdoor HD Camera to system with PoE wires or wirelessly
24/7 Continuous recording by working with Home8 systems
Features
Specification
• Discreet Wi-Fi camera for the home or
office
• Support motion detection & continuous
recording
• Captures still and live video
• Day and night with ICR filter, 65.6ft (20m)
Night Vision
• Expandable flash storage
• Digital wide dynamic range (WDR)
• Supports Power over Ethernet (PoE)
• Digital Zoom In/Out
• Outdoor ready, IP67 outdoor certified,
handles water and dust proof
• Operating temperature: -22℉ ~ 140℉
(-30°C ~ 60°C)
• Video resolution: 1080p High Definition (1920
x 1080)
• Frame rate: up to 30fps
• Field of view: 85°
• Video format: H.264
• Wi-Fi: IEEE 802.11 b/g/n
• Wi-Fi Security: WPA/WPA2 PSK
• Ingress Protection level: IP67
• Power over Ethernet (802.3af PoE)
• Storage: microSD drive, up to 128GB*
*MicroSD Card not included, FAT32-format required.
Model Number: IPC2203
48460
Road
Email :Kato
marketing@asd.co.th
Fremont, CA 94538
www.asd.co.th
United
States
1-844-800-6482
marketing@home8systems.com
www.home8systems.com
Home8 is the trademark of MivaTek DBA Home8. All other trademarks or service marks are the property of their
respective holders. ©2016 Home8. All rights reserved.

* Your assessment is very important for improving the work of artificial intelligence, which forms the content of this project