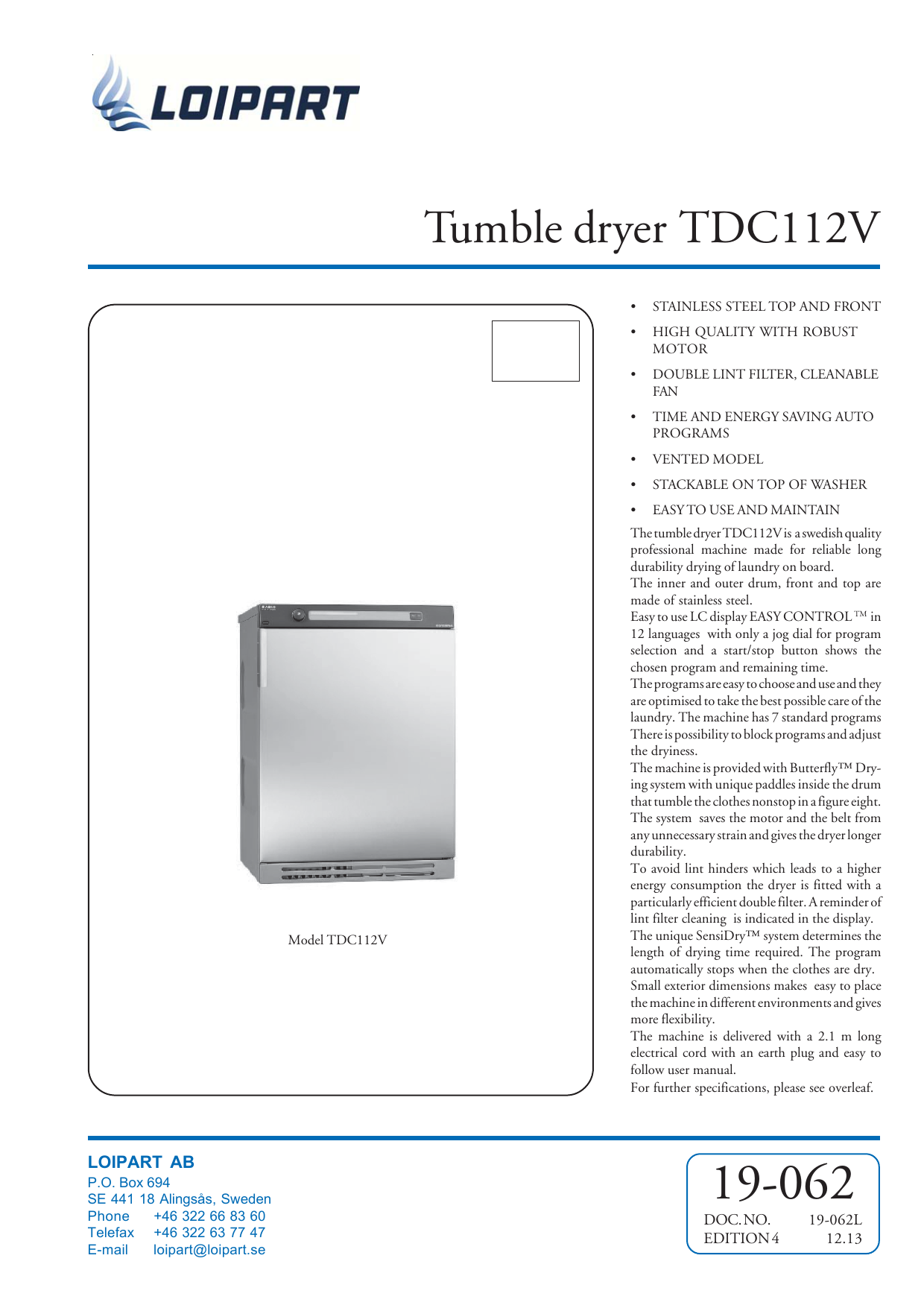 Tumble dryer TDC112V
Model TDC112V
LOIPART AB
P.O. Box 694
SE 441 18 Alingsås, Sweden
Phone
+46 322 66 83 60
Telefax +46 322 63 77 47
E-mail
loipart@loipart.se
•
STAINLESS STEEL TOP AND FRONT
•
HIGH QUALITY WITH ROBUST
MOTOR
•
DOUBLE LINT FILTER, CLEANABLE
FAN
•
TIME AND ENERGY SAVING AUTO
PROGRAMS
•
VENTED MODEL
•
STACKABLE ON TOP OF WASHER
•
EASY TO USE AND MAINTAIN
The tumble dryer TDC112V is a swedish quality
professional machine made for reliable long
durability drying of laundry on board.
The inner and outer drum, front and top are
made of stainless steel.
Easy to use LC display EASY CONTROL TM in
12 languages with only a jog dial for program
selection and a start/stop button shows the
chosen program and remaining time.
The programs are easy to choose and use and they
are optimised to take the best possible care of the
laundry. The machine has 7 standard programs
There is possibility to block programs and adjust
the dryiness.
The machine is provided with Butterfly™ Drying system with unique paddles inside the drum
that tumble the clothes nonstop in a figure eight.
The system saves the motor and the belt from
any unnecessary strain and gives the dryer longer
durability.
To avoid lint hinders which leads to a higher
energy consumption the dryer is fitted with a
particularly efficient double filter. A reminder of
lint filter cleaning is indicated in the display.
The unique SensiDry™ system determines the
length of drying time required. The program
automatically stops when the clothes are dry.
Small exterior dimensions makes easy to place
the machine in different environments and gives
more flexibility.
The machine is delivered with a 2.1 m long
electrical cord with an earth plug and easy to
follow user manual.
For further specifications, please see overleaf.
19-062
DOC. NO.
EDITION 4
19-062L
12.13
TUMBLE DRYER TDC112V
Scale 1:20
Dimensions mm
606
585
3
595
2113
183
74
30
3
+25
716
716
691
845 -0
1
2
30
90
184
37.5
411
37.5
102.5
520
541
1164
1. Exhaust connection, Ø 100mm
2. Alternative exhaust connections on both sides, Ø 100mm
3. Eletrical connection, electrical cord L= 2.1m
(models 230 1~50, 230 1~60 with earth plug )
right hinged door
Specification
Model
Max rated
capacity/load kgs
drying time, cotton
min
normal dry
(60 % moisture)
cupboard dry
(50 % moisture)
Air outlet
mm
Evacuated
air
m³/h
Voltage V
230 1~60
TDC112V
6
70
65
Ø100
154
230 1~50
440 3~60
400 3~50
Weight kgs
Loading
kW
Fuse A
3
16
3.3
net
gross
Shipping
volume
m³
40
44
0.400
10
Optional extra
Model
ST112
Description
Stacking kit
Installation
The tumble dryer is provided with 4 adjustable metallic feet covered with rubber.
Two rear brackets and two front brackets with locking clamps and bolts are a part
of delivery.
For keeping the machine positioned and secured, see separate Mounting
instruction which is a part of Installation instructions included in delivery.
rear bracket
machine´s foot
locking clamp
fixing bolt
front bracket
19-062
Subject to changes without notice.

* Your assessment is very important for improving the work of artificial intelligence, which forms the content of this project