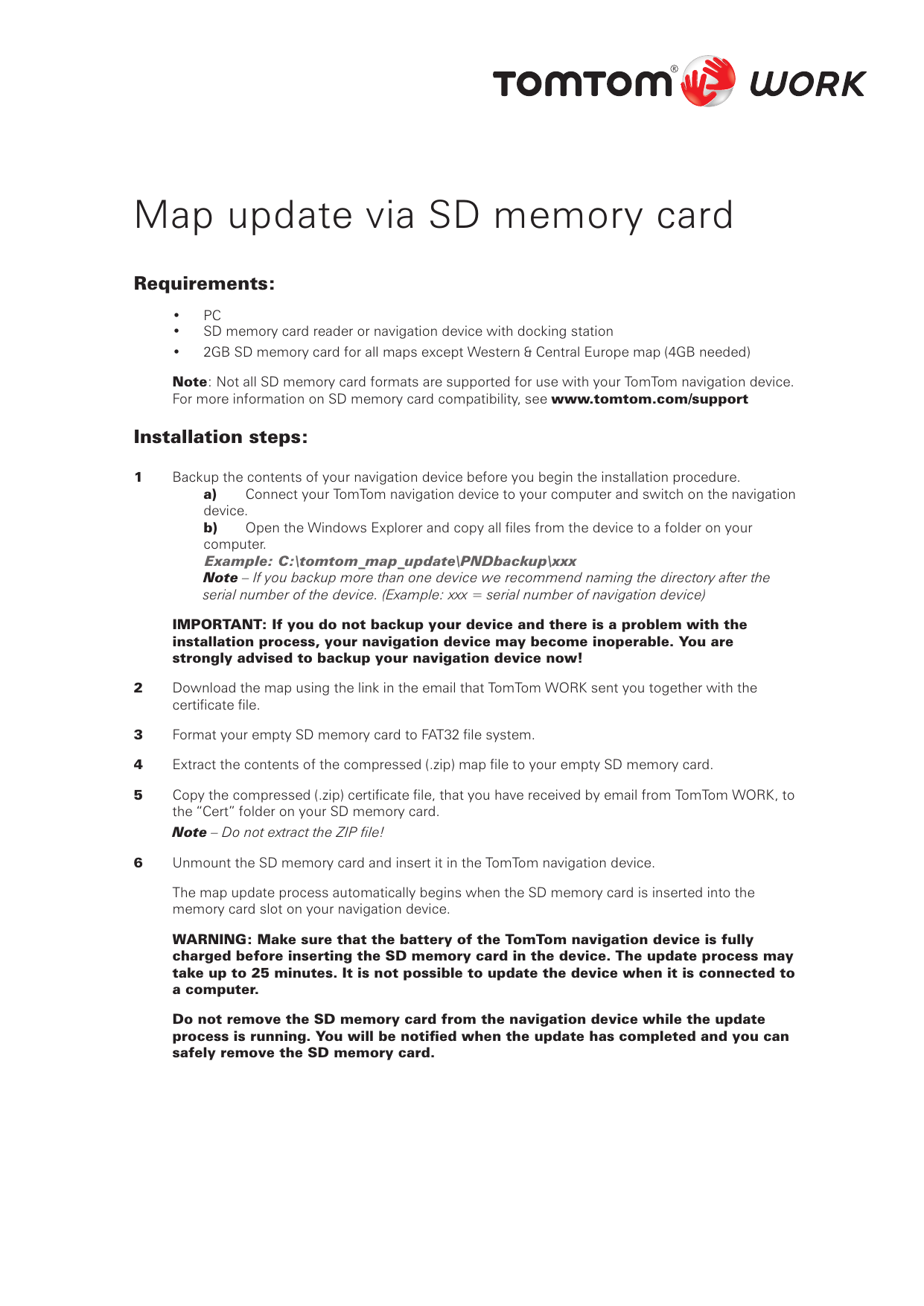 Map update via SD memory card
Requirements:
•
•
PC
SD memory card reader or navigation device with docking station
•
2GB SD memory card for all maps except Western & Central Europe map (4GB needed)
Note: Not all SD memory card formats are supported for use with your TomTom navigation device.
For more information on SD memory card compatibility, see www.tomtom.com/support
Installation steps:
1
Backup the contents of your navigation device before you begin the installation procedure.
a)
Connect your TomTom navigation device to your computer and switch on the navigation
device.
b)
Open the Windows Explorer and copy all files from the device to a folder on your
computer.
Example: C:\tomtom_map_update\PNDbackup\xxx
Note – If you backup more than one device we recommend naming the directory after the
serial number of the device. (Example: xxx = serial number of navigation device)
IMPORTANT: If you do not backup your device and there is a problem with the
installation process, your navigation device may become inoperable. You are
strongly advised to backup your navigation device now!
2
Download the map using the link in the email that TomTom WORK sent you together with the
certificate file.
3
Format your empty SD memory card to FAT32 file system.
4
Extract the contents of the compressed (.zip) map file to your empty SD memory card.
5
Copy the compressed (.zip) certificate file, that you have received by email from TomTom WORK, to
the "Cert" folder on your SD memory card.
Note – Do not extract the ZIP file!
6
Unmount the SD memory card and insert it in the TomTom navigation device.
The map update process automatically begins when the SD memory card is inserted into the
memory card slot on your navigation device.
WARNING: Make sure that the battery of the TomTom navigation device is fully
charged before inserting the SD memory card in the device. The update process may
take up to 25 minutes. It is not possible to update the device when it is connected to
a computer.
Do not remove the SD memory card from the navigation device while the update
process is running. You will be notified when the update has completed and you can
safely remove the SD memory card.

* Your assessment is very important for improving the work of artificial intelligence, which forms the content of this project