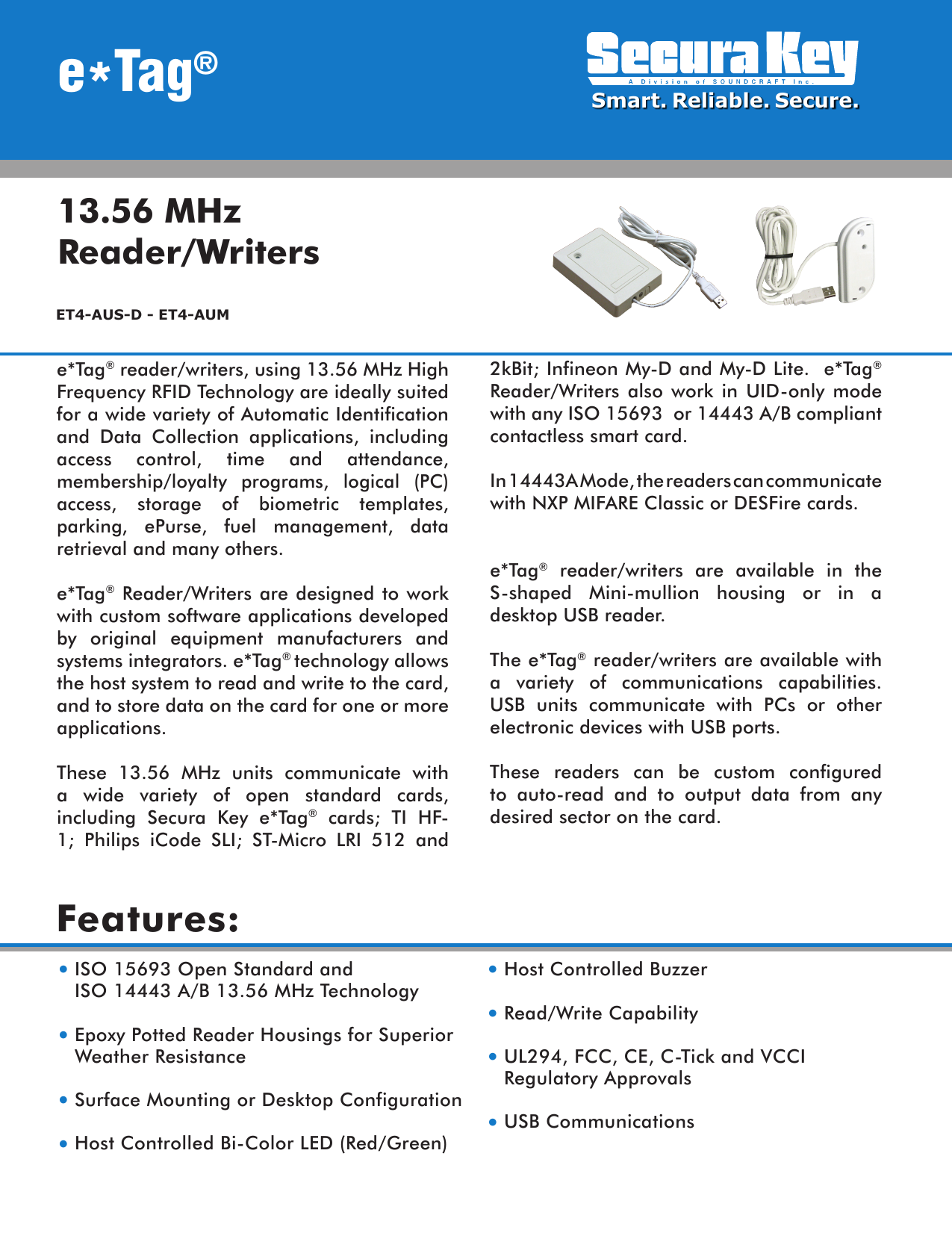 e*Tag®
Smart­. Reliable. Secure.
13.56 MHz
Reader/Writers
ET4-AUS-D - ET4-AUM
e*Tag® reader/writers, using 13.56 MHz High
Frequency RFID Technology are ideally suited
for a wide variety of Automatic Identification
and Data Collection applications, including access control, time and attendance,
membership/loyalty programs, logical (PC)
access, storage of biometric templates,
parking, ePurse, fuel management, data
retrieval and many others.
e*Tag® Reader/Writers are designed to work
with custom software applications developed
by original equipment manufacturers and
systems integrators. e*Tag® technology allows
the host system to read and write to the card,
and to store data on the card for one or more
applications.
These 13.56 MHz units communicate with
a wide variety of open standard cards,
including Secura Key e*Tag® cards; TI HF1; Philips iCode SLI; ST-Micro LRI 512 and
2kBit; Infineon My-D and My-D Lite. e*Tag®
Reader/Writers also work in UID-only mode
with any ISO 15693 or 14443 A/B compliant
contactless smart card.
In 14443A Mode, the readers can communicate
with NXP MIFARE Classic or DESFire cards.
e*Tag® reader/writers are available in the
S-shaped Mini-mullion housing or in a
desktop USB reader.
The e*Tag® reader/writers are available with
a variety of communications capabilities.
USB units communicate with PCs or other
electronic devices with USB ports.
These readers can be custom configured
to auto-read and to output data from any
desired sector on the card.
Features:
•ISO 15693 Open Standard and
ISO 14443 A/B 13.56 MHz Technology
•Epoxy Potted Reader Housings for Superior
Weather Resistance
•Surface Mounting or Desktop Configuration
•Host Controlled Bi-Color LED (Red/Green)
•Host Controlled Buzzer
•Read/Write Capability
•UL294, FCC, CE, C-Tick and VCCI
Regulatory Approvals
•USB Communications
e*Tag®
13.56 MHz Reader/Writers
SPECIFICATIONS
Dimensions
LxWxH
ET4-AUM
Mini-Mullion
ET4-AUS-D
Desktop
3.5" x 1.6" x 0.6"
8.89 x 4.06 x 1.52 cm
4.5" x 3.2" x 0.84"
11.43 x 8.13 x 2.13 cm
¿
¿
1.60
¿
¿
¿
¿
3.50
4.50
LED
Mounting
Weight
Material
Color
¿
Surface Mount
Desk top, counter
2.88 oz (81.65 gm)
8 oz (226.8 gm)
ABS
Polycarbonate
Black or White
Beige
Power Requirements
Read Ranges
(ISO Card); (Keytag)
3.20
¿
5 VDC USB Port Power
Up to 4.0" (10.16 cm); Up to 2.5" (6.35 cm)
Up to 6.0" (15.24 cm); Up to 3.5" (8.89 cm)
0 to 100% (non-condensing)
0 to 100%
(non-condensing)
Relative Humidity
Temperature Range
-40° to +70°C (-40° to +158°F)
Bi-Color LED
Red/Green, Host Activated
Buzzer Control
Host Activated
USB Only
Virtual COM Port, Windows® H.I.D. or Keyboard Wedge
Communications
Cable Distance
USB – 12 ft. (3.65m);
Cable Required
5' (1.52m) cable supplied
Comm Protocol
USB – Secura Key e*Tag® Protocol
ISO Standard
ISO 15693, 14443 A/B
Data Encryption
(Access control data)
DES with diversified keys
Operating Modes
Read-Write: host managed, USB or custom
Secura Key e*Tag cards; TI HF-1; Philips iCode SLI; ST-Micro LRI 512 and 2kBit;
Infineon My-D and My-D Lite, NXP MIFARE and DESFIRE and 14443B (TBD) cards.
®
Card Compatibility R/W
Card Compatibility
Read UID
Cards meeting the ISO 15693 or 14443 A/B standard
Regulatory Approvals
UL/ cUL294, Part 15 Class B FCC, CE Mark, Canada Radio, C-Tick
Frequency
13.56 MHz
Warranty
These Secura Key products are warranted against defects in materials and workmanship for lifetime.
Secura Key will replace any Secura Key manufactured product that fails to perform as intended. This
warranty does not include freight, taxes, duties, or installation expenses. See price list for complete terms
and conditions.
20301 Nordhoff Street, Chatsworth, CA 91311
PHONE (818) 882-0020 • FAX (818) 882-7052
TOLL-FREE (800) 891-0020
Website: www.securakey.com • E-mail: mail@securakey.com
Specifications subject to change without notice
©COPYRIGHT 2012
7656
Smart­. Reliable. Secure.

* Your assessment is very important for improving the work of artificial intelligence, which forms the content of this project