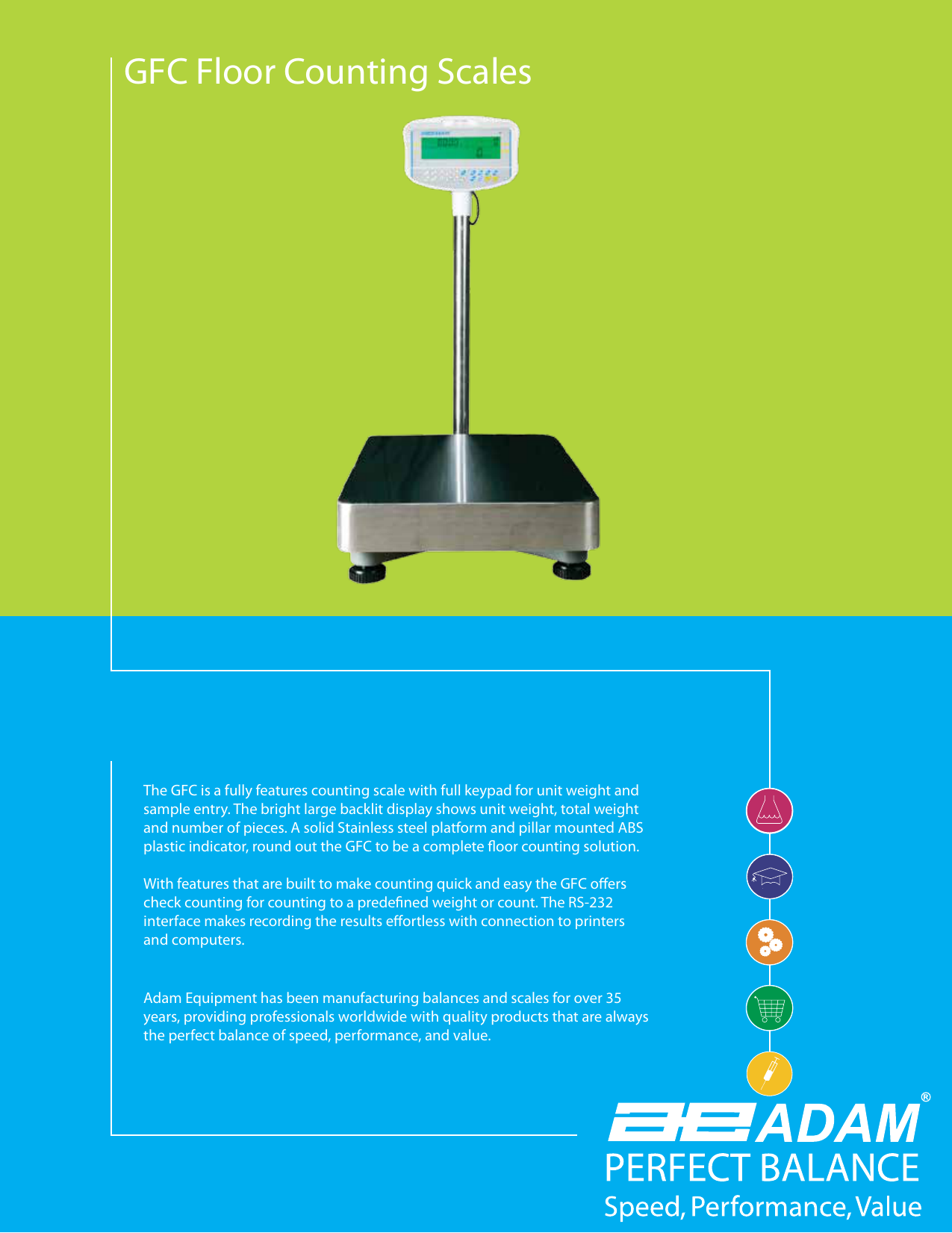 GFC Floor Counting Scales
The GFC is a fully features counting scale with full keypad for unit weight and
sample entry. The bright large backlit display shows unit weight, total weight
and number of pieces. A solid Stainless steel platform and pillar mounted ABS
plastic indicator, round out the GFC to be a complete floor counting solution.
With features that are built to make counting quick and easy the GFC offers
check counting for counting to a predefined weight or count. The RS-232
interface makes recording the results effortless with connection to printers
and computers.
Adam Equipment has been manufacturing balances and scales for over 35
years, providing professionals worldwide with quality products that are always
the perfect balance of speed, performance, and value.
GFC floor counting scales makes quick work out of
counting parts for greater efficiency
GFC Highlights:
Features
• Freely selectable sample size
through keypad
• RS-232 bi-directional
• 3 backlit LCD displays
• Rechargeable battery up to 70
hours of usage
• Date and time
• Selectable multi-language text for
printing
Transmit information to computers and
printers with the built in bi-directional RS-232
interface, for easy data recording and logging.
A large backlit display clearly shows unit
weight, weight and pieces for quick and easy
readings making counting applications simple
and trouble free.
Applications
•Weighing
•Parts counting
•Check counting
Color coded keypad make frequently used
buttons instantly recognized for accuracy and
the smart user interface makes learning and
operating a snap.
A large stainless steel platform can be
removed for easy cleaning. A built in
rechargeable battery means the GFC can be
used where the parts are.
Large Stainless
steel top pan
Technical Specifications
Model
GFC 165a
GFC 330a
GFC660a
165lb / 75kg
330lb / 150kg
660lb / 300kg
0.01lb / 5g
0.02lb / 10g
0.05lb / 20g
Repeatability (S.D.)
0.01lb / 5g
0.02lb / 10g
0.05lb / 20g
Linearity (+/-)
0.02lb / 10g
0.04lb / 20g
0.1lb / 40g
Capacity
Readability
Pan Size
Weighing Units
Stabilization Time
Calibration
Display
Power Supply
Operating Temperature
Housing
Overall Dimensions
Net Weight
Accessories
Sturdy Construction
Bright backlit
display
16" x 20" / 400 x 500mm
Pounds (lb), Kilograms (kg)
2-3 Secs
Automatic External
3 backlit Green displays
12vDC 800mA adapter / 6v 4Ah rechargebale battery
14°F to 104°F / -10°C to 40°C
Indicator: ABS Plastics
Top Pan: Stainless steel
34" x 16" x 24" / 860 x 400 x 620mm
27.5lb / 12.46kg
•Adam Printer
•Replacement Paper (5 pack)
•In-use cover
www.adamequipment.com
Adam Equipment follows a policy of continuous improvement and reserves the right to change specification and pricing without notice.
Adam Equipment's standard terms and conditions of sale apply. Errors and omissions excepted. ©Adam Equipment 2009.

* Your assessment is very important for improving the work of artificial intelligence, which forms the content of this project