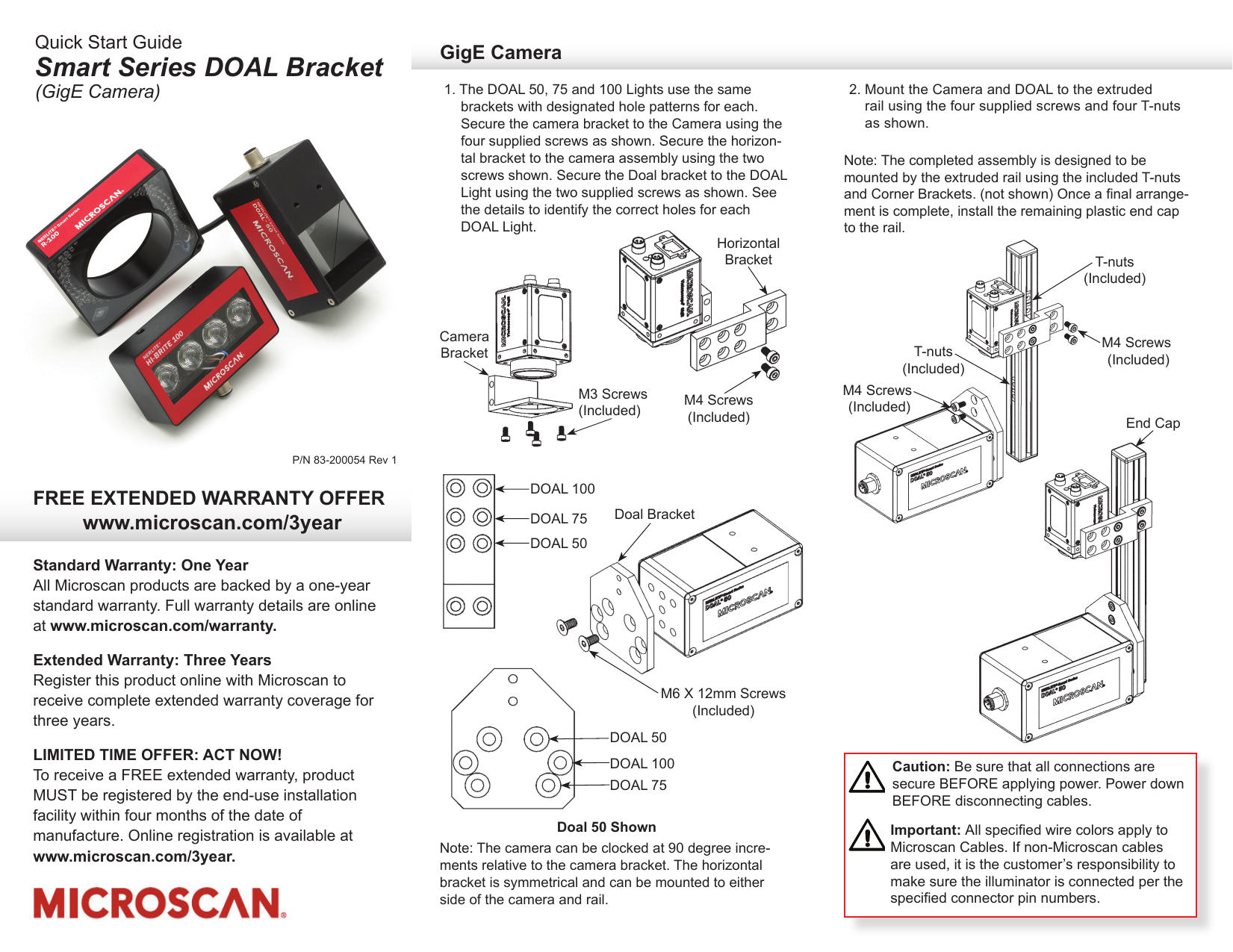 Quick Start Guide
Smart Series DOAL Bracket
(GigE Camera)
GigE Camera
1. The DOAL 50, 75 and 100 Lights use the same
brackets with designated hole patterns for each.
Secure the camera bracket to the Camera using the
four supplied screws as shown. Secure the horizontal bracket to the camera assembly using the two
screws shown. Secure the Doal bracket to the DOAL
Light using the two supplied screws as shown. See
the details to identify the correct holes for each
DOAL Light.
Horizontal
Bracket
Camera
Bracket
2. Mount the Camera and DOAL to the extruded
rail using the four supplied screws and four T-nuts
as shown.
Note: The completed assembly is designed to be
mounted by the extruded rail using the included T-nuts
and Corner Brackets. (not shown) Once a final arrangement is complete, install the remaining plastic end cap
to the rail.
T-nuts
(Included)
T-nuts
(Included)
M3 Screws
(Included)
M4 Screws
(Included)
M4 Screws
(Included)
M4 Screws
(Included)
End Cap
P/N 83-200054 Rev 1
FREE EXTENDED WARRANTY OFFER
www.microscan.com/3year
DOAL 100
DOAL 75
Doal Bracket
DOAL 50
Standard Warranty: One Year
All Microscan products are backed by a one-year
standard warranty. Full warranty details are online
at www.microscan.com/warranty.
Extended Warranty: Three Years
Register this product online with Microscan to
receive complete extended warranty coverage for
three years.
LIMITED TIME OFFER: ACT NOW!
To receive a FREE extended warranty, product
MUST be registered by the end-use installation
facility within four months of the date of
manufacture. Online registration is available at
www.microscan.com/3year.
M6 X 12mm Screws
(Included)
DOAL 50
DOAL 100
DOAL 75
Doal 50 Shown
Note: The camera can be clocked at 90 degree increments relative to the camera bracket. The horizontal
bracket is symmetrical and can be mounted to either
side of the camera and rail.
Caution: Be sure that all connections are
secure BEFORE applying power. Power down
BEFORE disconnecting cables.
Important: All specified wire colors apply to
Microscan Cables. If non-Microscan cables
are used, it is the customer's responsibility to
make sure the illuminator is connected per the
specified connector pin numbers.

* Your assessment is very important for improving the work of artificial intelligence, which forms the content of this project