sapphire ed compact - The Binocular Shop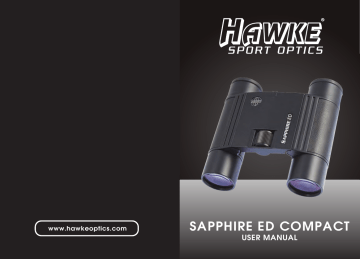 R
www.hawkeoptics.com
SAPPHIRE ED COMPACT
USER MANUAL
TWIST-UP EYE-CUPS
Eyeglass users will normally need the
eye-cups (C) twisted down. Users not
wearing eyeglasses should adjust the
eye-cups upwards for optimum eye relief.
CARING FOR YOUR BINOCULAR
1. Keep lens covers on the binocular when
not in use.
2. When cleaning the lenses, use the lens
cloth that comes with the binocular, or a
soft, lintless cloth.
3. To remove dirt, add one or two drops of
isopropyl alcohol to the cloth.
4. Store binocular in a moisture-free area.
5. Never attempt to clean your binocular
internally or try to take it apart.
6. Your binocular is fog and waterproof
in normal weather conditions, but is not
designed to be immersed in water.
HAWKE WORLDWIDE WARRANTY
Your new binocular has a limited lifetime
warranty (restricted to 10 years in Europe)
against premature failure due to defects in
materials and/or workmanship, subject to
the following conditions:
• The warranty does not cover failure due to
damage caused by abuse.
• The warranty does not cover failure from
excessive wear and tear even within the
warranty period.
• A till or computer generated proof of
purchase must accompany your claim.
• Should any original defect appear, please
log your warranty claim with your retailer or
at www.hawkeoptics.com
This warranty is limited to the original
purchaser and is in addition to your
statutory rights.
ADJUSTING THE OPTICAL VIEW
B. Focusing Wheel
C. Twist-Up Eyecups
A. Diopter Adjustment
The distance between the eyes varies from
one person to the next. To achieve perfect
alignment of the eyes and the lens openings,
hold the binocular in the normal viewing
position and move the two barrels either
apart or closer to each other until you have
a single, clear field of view.
FOCUSING
1. Set the right eyepiece (A) to the centre
of the diopter adjustment.
2. Cover the right front lens with your hand
and rotate the focusing wheel (B) until the
image in the left eyepiece appears sharp.
3. Now cover the left front lens with your
hand and rotate the diopter adjustment
(A) until the image is sharp.
4. The binoculars have now been adjusted
to your eyes. Note the diopter reading of
the right eyepiece for future reference.

* Your assessment is very important for improving the work of artificial intelligence, which forms the content of this project