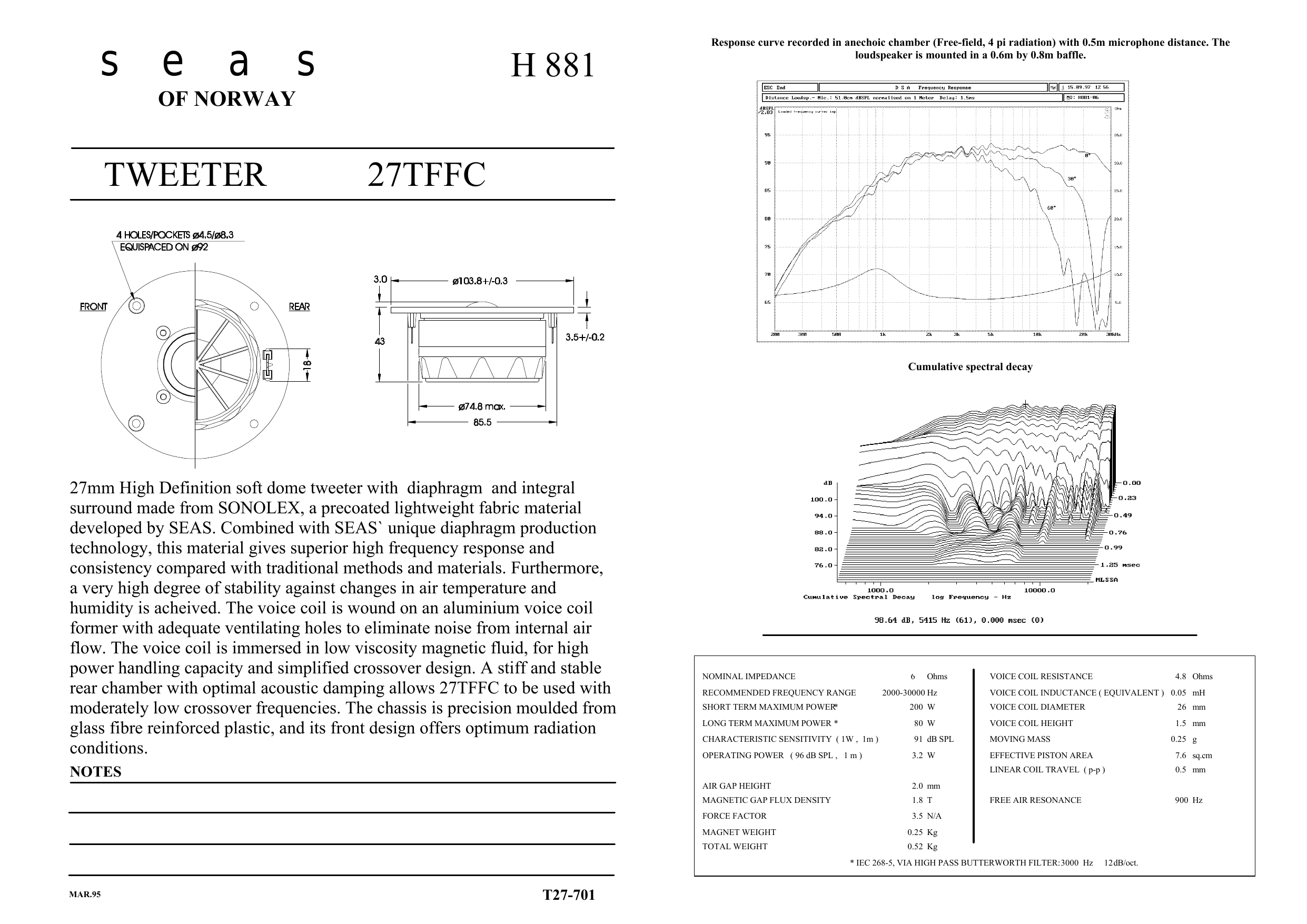 seas
H 881
Response curve recorded in anechoic chamber (Free-field, 4 pi radiation) with 0.5m microphone distance. The
loudspeaker is mounted in a 0.6m by 0.8m baffle.
OF NORWAY
TWEETER
27TFFC
Cumulative spectral decay
27mm High Definition soft dome tweeter with diaphragm and integral
surround made from SONOLEX, a precoated lightweight fabric material
developed by SEAS. Combined with SEAS` unique diaphragm production
technology, this material gives superior high frequency response and
consistency compared with traditional methods and materials. Furthermore,
a very high degree of stability against changes in air temperature and
humidity is acheived. The voice coil is wound on an aluminium voice coil
former with adequate ventilating holes to eliminate noise from internal air
flow. The voice coil is immersed in low viscosity magnetic fluid, for high
power handling capacity and simplified crossover design. A stiff and stable
rear chamber with optimal acoustic damping allows 27TFFC to be used with
moderately low crossover frequencies. The chassis is precision moulded from
glass fibre reinforced plastic, and its front design offers optimum radiation
conditions.
NOMINAL IMPEDANCE
6
RECOMMENDED FREQUENCY RANGE
Ohms
2000-30000 Hz
SHORT TERM MAXIMUM POWER*
200 W
LONG TERM MAXIMUM POWER *
80 W
VOICE COIL RESISTANCE
VOICE COIL INDUCTANCE ( EQUIVALENT ) 0.05 mH
VOICE COIL DIAMETER
26 mm
VOICE COIL HEIGHT
1.5 mm
CHARACTERISTIC SENSITIVITY ( 1W , 1m )
91 dB SPL
MOVING MASS
OPERATING POWER ( 96 dB SPL , 1 m )
3.2 W
EFFECTIVE PISTON AREA
7.6 sq.cm
LINEAR COIL TRAVEL ( p-p )
0.5 mm
AIR GAP HEIGHT
2.0 mm
MAGNETIC GAP FLUX DENSITY
1.8 T
FREE AIR RESONANCE
900 Hz
FORCE FACTOR
3.5 N/A
NOTES
MAGNET WEIGHT
0.25 Kg
TOTAL WEIGHT
0.52 Kg
* IEC 268-5, VIA HIGH PASS BUTTERWORTH FILTER: 3000 Hz
MAR.95
T27-701
4.8 Ohms
0.25 g
12 dB/oct.

* Your assessment is very important for improving the work of artificial intelligence, which forms the content of this project