Panasonic SC-HTB500EB-K Datasheet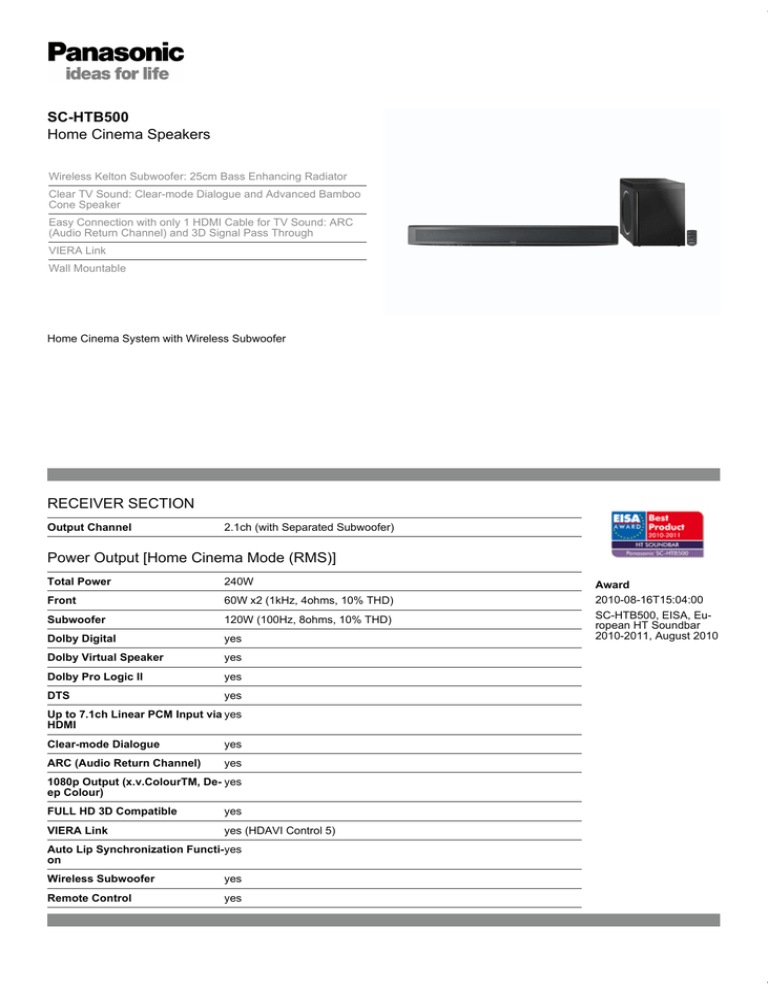 SC-HTB500
Home Cinema Speakers
Wireless Kelton Subwoofer: 25cm Bass Enhancing Radiator
Clear TV Sound: Clear-mode Dialogue and Advanced Bamboo
Cone Speaker
Easy Connection with only 1 HDMI Cable for TV Sound: ARC
(Audio Return Channel) and 3D Signal Pass Through
VIERA Link
Wall Mountable
Home Cinema System with Wireless Subwoofer
RECEIVER SECTION
Output Channel
2.1ch (with Separated Subwoofer)
Power Output [Home Cinema Mode (RMS)]
Total Power
240W
Front
60W x2 (1kHz, 4ohms, 10% THD)
Subwoofer
120W (100Hz, 8ohms, 10% THD)
Dolby Digital
yes
Dolby Virtual Speaker
yes
Dolby Pro Logic II
yes
DTS
yes
Up to 7.1ch Linear PCM Input via yes
HDMI
Clear-mode Dialogue
yes
ARC (Audio Return Channel)
yes
1080p Output (x.v.ColourTM, De- yes
ep Colour)
FULL HD 3D Compatible
yes
VIERA Link
yes (HDAVI Control 5)
Auto Lip Synchronization Functi-yes
on
Wireless Subwoofer
yes
Remote Control
yes
Award
2010-08-16T15:04:00
SC-HTB500, EISA, European HT Soundbar
2010-2011, August 2010
TERMINALS
HDMI Terminals
yes(1input[BD/DVD]/1output[TV])
Digital Input
yes (1 Optical [TV])
Wall-Mounting
yes
Weight (kg) (Approx.)
2.8
Dimensions (Approx./ without wall mount bracket)
Width (mm)
1029
Height (mm)
108
Depth (mm)
58
Front
Configuration
1-way 1-speaker, Bass-reflex
Speaker Unit (Approx.)
6.5cm Cone Type x 2
(Advanced Bamboo Cone)
WIRELESS SUBWOOFER
Configuration
Kelton type
Speaker Unit (Approx.)
25cm Passive Radiator, 16cm Woofer
Weight (kg) (Approx.)
6.7 kg
Dimensions (Approx.)
Width (mm)
250
Height (mm)
323
Depth (mm)
356
NOTE
Design and specifications are subject to change without notice.

* Your assessment is very important for improving the work of artificial intelligence, which forms the content of this project