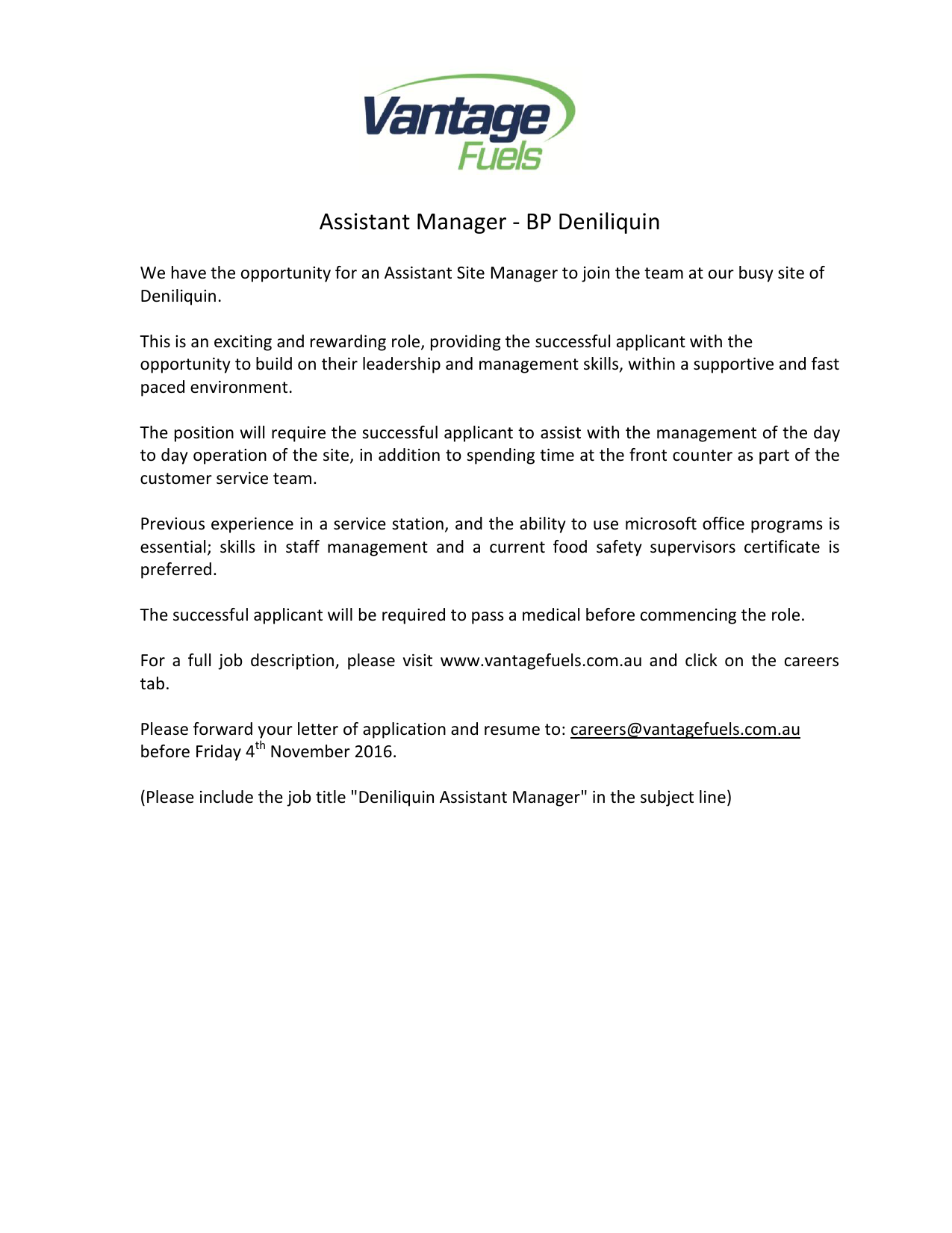 Assistant Manager - BP Deniliquin
We have the opportunity for an Assistant Site Manager to join the team at our busy site of
Deniliquin.
This is an exciting and rewarding role, providing the successful applicant with the
opportunity to build on their leadership and management skills, within a supportive and fast
paced environment.
The position will require the successful applicant to assist with the management of the day
to day operation of the site, in addition to spending time at the front counter as part of the
customer service team.
Previous experience in a service station, and the ability to use microsoft office programs is
essential; skills in staff management and a current food safety supervisors certificate is
preferred.
The successful applicant will be required to pass a medical before commencing the role.
For a full job description, please visit www.vantagefuels.com.au and click on the careers
tab.
Please forward your letter of application and resume to: careers@vantagefuels.com.au
before Friday 4th November 2016.
(Please include the job title "Deniliquin Assistant Manager" in the subject line)
Job Description - Assistant Site Manager
Job role:
Assistant Site Manager – Retail fuel site
Job purpose:
Offering assistance and support to the Site Manager in the daily operations of the
site and the supervising of staff, to ensure the efficient and successful running of
the site
Duties:
The role of Assistant Site Manager includes all duties expected of a console operator:
 Customer service
 Cash handling
 Preparing / cooking food
 Making coffees using barista style coffee machine
 Stocking shelves, fridges, freezers
 Conducting fuel tank dips, tank water tests and emergency stop tests
 General site cleaning (including but not limited to: cleaning bathrooms, dusting, sweeping/mopping
floors, washing windows, wiping down benches, cleaning bowsers, picking up litter)
 Unpacking stock orders
 Use of the point of sale computer equipment
 Following general instructions from the Site Manager
 Site opening and site closing procedures
 Observing and adhering to health and safety procedures and policies
 Capable of implementing emergency procedures, and using emergency equipment (eg. fire
extinguishers, spill kit)
In addition to the console operator duties outlined above, the Assistant Site Manager is also expected to carry
out the following duties:
 Stock ordering as requested by the Site Manager
 Supervise staff
 Assist with the induction and on-going training of staff
 Assist with the drawing up and management of rosters
 Cash banking (as necessary)
 Cover shifts as needed
 Discuss site matters/processes/improvements/issues with the Site Manager on a regular basis
 Use of Microsoft office programs (in particular Outlook, Excel, Word)
 Completing paperwork to submit to head office
 Offer support to the Site Manager as required
 Back up for security calls, when the site alarm is triggered
 Encourage a team environment within the workplace
Skills/Qualifications:
Customer focus; staff leadership; ability to gain and maintain market knowledge; developing and maintaining
customer/supplier relationships; food safety supervisors certificate; competent in the use of Microsoft Office
computer programs; excellent verbal and written communication.

* Your assessment is very important for improving the work of artificial intelligence, which forms the content of this project