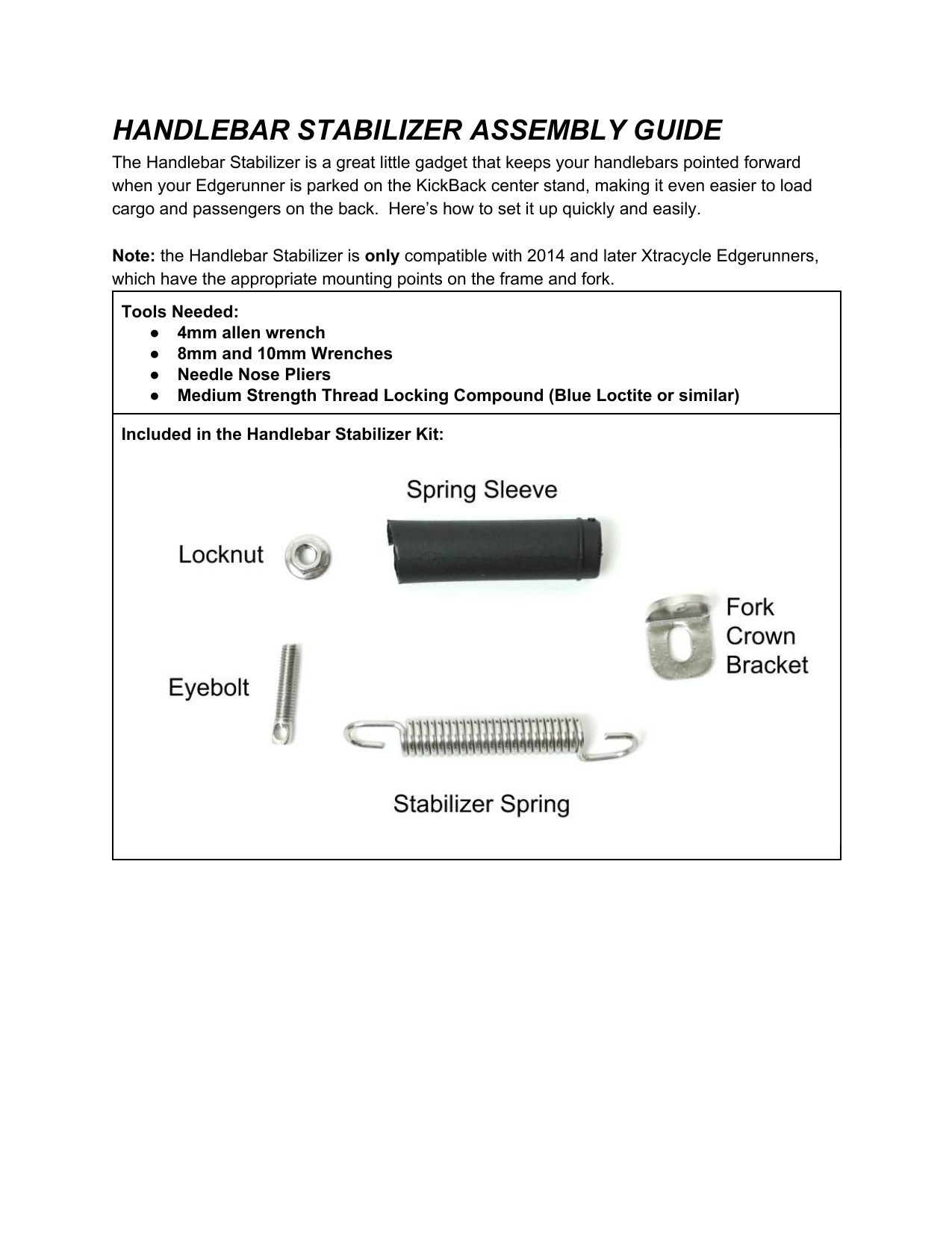 HANDLEBAR STABILIZER ASSEMBLY GUIDE The Handlebar Stabilizer is a great little gadget that keeps your handlebars pointed forward when your Edgerunner is parked on the KickBack center stand, making it even easier to load cargo and passengers on the back. Here's how to set it up quickly and easily. Note:​
the Handlebar Stabilizer is ​
only​
compatible with 2014 and later Xtracycle Edgerunners, which have the appropriate mounting points on the frame and fork. Tools Needed: ● 4mm allen wrench ● 8mm and 10mm Wrenches ● Needle Nose Pliers ● Medium Strength Thread Locking Compound (Blue Loctite or similar) Included in the Handlebar Stabilizer Kit: Attach the fork crown bracket to the crown of the fork with an M6X55mm bolt, in the configuration shown. Note: ​
The fork crown bracket may share the attachment bolt with a light mount and/or fender bracket. If a light mount is present (not shown), it fits between the bolt head and AR washer. Note​
: ​
Do not ​
connect the stabilizer spring until the fork crown bolt is tightened down! The force on the spring is enough to strip the bolt. Make sure that the fork crown bracket is aligned properly, with the spring attachment facing up. Use a 4mm allen wrench and 10mm wrench to tighten the fork crown bolt to 6­8 N­m. Thread the locknut onto the eyebolt as shown Note:​
It is recommended that you apply medium strength thread locking compound to the eyebolt threads where they enter frame. Thread the eyebolt into the boss on the underside of the downtube until the locknut contacts the frame. Leave it loose enough to rotate. Hook one end of the spring through the small hole on the fork crown bracket. Use a pair of needle nose pliers to hook the other end of the spring onto the eyebolt. Check to make sure that the eye of the eyebolt is 90 degrees to the axis of the bike. Tighten the locknut against the frame with an 8mm open­end wrench. Slip the spring sleeve over the spring to protect it. Congratulations! You have successfully installed your Handlebar Stabilizer. Warranty The Xtracycle Handlebar Stabilizer is guaranteed to be free from manufacturing defects for one (1) year from the original date of purchase. This warranty applies only to the original buyer and is not transferable. This warranty does not cover damage from use of this product outside of its intended range or that resulting from modification or neglect. It also does not cover wear and tear resulting from the normal use of the product. Please contact your Xtracycle dealer if you believe you have a warranty claim. 
* Your assessment is very important for improving the work of artificial intelligence, which forms the content of this project