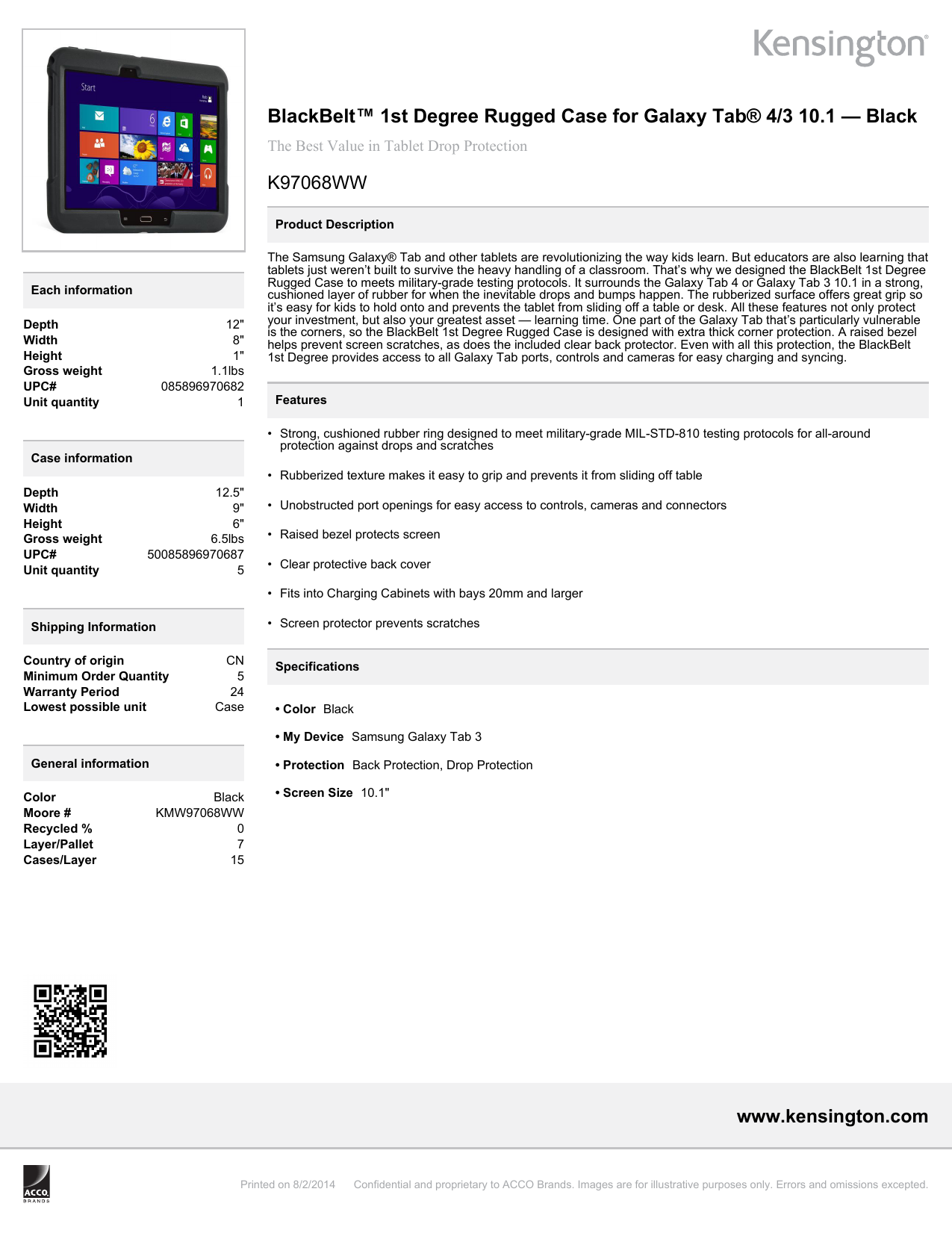 BlackBelt™ 1st Degree Rugged Case for Galaxy Tab® 4/3 10.1 — Black
The Best Value in Tablet Drop Protection
K97068WW
Product Description
Each information
Depth
Width
Height
Gross weight
UPC#
Unit quantity
12"
8"
1"
1.1lbs
085896970682
1
The Samsung Galaxy® Tab and other tablets are revolutionizing the way kids learn. But educators are also learning that
tablets just weren't built to survive the heavy handling of a classroom. That's why we designed the BlackBelt 1st Degree
Rugged Case to meets military-grade testing protocols. It surrounds the Galaxy Tab 4 or Galaxy Tab 3 10.1 in a strong,
cushioned layer of rubber for when the inevitable drops and bumps happen. The rubberized surface offers great grip so
it's easy for kids to hold onto and prevents the tablet from sliding off a table or desk. All these features not only protect
your investment, but also your greatest asset — learning time. One part of the Galaxy Tab that's particularly vulnerable
is the corners, so the BlackBelt 1st Degree Rugged Case is designed with extra thick corner protection. A raised bezel
helps prevent screen scratches, as does the included clear back protector. Even with all this protection, the BlackBelt
1st Degree provides access to all Galaxy Tab ports, controls and cameras for easy charging and syncing.
Features
• Strong, cushioned rubber ring designed to meet military-grade MIL-STD-810 testing protocols for all-around
protection against drops and scratches
Case information
• Rubberized texture makes it easy to grip and prevents it from sliding off table
Depth
Width
Height
Gross weight
UPC#
Unit quantity
12.5"
9"
6"
6.5lbs
50085896970687
5
• Unobstructed port openings for easy access to controls, cameras and connectors
• Raised bezel protects screen
• Clear protective back cover
• Fits into Charging Cabinets with bays 20mm and larger
• Screen protector prevents scratches
Shipping Information
Country of origin
Minimum Order Quantity
Warranty Period
Lowest possible unit
CN
5
24
Case
Specifications
• Color Black
• My Device Samsung Galaxy Tab 3
General information
Color
Moore #
Recycled %
Layer/Pallet
Cases/Layer
• Protection Back Protection, Drop Protection
Black
KMW97068WW
0
7
15
• Screen Size 10.1"
www.kensington.com
Printed on 8/2/2014
Confidential and proprietary to ACCO Brands. Images are for illustrative purposes only. Errors and omissions excepted.

* Your assessment is very important for improving the work of artificial intelligence, which forms the content of this project