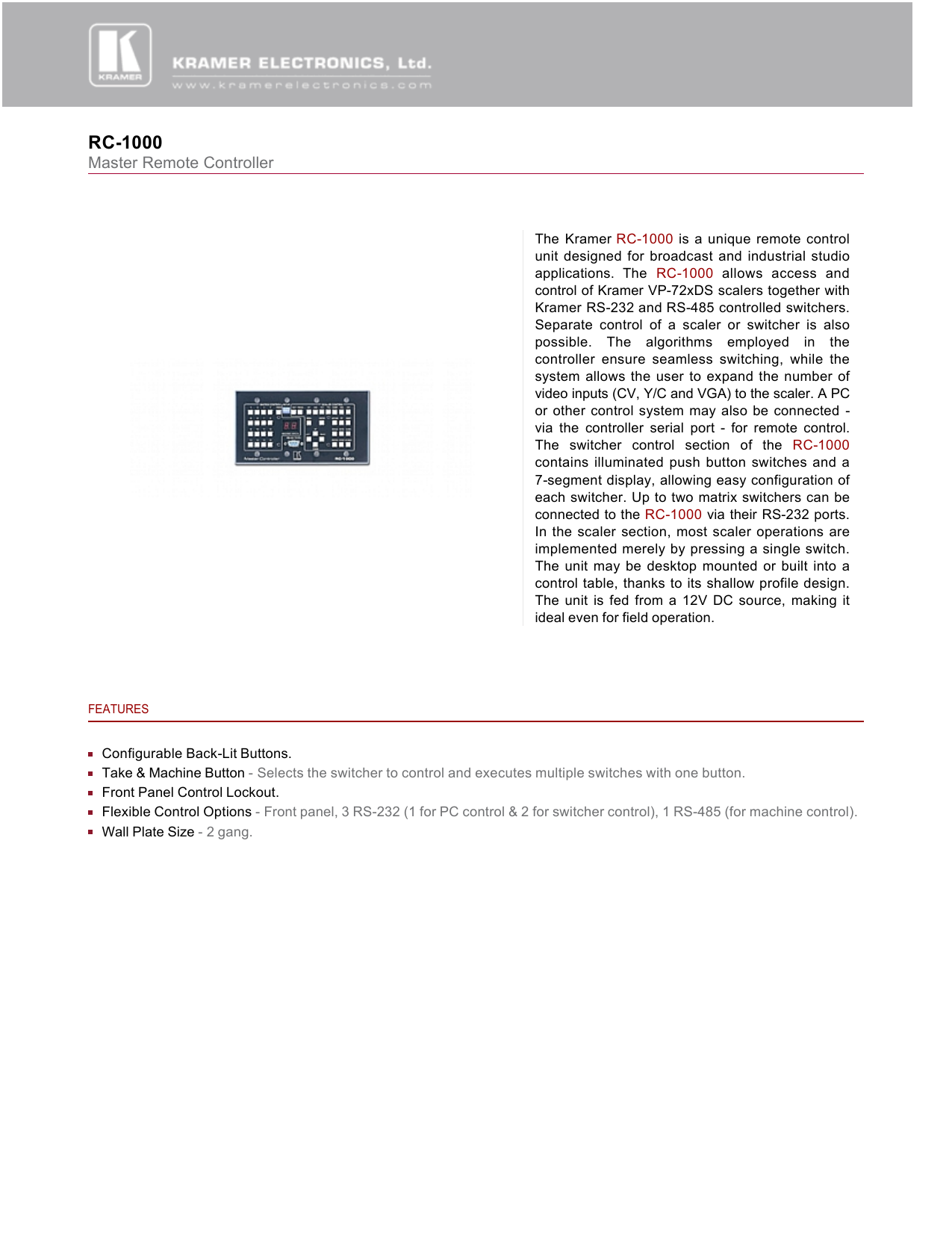 RC-1000
Master Remote Controller
The Kramer RC-1000 is a unique remote control
unit designed for broadcast and industrial studio
applications. The RC-1000 allows access and
control of Kramer VP-72xDS scalers together with
Kramer RS-232 and RS-485 controlled switchers.
Separate control of a scaler or switcher is also
possible. The algorithms employed in the
controller ensure seamless switching, while the
system allows the user to expand the number of
video inputs (CV, Y/C and VGA) to the scaler. A PC
or other control system may also be connected via the controller serial port - for remote control.
The switcher control section of the RC-1000
contains illuminated push button switches and a
7-segment display, allowing easy configuration of
each switcher. Up to two matrix switchers can be
connected to the RC-1000 via their RS-232 ports.
In the scaler section, most scaler operations are
implemented merely by pressing a single switch.
The unit may be desktop mounted or built into a
control table, thanks to its shallow profile design.
The unit is fed from a 12V DC source, making it
ideal even for field operation.
FEATURES
Configurable Back-Lit Buttons.
Take & Machine Button - Selects the switcher to control and executes multiple switches with one button.
Front Panel Control Lockout.
Flexible Control Options - Front panel, 3 RS-232 (1 for PC control & 2 for switcher control), 1 RS-485 (for machine control).
Wall Plate Size - 2 gang.
RC-1000
TECHNICAL SPECIFICATIONS
POWER SOURCE: 12V DC, 150 mA.
WEIGHT:
0.58 kg (1.29lbs.) approx.
ACCESSORIES:
Power supply. Null-modem adapter.

* Your assessment is very important for improving the work of artificial intelligence, which forms the content of this project