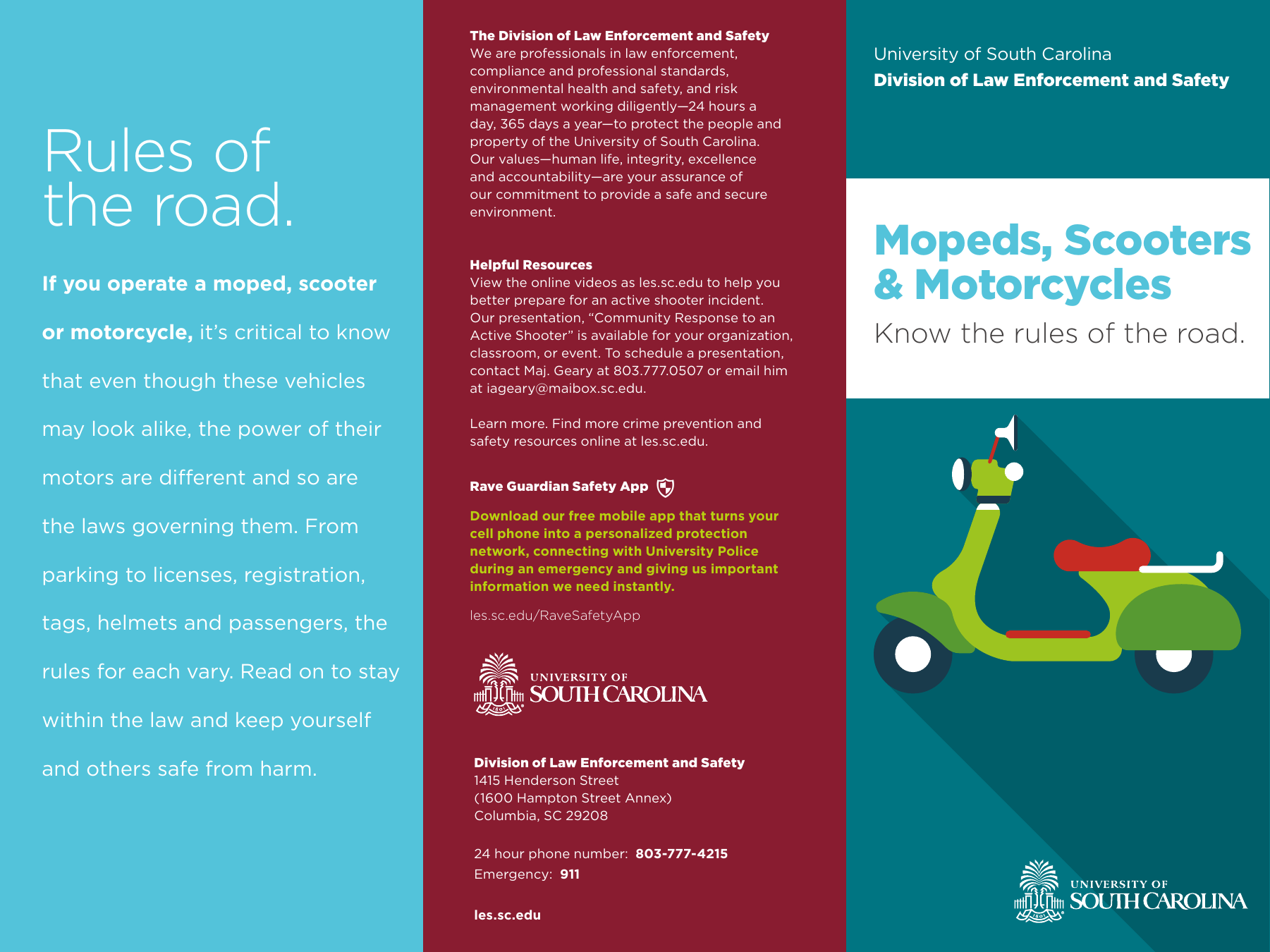 Rules of
the road.
If you operate a moped, scooter
or motorcycle, it's critical to know
that even though these vehicles
may look alike, the power of their
motors are different and so are
the laws governing them. From
parking to licenses, registration,
tags, helmets and passengers, the
The Division of Law Enforcement and Safety
We are professionals in law enforcement,
compliance and professional standards,
environmental health and safety, and risk
management working diligently­—24 hours a
day, 365 days a year­—to protect the people and
property of the University of South Carolina.
Our values­—human life, integrity, excellence
and accountability­—are your assurance of
our commitment to provide a safe and secure
environment.
Helpful Resources
View the online videos as les.sc.edu to help you
better prepare for an active shooter incident.
Our presentation, "Community Response to an
Active Shooter" is available for your organization,
classroom, or event. To schedule a presentation,
contact Maj. Geary at 803.777.0507 or email him
at iageary@maibox.sc.edu.
Learn more. Find more crime prevention and
safety resources online at les.sc.edu.
Rave Guardian Safety App
Download our free mobile app that turns your
cell phone into a personalized protection
network, connecting with University Police
during an emergency and giving us important
information we need instantly.
les.sc.edu/RaveSafetyApp
rules for each vary. Read on to stay
within the law and keep yourself
and others safe from harm.
Division of Law Enforcement and Safety
1415 Henderson Street
(1600 Hampton Street Annex)
Columbia, SC 29208
24 hour phone number: 803-777-4215
Emergency: 911
les.sc.edu
University of South Carolina
Division of Law Enforcement and Safety
Mopeds, Scooters
& Motorcycles
Know the rules of the road.
25 MPH
Know the facts
Under South Carolina law, there is no
State law prohibits mopeds
scooter classification, only motorcycle
from exceeding a speed of 25
and moped.
miles per hour.
A moped is not a motorcycle
or a scooter
Stay off the sidewalks and
within the law
Even though some manufacturers give mopeds and
The safety of students, faculty and staff is important.
scooters the same model name, they are not the
It is unsafe and unlawful to operate a moped on any
same. Under South Carolina law, there is no scooter
sidewalk. Mopeds and motorcycles must all remain
classification, only motorcycle and moped. Engine
on the street.
size determines which category the vehicle falls in.
•State law prohibits mopeds from exceeding a
•If the engine size is 50 CC or less, the vehicle is
considered a moped.
speed of 25 miles per hour.
moped, unless the moped was designed for two
•All vehicles that are considered scooters must be
people.
of whether or not they have a transmission with
gears.
Have the right license and
vehicle tags
License requirements for motorcycles are not the
same as for a moped. The vehicle license plate
•Any person under the age of twenty-one must
•The operator of a moped must have the operating
South Carolina.
designated spaces in which they must park.
•Parking on the sidewalk or securing your moped to
•Moped drivers are subject to traffic laws governing
other motor vehicles.
•A moped driver must have his or her license in
possession at all times when operating a moped.
Engine
50cc or less
+50cc
Max Speed Allowed
25 mph
Max posted limit
Top Speed Capacity
30 mph*
No limit
Veh License
Moped tag
Motorcycle
Operator License
Class G,D,M**
Class M
Single or two
No. of Passengers
if moped was
designed for
Single + 1
two
Liability Insurance
No
Yes
Helmet Required
Yes (1)
Yes (1)
a bicycle rack is never allowed.
•Mopeds or motorcycles should never be brought
inside any University building.
•To operate a moped, you must have a class D, G,
have a class M driver's license.
Motorcycle/
Scooter
Parking your vehicle
have a vehicle license tag from the South Carolina
or M driver's license, while motorcycle drivers must
Moped
operation on the public highways and streets of
issued by moped dealers while motorcycles must
have a validation sticker on the tag.
Reference guide
lights turned on at all times while the moped is in
Please note that mopeds and motorcycles have
•Moped tags must be made of reflective metal and
wear a helmet on a moped and motorcycle.
wear a helmet on a moped or motorcycle.
requirements are different as well. Moped tags are
Department of Motor Vehicles.
Any person under the age of twenty-one must
•It is illegal for more than one person to ride on a
• Anything greater than 50 CC is a motorcycle.
registered and insured as motorcycles, regardless
21
Register your vehicle
University policy requires mopeds and motorcycles
to be registered with Parking Services. Register
online at www.sc.edu/vmps/
*This is the top max speed capability for the vehicle. If a moped has
been altered to exceed a top speed of 30 MPH, then it should be
classified as a motorcycle.
**May be operated on any class of SC license. Class G license enables
riders 14 years old to operate a moped. Operators may only be
suspended from operating a moped for violations occurred while
riding a moped. Class D operators who are under suspension for DUI
may operate a moped during their suspension. Their driver's license
must be reinstated by DMV at the end of their suspension period in
order to continue to operate a moped.
(1) Helmet law requires operators and passengers under age 21 to wear
a helmet. Optional for those 21 or older.

* Your assessment is very important for improving the work of artificial intelligence, which forms the content of this project