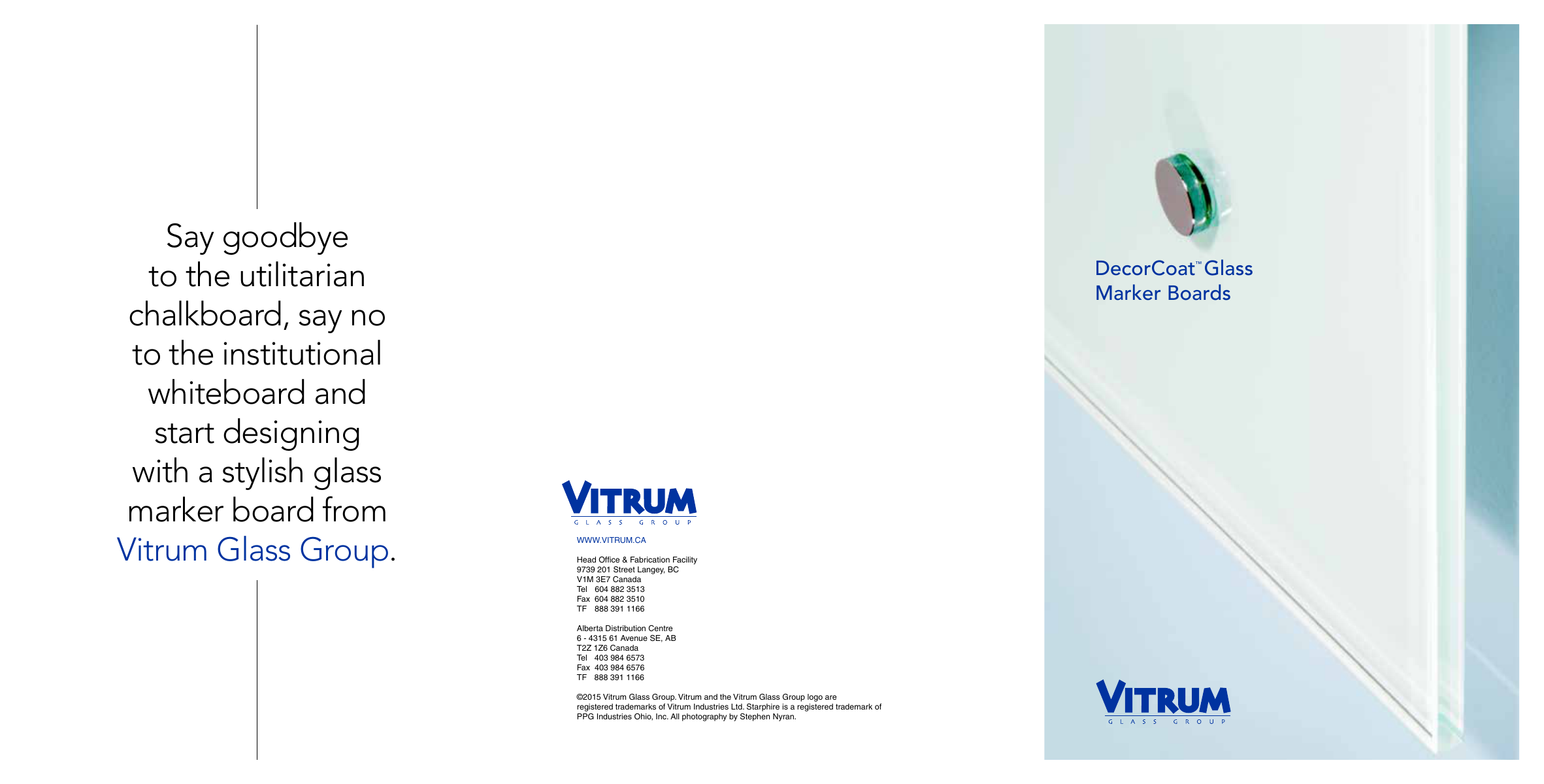 Say goodbye
to the utilitarian
chalkboard, say no
to the institutional
whiteboard and
start designing
with a stylish glass
marker board from
Vitrum Glass Group.
DecorCoat Glass
Marker Boards
™
WWW.VITRUM.CA
Head Office & Fabrication Facility
9739 201 Street Langey, BC
V1M 3E7 Canada
Tel 604 882 3513
Fax 604 882 3510
TF 888 391 1166
Alberta Distribution Centre
6 - 4315 61 Avenue SE, AB
T2Z 1Z6 Canada
Tel 403 984 6573
Fax 403 984 6576
TF 888 391 1166
©2015 Vitrum Glass Group. Vitrum and the Vitrum Glass Group logo are
registered trademarks of Vitrum Industries Ltd. Starphire is a registered trademark of
PPG Industries Ohio, Inc. All photography by Stephen Nyran.
Make your presentations memorable and stylish with a DecorCoat
Glass Marker Board. The glass provides a smooth, easily writable
surface, and the optional magnetic backing makes your glass
marker board a centerpiece for any presentation. This low
maintenance, durable and abrasion-resistant surface provides the
perfect solution for heavy use commercial applications and unique
decorative installations alike.
Endless Design Possibilities
Leave Nothing Behind
DecorCoat, a back painted glass
solution from Vitrum, is created by
roll-coating an environmentally friendly
water-based paint onto the unexposed
surface of Ultra-Clear Starphire glass,
producing rich, deep, vibrant and
opaque colours. Create endless design
possibilities with beautiful glass finishes,
custom colours and sizing options,
all tailored to your specifications!
You can be confident your DecorCoat
Glass Marker Boards will look
sophisticated and professional, with
no ghosting or staining, no matter its
age. Easily erase your text, scribble or
scrawl, with the swipe of a hand or with
regular glass cleaning supplies. Let your
creativity flow!
Multifunctional Practicality
Office managers, architects, doctors,
teachers, and other professionals will all
enjoy the advantages of a DecorCoat
Glass Marker Board. They are ideal for:
•
Conference rooms
•
Office Walls
•
Classrooms
•
Calendars
•
Cubical partitions
•
Hospital Charts
The installation possibilities are endless.
Supply your own mounting hardware
or work with our design team to source
and supply a wide variety of mounting
options. DecorCoat Glass Marker
Boards are available in sizes up to
82" x 200".
The whiteboard that isn't white
Magnetic Glass
When paired with the magnetic
backing, the glass becomes a magnetic
marker board, allowing users to attach
notices as well as write directly on the
board with dry erase markers. The
galvanized steel is inset from the glass
edge ensuring it is hidden from view.
Vitrum DecorCoat offers the whitest
white on the market, clean, bright
and pure, but sometimes white just
isn't right. Go beyond the typical
"whiteboard" and bring your space to
life with DecorCoat Marker Boards in
limitless colour options that are stylish
yet functional! Choose a complimentary
design colour or go for the bold and
unexpected with a punch of colour.
Explore the design possibilities today by
ordering a sample at Vitrum.ca.

* Your assessment is very important for improving the work of artificial intelligence, which forms the content of this project