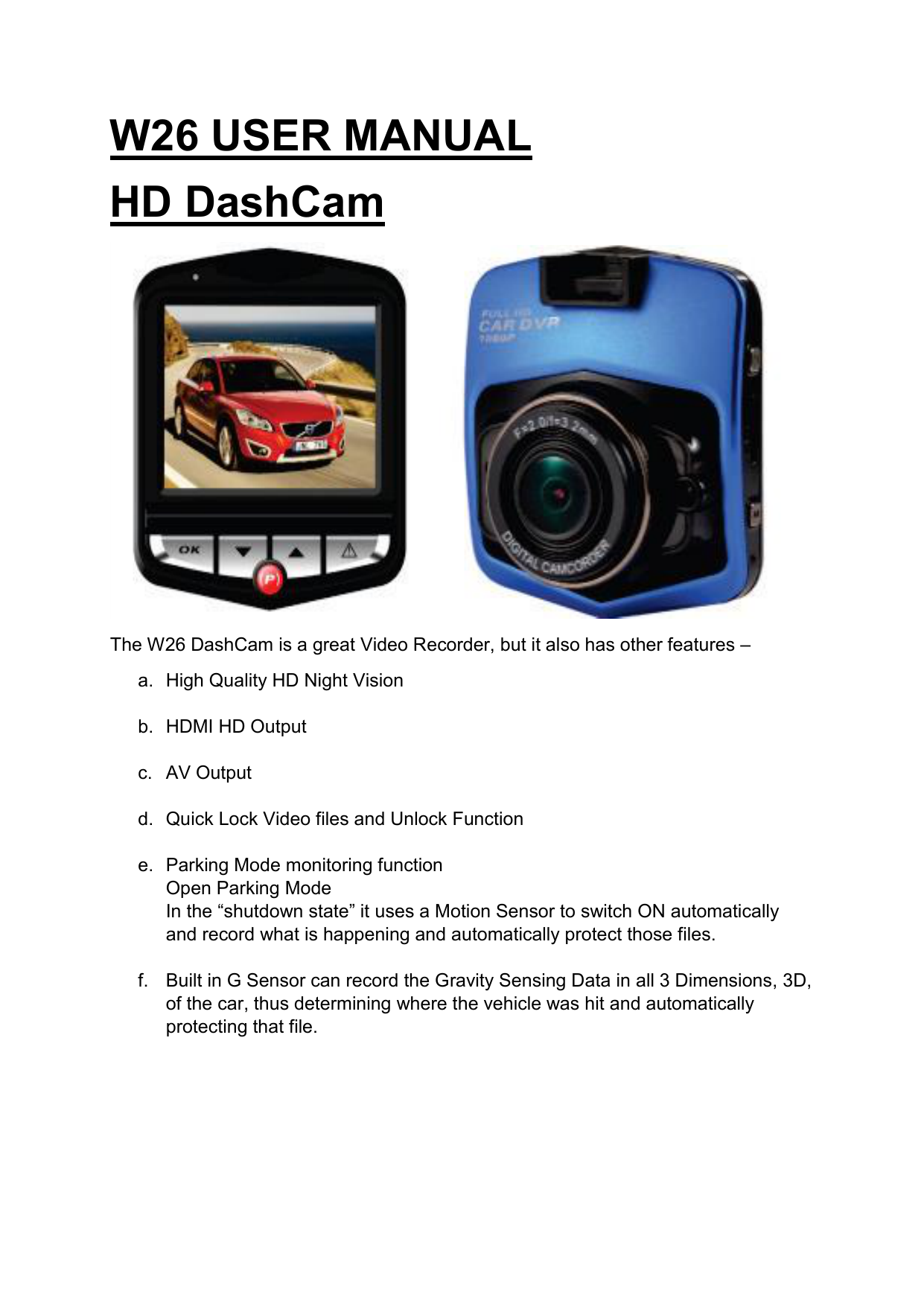 W26 USER MANUAL
HD DashCam
The W26 DashCam is a great Video Recorder, but it also has other features –
a. High Quality HD Night Vision
b. HDMI HD Output
c. AV Output
d. Quick Lock Video files and Unlock Function
e. Parking Mode monitoring function
Open Parking Mode
In the "shutdown state" it uses a Motion Sensor to switch ON automatically
and record what is happening and automatically protect those files.
f. Built in G Sensor can record the Gravity Sensing Data in all 3 Dimensions, 3D,
of the car, thus determining where the vehicle was hit and automatically
protecting that file.
Product Features
Large screen can more clearly see the effect of pre - recorded.
Ultra Wide Angle lens perfect combination design vision, more convenient to various
occasions a multi-angle, high resolution video shooting
1/3 inch built-in low noise high quality sensor, even in dark places you capture ultraclear picture
Built-in lithium polymer battery, charging while in video function
Built-in microphone / speaker
Supports high capacity Micro TF Memory Card
Car - boot video function automatically
The delayed start function, prevents damage from the vehicles instantaneous pulse
current to the DashCam
You can Power it up by connecting the DashCam to your computer and Setting Up
the "System Settings" below.
Recommended
A SanDisk Ultra Micro SDHC 32 GB Class 10 Memory Card for this DashCam.
32GB micro SDHC Memory Card, Class 10 – Product code 5854
We recommend that you carefully read this Manual before using the
DashCam, then read it again with the DashCam in your hands as this will help
you to familiarise yourself with its many features. The DashCam is being
improved over time, so the specification of the W26 may change.
Please note that each Button has multiple functions so please
be careful which Buttons you press in relation to each Mode /
Function.
W26 Model – Features
1. Power Button
Function 1 - In the Shutdown State / OFF a Short press, 1 second, of the
Power Button will boot it into the Standby State / ON.
A Long press, 3 second, of the Power Button will switch if OFF
Function 2 – When in Standby State / ON the IR Light can be switched ON /
OFF
2. OK Button
Function 1 Open / Close Video recording
In Standby Mode, a short press of the OK button to open Video, then in Video
a short press of the OK button to stop Video.
Function 2 Still Camera
In Photo Mode a short press of the OK Button to perform taking a Still Picture.
Function 3 File playback function
In Playback Mode a short press of the OK Button will perform the play /
pause video files.
Function 4 Confirm the function
Menu, set Menus, Still pictures, the Video playback menu option to set the
operation, to save, to perform an action.
3. Menu Button
Function 1 the Menu Switch
In Playback Mode, select Protect or Delete the file
4. Up / + Button
Function 1 Use the Up / + Button in every Function / Menu
Function 2 Video, to play the video files, to change the Volume, long press
fast rewind.
Function 3 In Video Mode, short press of the Up / + Button to Open / Close
the microphone.
5. Down / - Button
Function 1 Use the Down / - Button in every Function / Menu
Function 2 Change the Volume, long press Fast Forward.
6. Parking Monitor Button
Function 1 Press the Parking Monitor Button before the shutdown,
then the DashCam Monitor will display a " P " on the right of the screen,
the DashCam will enter the Parking Mode.
After Parking Mode has been set if something hits your vehicle the Motion
Sensor will automatically boot the DashCam ON to Video and record for
approximately 20 seconds and then automatically turn OFF.
If you want to cancel / disable this function press stop monitoring after
opening Parking Mode, then the "P " displayed in the upper left corner
disappears, this means that the DashCam will not enter Parking Mode
when you park the vehicle.
7. Lock / Mode
Function 1 Lock Key
Short press of the Lock Key will Lock the current Video File or
unlock the protection. This can be useful if you have just experienced an
accident or event that you wish to SAVE and NOT accidently overwrite.
We always recommend a "belt and braces" approach as this might be an
extremely valuable Video File, so please consider taking the TF Memory
Card out and saving it in a very safe place, then insert another TF Memory
Card
Function 2 Mode
In Standby Mode, short press the Lock Key into Video Menu,
press it again to enter the Settings Menu,
in the Settings Menu Mode then press the Lock Key and it will
automatically exit to Video Mode.
In Still Photo Mode, short press the Lock Key into the Still Photo Menu,
press it again to enter the Settings Menu,
in the Settings Menu Mode press the Lock Key and it will automatically quit
again to Still Photo Mode.
In Playback Mode, short press the Button Lock into the File Operations
Menu,
press it again to enter the Settings Menu,
in the Settings Menu Mode then the Lock Key will automatically exit to the
Playback Mode.
8. TF Memory Card
In Video Mode in the Menu, open Mobile Detection Function, when the
detected images have changed, it automatically saves the Video - 10
seconds of video.
Micro Memory Card - TF
Micro TF Memory Card we strongly recommend that you only use Genuine
CLASS 10, the capacity is 16 to 32 GB
32GB micro SDHC Memory Card, Class 10 – Product code 5854
Installation of the Micro TF Memory Card
a. Please be careful and insert the TF Memory Card in the right way, do
not force the Micro Memory Card in the slot as that will be the wrong way,
insert it until the Micro TF Memory card clicks into place in the card slot.
b. Remove the Micro TF Memory Card, please gently press down the Micro
TF Memory Card, by approximately 1mm until you hear the Micro TF
Memory Card click, it will then pop-up and can be removed.
Note:
a. Please ensure that the DashCam is SWITCHED OFF when you either
insert or remove a Micro TF Memory Card, in order to avoid damage.
b. Please ensure that the insert the Micro TF Memory Card the right end
in first and the right way around. If the reverse is inserted, it might
damage the DashCam and TF Memory Card
c. If you incorrectly insert the Micro TF Memory Card the DashCam will try
and read it and set it as its default storage device, but will not be able to
read it
d. If the Micro TF Memory Card is not compatible with the DashCam,
please DO NOT insert it again and again and again as you will damage
the TF Memory Card and the DashCam. Please buy the correct Micro
TF Memory Card from MyMemory.co.uk and then try again
e. The W26 DashCam supports the from 16GB to the highest 32GB,
Class 10 only
f. Adjust the position of the lens to ensure that you correctly record what
you want.
9. Switch ON and OFF the W26 DashCam
POWER BUTTON
Short press, 1 second, the "Power Button" once, then the screen lights up,
DashCam is switched ON.
Long press, 3 second, "Power Button" once, then the DashCam is switched OFF
Once the MENU has been set the DashCam will switch on automatically once the
power to the cigarette lighter socket is enabled, please note there will be a slight
delay. Please note that your vehicles Cigarette Lighter Sockets do not have any
power when the ignition is switched OFF!!!
We recognise that our clients may also need to charge a computer, smart phone,
SatNav, etc at the same time so we have supplied you with a Triple USB Slot
Charger which enables you to power up the W26 DashCam, and SatNav, Phone,
etc. at the same time. However please check your vehicle Handbook to ensure that
the Cigarette Socket fuse can power all three items at the same time? The W26
DashCam uses 5Volt, 1Amp. Most vehicles will power all three items because a
Cigarette Lighter element has a high power consumption, but please check - e.g.
Ford Mondeo Mk4, Cigarette Lighter socket, Blue Fuse = 15 Amps
10. SWITCH WORK MODE
This DashCam has 3 work modes –
Video Camera,
Still Camera,
Playback
Settings Menu & System Setting
In Video Camera or Still Camera (Photographic Mode)
Short Press Lock, the "Set Menu" column has a blue background.
Using the Up / Down button you can choose the required setting.
Press OK to confirm Settings
Press LOCK Key to exit Menu again
11. Photography
Camera Mode
The top left corner of the screen has Video Signal, use the confirm button to start
11.1 Video Mode Option
Video Screen – when the top left corner symbol is flashing, press (Confirm Key)
again to stop video, the symbol, top left corner will disappear.
11.2 Still Photo Mode – Still Photo Set
Press Power Button into Camera Mode
Press the Lock Button into Photo Mode
You will see a Photo symbol top left of the screen in Photo Mode
Press, OK Key, click sound, a preview picture is displayed after 1 second, then
take Still Pictures. Please hold the DashCam without shaking. The DashCam takes
a single image.
12. Playback Modes
12.1
Browse the video file
Enter the Camera Mode,
Press Lock Key twice to enter into the Playback Mode
Press the OK button (+over) or (- under) turn key to browse video and audio
recordings
Browse playback by Document type –
Video – look at video file
Still Image – each individual image
12.2
Remove and Protection
In Playback Mode, press Menu to delete or protect lock option
Press OK Key to Enter "Delete" current file, "Delete All" option
Press OK Key to enter,
Press OK Key to determine again
Before you can enter the lock to a file, unlock cannot Delete, protect this important
information.
13. Shortcut Keys related to Video
13.1 Press the Lock Key
Emergency manual press / lock Key and unlock the current video file
13.2 Power Button
When the video is opening / closing according to (Power) night lights
Short press (+over) close the microphone, state of the video, short press the (Key)
can quickly start/switch OFF the microphone
13.3 Charging while in Video Mode
Use the USB Car Charger to connect the DashCam to the Cigarette Lighter Socket,
then boot to enter Charge / Video Mode
14.
Save and Watch your Video recordings on a Computer
Video recordings in Read Function / USB Function
You can connect the DashCam to your computer with the USB cable supplied.
However we recommend that you carefully remove the Micro TF Memory Card
and insert it into a Card Reader either built into your computer or purchased
separately.
15. PC CAM - computer camera
This DashCam can be used as a computer camera, video camera if connected to the
computer with USB cable, the pop-up storage / camera option, press up / down keys
to move the selection to the camera after press [confirm key] confirmed,
open "My Computer",
then double-click the icon can be used as a computer camera.
When [OK] select Memory,
using a computer can check the Memory Card information, storage capacity, etc.
16. Connect to the TV and Play
Use a TV cable / HDMI cable to connect to the high quality television replay
Tip: you don't need to install a driver.
17. SYSTEM SETTINGS
The Default Settings that we recommend for average use are in Bold
Parking Mode – Motion Sensor
Off / 1G / 2G / 4G
Time / Date
Pass / Date / Date & Time
Automatic Shutdown – Minutes
Off / 3 / 5 / 10
Screen Saver - Minutes
Off / 1 / 3 / 5
Keys
ON / OFF
Language
English, Spanish, Dutch, French, German, Italian,
Portuguese, Arabic, simplified Chinese, traditional
Chinese. Japanese, Korean, Russian
TV Modes
NTSC / PAL – UK Recommend
Light Source Frequency - Hz
50 / 60 – different countries use different light
source values – UK 50 Hz - Recommend
Fill Light
ON / OFF
Image Rotation
ON / OFF
Formatting
Cancel / Yes (Danger - When you Format you
lose all your recordings, so please backup!!!)
Default Setting
Cancel / Yes
Resolution
FHD 1080, 1080P, 720P, QVGA, VGA
Loop Video - Minute
OFF, 1, 2. 3, 5, 10
Do NOT use OFF – Recommend
No video gap between video files, the system will
auto delete the earliest file when TF Memory Card
is full.
Exposure Compensation EV
-1/3 -2/3 -1.0 -4/3 - 5/3
+0.0 +1/3 +2/3 +1.0 +4/3 +5/3 +2.0 -2.0
+0.0 - Recommend
Mobile Detection
ON / OFF
Video / Audio
ON / OFF
Date
ON / OFF
G-Sensor
Off, 1G, 2G, 3G, 4G
Resolution – M
12, 10, 8, 7, 5, 3, 2, VGA
Still Exposure
ON / OFF
Still Image Quality
Super Fine, Fine, Normal
Sharpness
Sharp, Normal, Soft
White Balance
Automatic, Daylight, Cloudy, Incandescent
ISO
Automatic, 100, 200
Hand Shake
ON / OFF
Quick Preview - Seconds
OFF, 2, 5
Date Label
Pass, Date, Time
Lens
Ultra wide angle all glass 120 Degrees High Resolution
Chip
Novatek 96220
Video Resolution
1920 x 1080P – 25fps; 1280 x 720P – 25fps
Photo Resolution - M
12, 10. 8, 7, 5, 3, 2, VGA
Zoom Range
x4
Sensor
CMOS
Video AVI video Format
AVI
Micro TF Memory Card
Micro TF, Please use only Class 10, NOT supplied
Micro TF Memory Card Capacity 04 to 32 GB, Class 10 – NOT supplied
Microphone / Speaker
Built in
Power input
5Volt 1Amp
Battery
Lithium Polymer Battery 240mAh
System Requirements
Windows 2000 and above
Image Sensor
HD
Monitor
2.5", LCD
Image Format
jpeg
AV Output
Yes
HDMI Output
Yes
Transmission Speed / Interface
USB 2.0
18. Trouble Shooting
The following solutions may be of assistance
Problem -
Can't take Still Photo or Video Recording
Answer -
Check that the Micro TF Memory Card has enough space, or is locked
Problem -
Automatically stop when recording
Answer -
Use the compatible high-speed Micro TF Memory Card with SDHC
because of big HD video data, the high-speed Micro TF Memory Card
should be Class 10 we only recommend Class 10 = C10
Problem -
A "files error" message appears when Still Photo or Video replay
Answer -
Uncompleted files because of Micro TF Memory Card storage error,
please use Formatting function to format your Micro TF Memory Card.
Please note that when you Format your Micro TF Memory Card
you lose all your recordings, so regularly "back up" / copy your
wanted files to your computer!!!
Problem -
Unclear video
Answer –
Check to see if there is any dirt or fingerprints on the Lens or Micro TF
Memory Card, and clean with fresh tissue paper to clean the camera
lens and Micro Memory Card
Problem -
Black image when recording sky or water scene
Answer -
Scenes with big contrast will influence the automatic exposure function
of the camera; you can adjust the "EV" in setting mode to correct this
problem.
Problem -
Colour is not perfect on a cloudy day and outdoor light
Answer -
Set the "white balance" function to Automatic
Problem Answer –
Cross stripe interference on the image
This has been caused because the wrong "light frequency", please set
it to 50Hz (UK) or 60Hz according to the local power supply frequency.
Each country uses a different "light frequency" so this might need
changing when you cross international boundaries. UK = 50Hz
Problem Answer -
Accident / Crash or DashCam does not illuminate
Restart by short press of the R = "RESET" button after a crash.
As with all electronics (computers, printers, smart phones, Satnav's,
etc.) they can just get confused, too hot, just need a rest.
So either switch it OFF or press the R = Reset button then after a few
minutes switch off, have a cup of tea and re start when both you and
the DashCam are rested / cool. A break is good for you and the
DashCam. The R = Reset hole is located by top corner, gently use a
cocktail stick.
19. Please Note
19.1 Computer Operating System
Windows 2000, XP, Vista, Windows 7, MAC OSX 10.3.6 and above
19.2 Battery - Built in Rechargeable
All DashCam models must be continuously connected to either a 12 or 24 Volt
power supply via a 5V 1A Charger because a LCD colour screen consumes a
considerable amount of power.
That is why mobile phone / DashCam screens automatically go blank when not
being used – to save power!
A fully charged battery will only power the screen for a few minutes, it must
always be connected to a power supply via a 5V 1A Charger or Computer.
When the screen is switched Off, the DashCam is still recording, in Standby
Mode, as long as it is switched On and connected to a Power Supply. However
if the DashCam senses no movement it will go into Sleep Mode, and only
awaken when it senses an accident or rapid movement via the Motion Sensor.
19.3 "Fleet DashCam DVR Champion / Expert"
If you have purchased these for a fleet then may we suggest that one employee is
nominated as the "Fleet DVR Champion / Expert" and sets up all the DashCam DVR'
s, it will result in less frustration and more accuracy as not everyone is happy setting
up cameras, electronic gadgets, etc.
After "set up" check its working ok in the office when linked to a computer, before
installing in the vehicle.
19.4 Power Adapter Charger Plug to USB Output 5V 1amp
We uniquely supply a Triple USB Charger that powers up to 3 devices at one time
e.g. DashCam, SatNav, Smart Phone, Tablet, etc.
We also supply a cable that is long enough to reach from the Charger to the required
location
19.6 DashCam Micro SD Memory Card Test Tool
You can test your Micro SD card's actual transfer rate with this free SD Memory Card
Test tool utility H2testw 1.4 – "Gold Standard in Detecting USB Counterfeit Drives"
You can also check for corrupted card as well with this utility tool.
19.7 Formatting your Micro TF Memory Card
After several weeks of daily recording it may be necessary for you to format
your Micro TF Memory Card – if that is the case please note that you will lose
all of your files, so please back up a copy on your computer first in a unique
DashCam Folder that you have created.
19.8 Accident Report Form
We uniquely supply a two part NCR set, approved by the European Insurance Union,
so that you can record all the details of an accident that your insurance company will
require, a unique service.
May we recommend that you complete the form using a black ball point pen on a
hard surface because then the writing will be on both pages and it will photocopy
better.
Please ensure that you keep all the video files relevant to before and after the
accident in case the insurance company requests the video! Better still keep the
relevant Memory Card safe and buy another Memory Card to use until the insurance
claim is resolved. Back up copies of the files on you computer.
19.9 Reset
When your DashCam crashes / screen goes black, the phenomenon may be caused
by improper operation, a crash, etc so please switch OFF the DashCam for 5+
Minutes, or press the R = Reset button, hole by top corner, gently with a cocktail
stick. Just like you would give a computer, printer, Sky Box, phone, etc. a 5 minute
rest to sort itself out..
19.10 Windscreen camera mount
The ribbed tag of the "windscreen mount" should be on the camera lens side. Once
inserted it should not be removed, just undo the ball clamp nut or open the lever and
gently lift the suction cap tab to release the suction.
19.11 Rear windscreen
We do not recommend this unit for a rear windscreen because often the heated rear
screen heating elements are mounted on the inside surface which means the glass is
not flat for the mount to fix too, and also the heat may stop the mount adhering to the
glass.
We sell DashCams, Security Watermark Flash Digital Cameras, Accident Kits
and other items for the Fleet user, from 1 to 5000 vehicles.
We retain the right of change design and specifications without
prior notice.