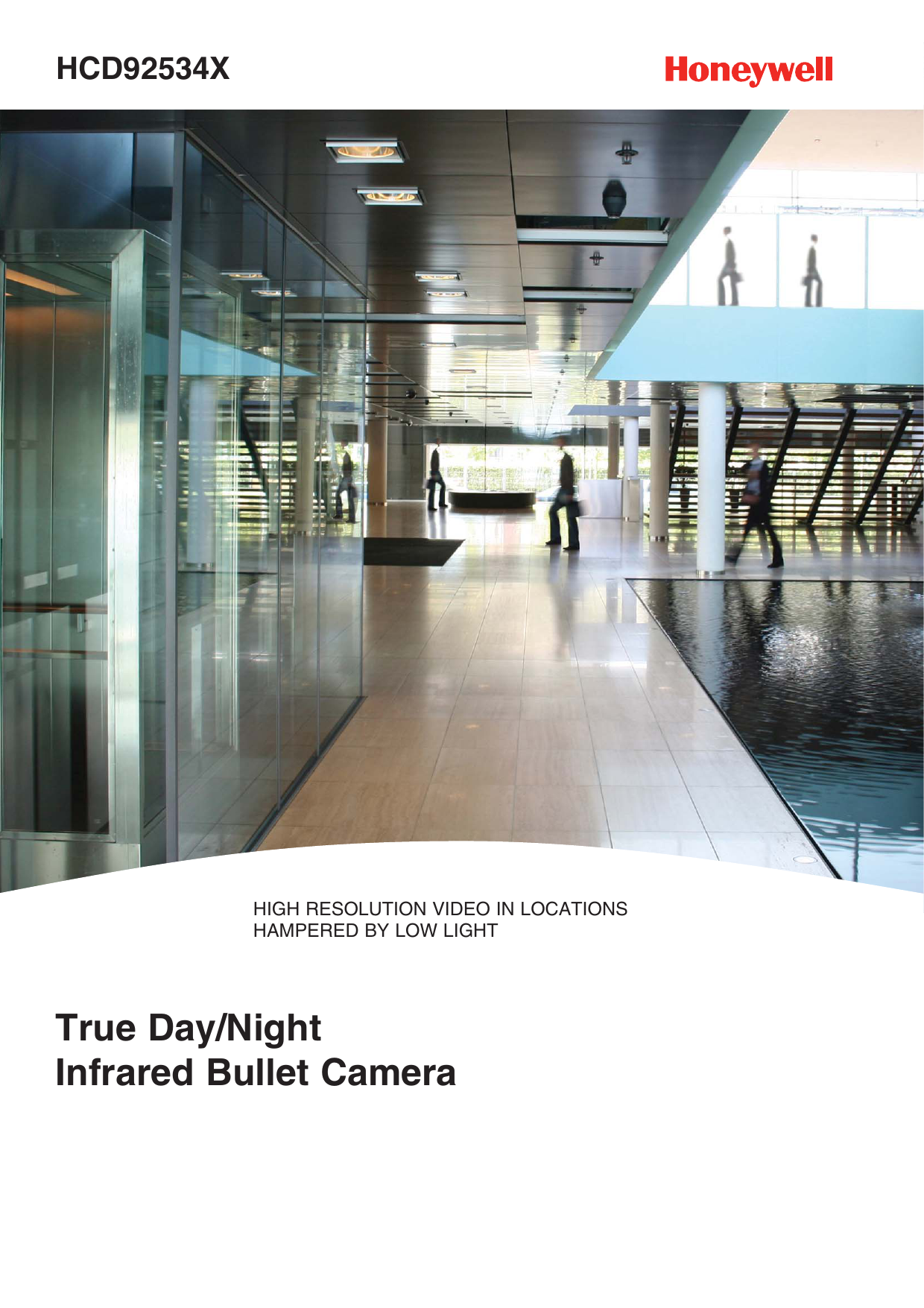 HCD92534X
HIGH RESOLUTION VIDEO IN LOCATIONS
HAMPERED BY LOW LIGHT
True Day/Night
Infrared Bullet Camera
HCD92534X - IR Bullet Camera
High resolution video for indoor and outdoor surveillance
Our new HCD92534X True Day/Night IR
The HCD92534X IR bullet-style camera
when the camera switches from day to
bullet camera is the first of its kind to
comes standard with IR illumination. When
night mode. Digital Noise Reduction (DNR)
incorporate a powerful combination of
the ambient light drops below a
removes noise artifacts, improving the
infrared LEDs, True Day/Night functionality,
user-defined threshold, the IR LEDs turn
performance of motion detection and
530 TVL, Digital Noise Reduction and
on, a mechanical IR cut filter within the
typically giving end users the ability to
Digital Slow Shutter. It provides high
camera switches, and the camera
record for longer periods using their
quality video in any location where
changes from colour to black and white.
existing DVR unit. Digital Slow Shutter
surveillance may be hampered by low light
Perfect colour images are captured by day
(DSS) technology improves the light
and sets itself apart from other cameras
and clear black and white images at night.
sensitivity of the camera and extends its
usable range.
by offering external controls to focus,
zoom and manage the On Screen Display
The 2.8-10 mm F1.3 IR corrected
(OSD) menu. Even when you can't see
aspherical Vari-focal Auto Iris lens offers a
what's happening, this camera can!
wide field of view range and no focus shift
Easy installation
Indoors or out, the HCD92534X is easy to install and set up. The screw-tightened mounting bracket makes it difficult to knock the
camera out of place. Simply adjust the camera position, then lock it down with the hexagonal bolts. The HCD92534X has
concealed wiring so the wires cannot be cut or the camera disconnected or tampered with.
All installation adjustments for the camera can be accomplished without opening the bezel or camera housing. The two externally
accessible screw gears at the front bottom of the housing adjust the zoom and focus of the 2.8-10mm lens. The access porthole in
the middle allows access to the joystick control of the OSD menu as well as the DIP switches for setting the Day/Night threshold,
the second video out and the IR LED light level.
HCD92534X - IR Bullet Camera
Features
• Discreet, bullet-style camera with
switchable IR cut filter and 49 IR LEDs
• Privacy Image Masking - Four
programmable zones
• 2.8 – 10 mm, F1.3 Vari-focal Auto Iris
IR corrected lens with external
adjustments for zoom and focus
• High Resolution colour: 530 TVL - 1/3"
Sony Super HAD CCD
• Digital Noise Reduction technology for
noise free images
• On Screen Display menu for quick
set up of camera
• One power connection self-configures
• Multiple white balance settings
preserve colour fidelity even under
changing colour and light
• Four position day/night threshold
settings to accommodate the
switching on of the IR LEDs under
different ambient lighting conditions
• External access to the On Screen
Display menu, zoom and focus
reduces installation time and simplifies
the installation process
• Four DIP switches allow the camera to
be configured to switch the IR filter at
higher or lower light levels, depending
on ambient light
to 12 VDC or 24 VAC with transient
surge protection
Market opportunities
Benefits
The HCD92534X is designed for cost effective indoor and outdoor applications
• External access to the OSD menu,
where object detection and recognition is essential. Whether the surroundings are
zoom and focus reduces installation
in extreme low light or complete darkness, this camera is perfect for indoor and
time and simplifies the installation
outdoor applications including lobbies, atriums, vestibules, gated entrances, foyers,
process
loading bays and driveways in:
• Reduced video noise of low light
• Educational facilities
• Commercial markets
• Residential applications
• Retail sites
images improves DVR storage time
• Increased low light performance
achieved using IR illumination
• Proper colour fidelity is preserved even
under changing colour temperatures
and lighting conditions
• Motion alerts and the ability to mask
areas of the scene meet privacy
requirements.
HCD92534X - IR Bullet Camera
Specifications and Ordering
Electrical
Video
Video Standard
PAL
Input Voltage
12 VDC/24 VAC
Scanning System
625/50 lines
Input Range
11–16 VDC, 17–28 VAC
Image Sensor
1/3" Sony Interline CCD sensor
Surge Suppression
1.5 kW transient
Number of Pixels (H x V)
752 x 582
Power Consumption
15 W (max) with IR LEDs on
Minimum Illumination
0 lux, operates in complete darkness
Mechanical
Horizontal Resolution
>530 TVL
Dimensions
See Diagram
Video Output
1.0 Vp-p @ 75 Ohms
Weight
1.27 kg
Sync System
12 VDC: Internal
24 VAC: (Internal or Line lock)
Construction
S/N Ratio
50 dB or more (AGC off)
Housing: Brushed and anodised aluminium with
sunshield
Finish: Brushed and anodised aluminium
Auto Gain Control
Off/On, selectable
Mounting Plate
Connection to 4S junction box
ALC
Adjustable level control
Automatic Electronic
Shutter
Connector
1/50–1/100,000 sec
Main Video Output: BNC connector
Aux Video Output: 2-pin connector for video test
cable
Power Input: Tinned leads
Lens Type
2.8 – 10.0 mm Vari-focal Auto Iris, IR corrected
F1.3
Horizontal Field of View
99°–27°
White Balance
ATW/AWC/Manual
Line Lock Phase
Adjustment
+/- 180 º adjustable line lock vertical phase
BLC
Off/On, selectable
Gamma
0.45
IR LEDs
850 nm, 49 LEDs
Environmental
Temperature
Operating: -25°C to 50°C
Storage: -35°C to 60°C
Relative Humidity
0% to 85%, non-condensing
Rating
IP66
Regulatory
Emissions
FCC: Part 15, Class B
CE: EN 55013
Immunity
CE: EN50130-4
Safety
EU: 73/23/EEC LVD
IR Illumination Distance
75 ft (24 m) – 100 ft (30 m), depending on scene
reflectivity
DNR
High/Medium/Low
Power Supplies
DSS
2X~128X
HPTV2401D
240V/24VAC 1A Output for internal use
HPTV2408-1D
230V/24VAC 8 individually fused 1A outputs for
internal use
Ordering
HCD92534X
Accessories
1/3" CCD IR Bullet Camera, TDN, 530 TVL, 2.8-10 mm, 49 IR LED, PAL
NOTE: Honeywell reserves the right, without notification, to make changes in product design or specifications.
Honeywell Security
Honeywell Video Systems
Honeywell House
Bekker Street, Truer Close
Waterfall Park
Midrand 1685
South Africa
Tel: +27 (11) 695 8016
Fax: +27 (11) 315 2198
www.honeywell.com/security/emea
HVS-HCD92534X-01-RSA(0807)DS-COE
August 2007
© 2007 Honeywell International Inc.