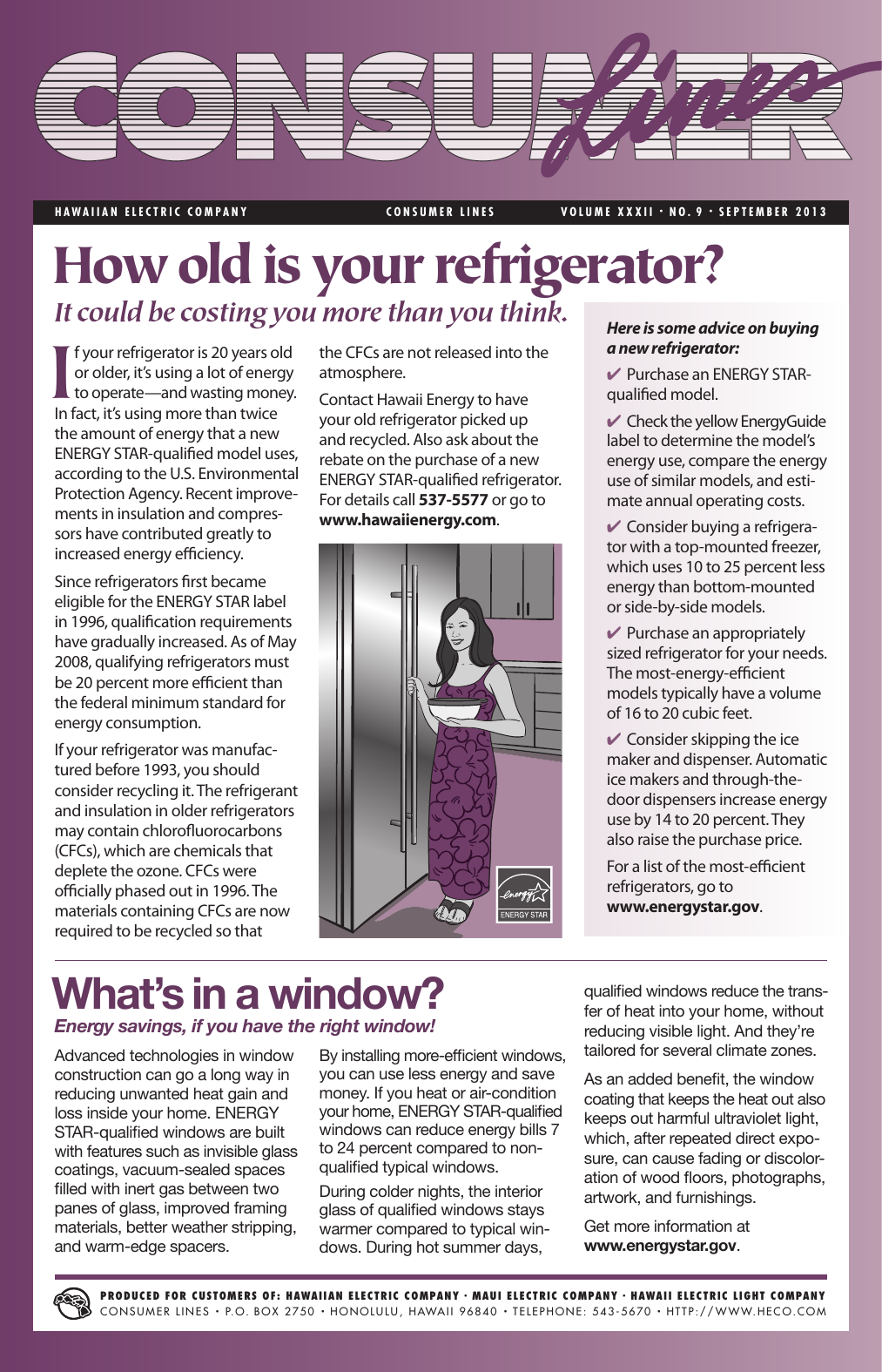 H AWA I I A N E L E C T R I C C O M PA N Y CONSUMER LINES
VOLUME XXXII
•
NO. 9
•
SEPTEMBER 2013
How old is your refrigerator?
It could be costing you more than you think.
I
f your refrigerator is 20 years old or older, it's using a lot of energy to operate—and wasting money.
In fact, it's using more than twice
the amount of energy that a new
ENERGY STAR-qualified model uses,
according to the U.S. Environmental
Protection Agency. Recent improvements in insulation and compressors have contributed greatly to
increased energy efficiency.
the CFCs are not released into the
atmosphere.
Contact Hawaii Energy to have
your old refrigerator picked up
and recycled. Also ask about the
rebate on the purchase of a new
ENERGY STAR-qualified refrigerator.
For details call 537-5577 or go to
www.hawaiienergy.com.
Since refrigerators first became
eligible for the ENERGY STAR label
in 1996, qualification requirements
have gradually increased. As of May
2008, qualifying refrigerators must
be 20 percent more efficient than
the federal minimum standard for
energy consumption.
4 Purchase an ENERGY STARqualified model.
4 Check the yellow EnergyGuide
label to determine the model's
energy use, compare the energy
use of similar models, and estimate annual operating costs.
4 Consider buying a refrigerator with a top-mounted freezer,
which uses 10 to 25 percent less
energy than bottom-mounted or side-by-side models.
4 Purchase an appropriately
sized refrigerator for your needs.
The most-energy-efficient models typically have a volume of 16 to 20 cubic feet.
7490 HELCO
4 Consider
skipping the ice
maker and dispenser. Automatic
ice makers and through-the-
door dispensers increase energy
use by 14 to 20 percent. They also raise the purchase price.
If your refrigerator was manufactured before 1993, you should
consider recycling it. The refrigerant
and insulation in older refrigerators
may contain chlorofluorocarbons
(CFCs), which are chemicals that
deplete the ozone. CFCs were
officially phased out in 1996. The
materials containing CFCs are now
required to be recycled so that
For a list of the most-efficient
refrigerators, go to www.energystar.gov.
What's in a window?
Energy savings, if you have the right window!
Advanced technologies in window
construction can go a long way in
reducing unwanted heat gain and
loss inside your home. ENERGY
STAR-qualified windows are built
with features such as invisible glass
coatings, vacuum-sealed spaces
filled with inert gas between two
panes of glass, improved framing
materials, better weather stripping,
and warm-edge spacers.
Here is some advice on buying
a new refrigerator:
By installing more-efficient windows,
you can use less energy and save
money. If you heat or air-condition
your home, ENERGY STAR-qualified
windows can reduce energy bills 7
to 24 percent compared to nonqualified typical windows.
During colder nights, the interior
glass of qualified windows stays
warmer compared to typical windows. During hot summer days,
qualified windows reduce the transfer of heat into your home, without
reducing visible light. And they're
tailored for several climate zones.
As an added benefit, the window
coating that keeps the heat out also
keeps out harmful ultraviolet light,
which, after repeated direct exposure, can cause fading or discoloration of wood floors, photographs,
artwork, and furnishings.
Get more information at
www.energystar.gov.
P R O D U C E D F O R C U S T O M E R S O F : H AWA I I A N E L E C T R I C C O M PA N Y • M A U I E L E C T R I C C O M PA N Y • H AWA I I E L E C T R I C L I G H T C O M PA N Y
C O N S U M E R L I N E S • P. O . B O X 2 7 5 0 • H O N O L U L U , H AWA I I 9 6 8 4 0 • T E L E P H O N E : 5 4 3 - 5 6 7 0 • H T T P : / / W W W. H E C O . C O M
Join us at the Clean Energy Fair
Na Hoku Hanohano awardwinning artist Weldon Kekauoha
will be the headline entertainer
at the 2013 Clean Energy Fair
presented by Hawaiian Electric
on Saturday, Oct. 5, 10 a.m. –
3 p.m., at a new location—
Kahala Mall, near Macy's wing.
The free event kicks off Energy
Awareness Month and celebrates
the efforts and accomplishments
by many organizations across the
state to achieve a sustainable,
clean energy future for Hawaii.
Stop by our booth and visit with
other utilities and organizations, including the Board of Water Supply;
Department of Business, Economic
Enjoy the live music and a local
keiki hula performance by Ka
Development, and Tourism; Hawaii Hale I o Kahala Halau. You can
Energy; Hawaii Gas; and the Hawaii also participate in energy-related
Nature Center. Learn what can be
games and activities, watch a spedone to conserve our precious
cial performance by Mad Science
island resources, use energy wisely, of Hawaii, and enter a drawing
and support clean energy initiatives. to win a solar-powered backup
generator or mini Apple
iPad® device. You're also
Award-winning
invited to check out an
artist Weldon
electric vehicle display
Kekauoha will
and find out about jobs
entertain at the
and career opportunities
Clean Energy
at Hawaiian Electric.
Fair, on Saturday,
Oct. 5, near
Macy's wing at
Kahala Mall.
For more information, call
543-7511 or visit www.
hawaiianelectric.com.
We hope to see you at the
Clean Energy Fair!
Look for an efficient air purifier
An air purifier is a
portable, electric
appliance that removes fine particles,
such as dust and pollen, from
indoor air. Operating continuously, a standard air purifier uses
550 kilowatt-hours (kWh) of
electricity per year.
To purchase a more-efficient air
purifier, look for one that has
qualified for the federal ENERGY
STAR program. These models are
40 percent more energy efficient
than standard models, saving you
about $73 per year.
While the ENERGY STAR program rates the energy efficiency of
air purifiers, it does not endorse
any manufacturer's claims of
healthier indoor air from the use
of the product.
Keep these tips in mind when buying an air purifier:
Look for an ENERGY STAR-qualified model.
Size the air purifier to the square footage of the room where it
will be used. The larger the air purifier, the more energy it uses,
so don't buy a larger model than you need.
Read the product manual's instructions on where to place the
air purifier to achieve the best performance. While many models
are designed to sit on the floor, tabletop and wall-mounted models are also available.
Understand the air purifier's clean air delivery rate (CADR). It
measures how quickly the air purifier delivers contaminant-free
air and it can be used to measure the model's performance. The
higher the CADR, the more quickly the air purifier filters the air.
RECIPE OF THE MONTH
Frozen PB&J Yogurt Sandwich
18 graham cracker squares
(rectangles, halved)
2 cups fresh local strawberries, stems removed
and halved
1 1/2 cups vanilla nonfat
Greek yogurt
1 1/2 cups thawed frozen
reduced-fat whipped
topping
5 tablespoons natural
peanut or almond butter
(no sugar or salt added)
3/4 cup thinly sliced bananas (optional)
Line an 8-inch
square baking pan
with foil, leaving
an overhang5125
on
two ends. Pulse
strawberries in
blender until well
blended, making
a puree. Pour
puree into medium bowl; stir in
yogurt and whipped topping. Spread
mixture evenly in pan, cover, and
freeze until firm, about 4 hours.
To prepare graham crackers, spread
about 1 1/2 teaspoons peanut butter
on each of 9 graham crackers, then
place the bananas on top. Remove pan
from freezer. Holding foil, lift frozen
yogurt from pan and place on a cutting
board. Cut into nine even squares. For
each sandwich, remove a square from
the foil and place on top of bananacovered cracker, then top with a plain
graham cracker. Wrap sandwiches
individually, or place in a covered container, and freeze until ready to serve
(up to 3 days). Recipe makes 9 servings.