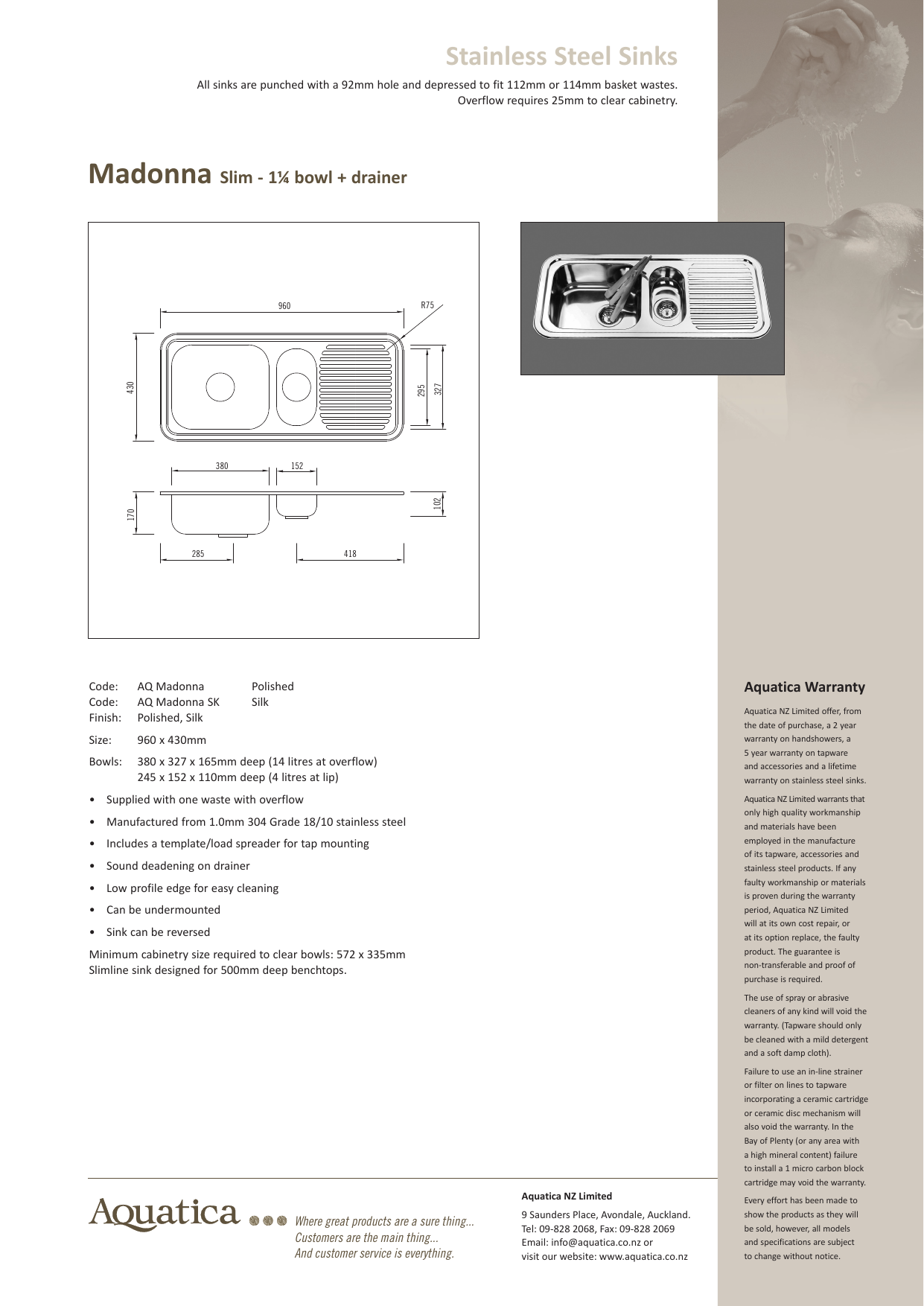 Stainless Steel Sinks
All sinks are punched with a 92mm hole and depressed to fit 112mm or 114mm basket wastes.
Overflow requires 25mm to clear cabinetry.
Madonna Slim - 1¼ bowl + drainer
295
430
152
170
102
380
327
R75
960
285
418
Aquatica Warranty
Code:
Code: Finish:
AQ Madonna
Polished
AQ Madonna SK
Silk
Polished, Silk
Size:
960 x 430mm
Bowls:
380 x 327 x 165mm deep (14 litres at overflow)
245 x 152 x 110mm deep (4 litres at lip)
Aquatica NZ Limited offer, from
the date of purchase, a 2 year
warranty on handshowers, a
5 year warranty on tapware
and accessories and a lifetime
warranty on stainless steel sinks.
• Supplied with one waste with overflow Aquatica NZ Limited warrants that
only high quality workmanship
and materials have been
employed in the manufacture
of its tapware, accessories and
stainless steel products. If any
faulty workmanship or materials
is proven during the warranty
period, Aquatica NZ Limited will at its own cost repair, or
at its option replace, the faulty
product. The guarantee is non-transferable and proof of
purchase is required.
• Manufactured from 1.0mm 304 Grade 18/10 stainless steel
• Includes a template/load spreader for tap mounting
• Sound deadening on drainer
• Low profile edge for easy cleaning
• Can be undermounted
• Sink can be reversed
Minimum cabinetry size required to clear bowls: 572 x 335mm
Slimline sink designed for 500mm deep benchtops.
The use of spray or abrasive
cleaners of any kind will void the
warranty. (Tapware should only
be cleaned with a mild detergent
and a soft damp cloth).
Failure to use an in-line strainer
or filter on lines to tapware
incorporating a ceramic cartridge
or ceramic disc mechanism will
also void the warranty. In the Bay of Plenty (or any area with
a high mineral content) failure
to install a 1 micro carbon block
cartridge may void the warranty.
Aquatica NZ Limited
Where great products are a sure thing...
Customers are the main thing...
And customer service is everything.
9 Saunders Place, Avondale, Auckland.
Tel: 09-828 2068, Fax: 09-828 2069
Email: info@aquatica.co.nz or
visit our website: www.aquatica.co.nz
Every effort has been made to
show the products as they will
be sold, however, all models
and specifications are subject
to change without notice.

* Your assessment is very important for improving the work of artificial intelligence, which forms the content of this project