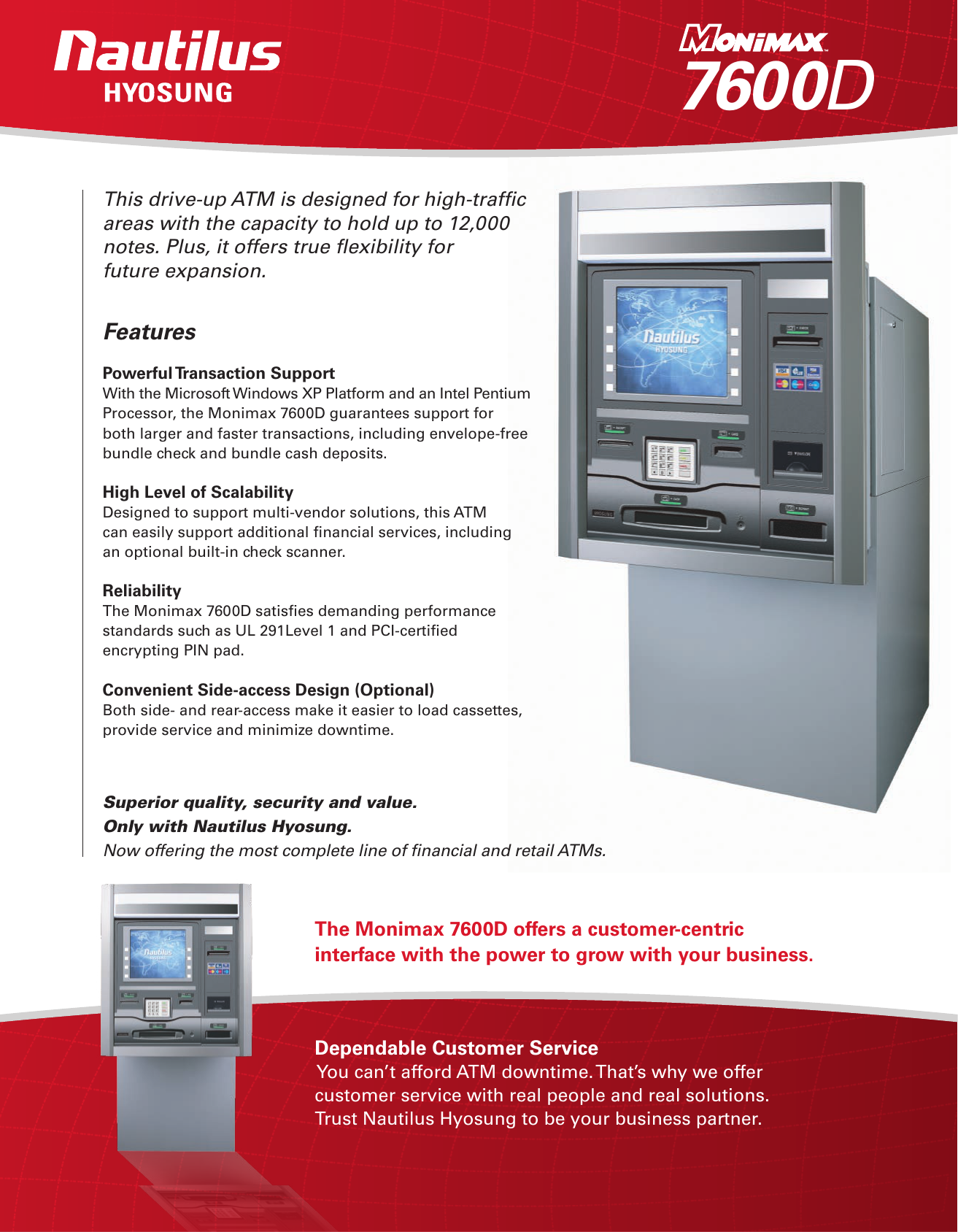 7600D
This drive-up ATM is designed for high-traffic
areas with the capacity to hold up to 12,000
notes. Plus, it offers true flexibility for
future expansion.
Features
Powerful Transaction Support
With the Microsoft Windows XP Platform and an Intel Pentium
Processor, the Monimax 7600D guarantees support for
both larger and faster transactions, including envelope-free
bundle check and bundle cash deposits.
High Level of Scalability
Designed to support multi-vendor solutions, this ATM
can easily support additional financial services, including
an optional built-in check scanner.
Reliability
The Monimax 7600D satisfies demanding performance
standards such as UL 291Level 1 and PCI-certified
encrypting PIN pad.
Convenient Side-access Design (Optional)
Both side- and rear-access make it easier to load cassettes,
provide service and minimize downtime.
Superior quality, security and value.
Only with Nautilus Hyosung.
Now offering the most complete line of financial and retail ATMs.
The Monimax 7600D offers a customer-centric
interface with the power to grow with your business.
Dependable Customer Service
You can't afford ATM downtime. That's why we offer
customer service with real people and real solutions.
Trust Nautilus Hyosung to be your business partner.
7600D
System Control
• Microsoft® Windows XP® platform
• Intel® Pentium®-IV processor
Customer Display
• 15" TFT LCD
• Sunlight viewable
Cash Dispensing
• Two cassettes
• 3,000-notes cassette
• Optional cassettes (up to four)
• Bundle retraction
Depository
• Envelope depository
• Check scanner
• Bundle note acceptor
Communication
• TCP/IP
Input Type
• 4 x 2 function keys
• Optional touch screen
• 4 x 4 numeric keys
• PCI EPP (Encrypting PIN pad)
• ADA compliant
Printers
• 3.1" graphical thermal receipt printer
• Electronic journal
• Optional journal printer
Security
• UL291 Level 1 safe
• Mechanical combination lock
• Optional electronic safe lock
• Optional KABA Mas Cencon safe lock
Supervisor Operation
• 15" touch-screen TFT LCD
Card Handling
• Dip-type card reader
• Optional IC card reader, EMV Level 1, 2
Miscellaneous
• Heater
• Lead-through indicator
• Illuminated signage
Power Supply
• AC 110–230V, 50–60 Hz
Operating Environment
• Temperature: -31ºF–104ºF
• Humidity: 25%–86%
Dimension and Weight
• Height: 61.2" (1,548 mm)
• Width: 32.6" (830 mm)
• Depth: 38.6" (982 mm)
• Weight: 1,440 lbs (650 kg)
Internal components may change with the
introduction of new technology. Nautilus Hyosung
reserves the right to change the specifications of this
ATM to accomodate the changes in technology.
Bank signage
15" color
customer display
Check scanner
Sunlight-viewable screen
Optional touch screen
Card reader
Receipt printer
PCI EPP
(encrypting PIN pad)
Envelope depository
Bulk note acceptor
Cash dispenser
Contact your authorized Nautilus Hyosung distributor or
representative for more information.

* Your assessment is very important for improving the work of artificial intelligence, which forms the content of this project