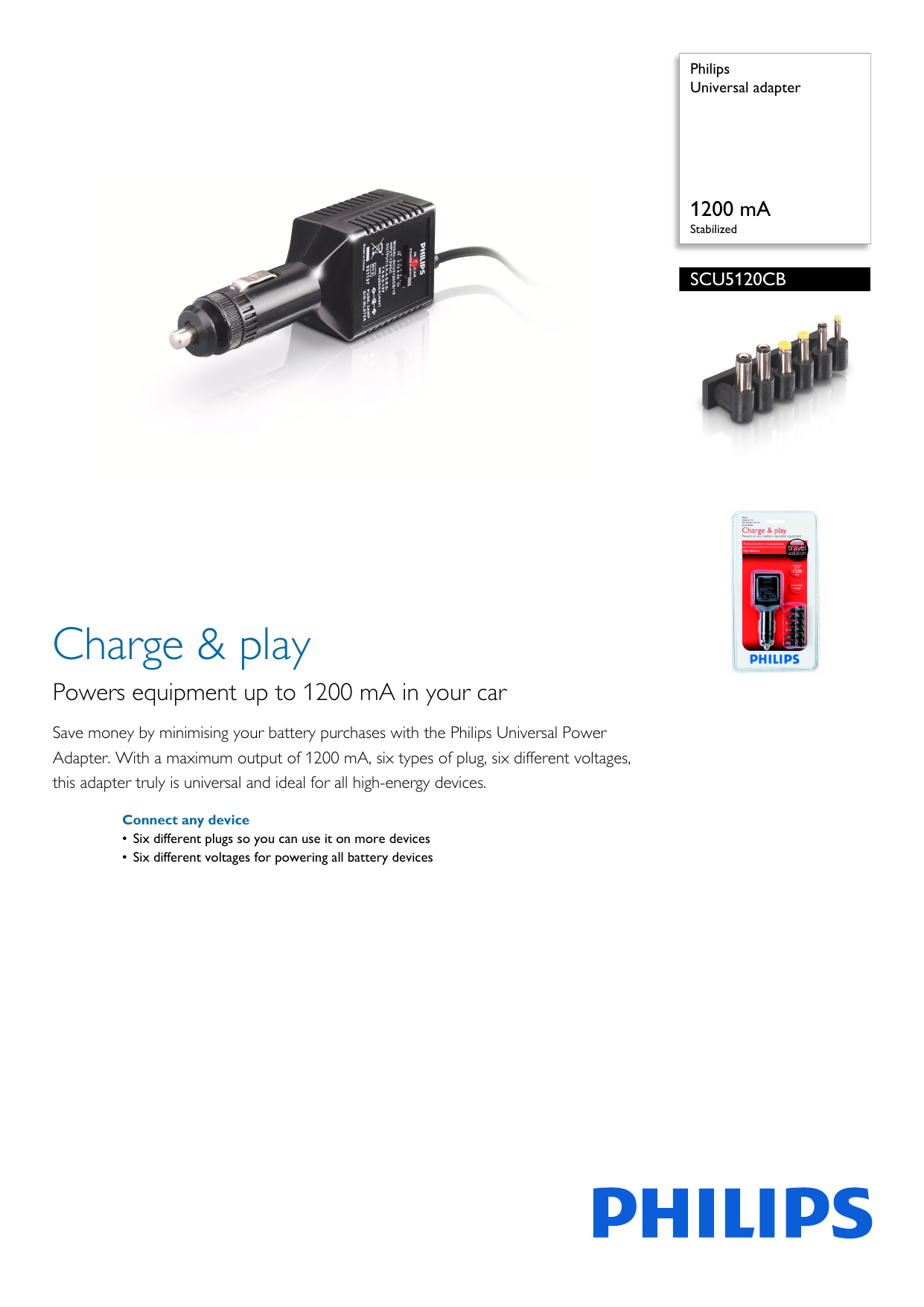 Philips
Universal adapter
1200 mA
Stabilized
SCU5120CB
Charge & play
Powers equipment up to 1200 mA in your car
Save money by minimising your battery purchases with the Philips Universal Power
Adapter. With a maximum output of 1200 mA, six types of plug, six different voltages,
this adapter truly is universal and ideal for all high-energy devices.
Connect any device
• Six different plugs so you can use it on more devices
• Six different voltages for powering all battery devices
SCU5120CB/10
Universal adapter
1200 mA Stabilized
Specifications
Power
• Battery capacity: Not applicable
• Power supply: 220-240V
Technical specifications
• Housing material: PC Makrolon 6485
Green Specifications
• Heavy metals: Cd free, Hg free, Pb free
Highlights
• Packaging material: Carton, PET
• Packaging type: Clam shell blister
Dimensions
•
•
•
•
Blister dimensions (WxDxH): 185 x 216 x 90 mm
Blister weight: 0.26 kg
Inner carton dimensions WxDxH: Not applicable
Master carton quantity: 6
•
Issue date 2014-02-06
© 2014 Koninklijke Philips N.V.
All Rights reserved.
Version: 2.2.7
Specifications are subject to change without notice.
Trademarks are the property of Koninklijke Philips N.V.
or their respective owners.
12 NC: 9082 100 07783
EAN: 87 10895 95712 0
www.philips.com
6 different plugs
The Philips Universal Power Adapter has six
different plugs to power all your battery-powered
devices.
6 different voltages
Six different voltages for powering a wide range of
devices. This helps save you money – you need only
one adapter.

* Your assessment is very important for improving the work of artificial intelligence, which forms the content of this project