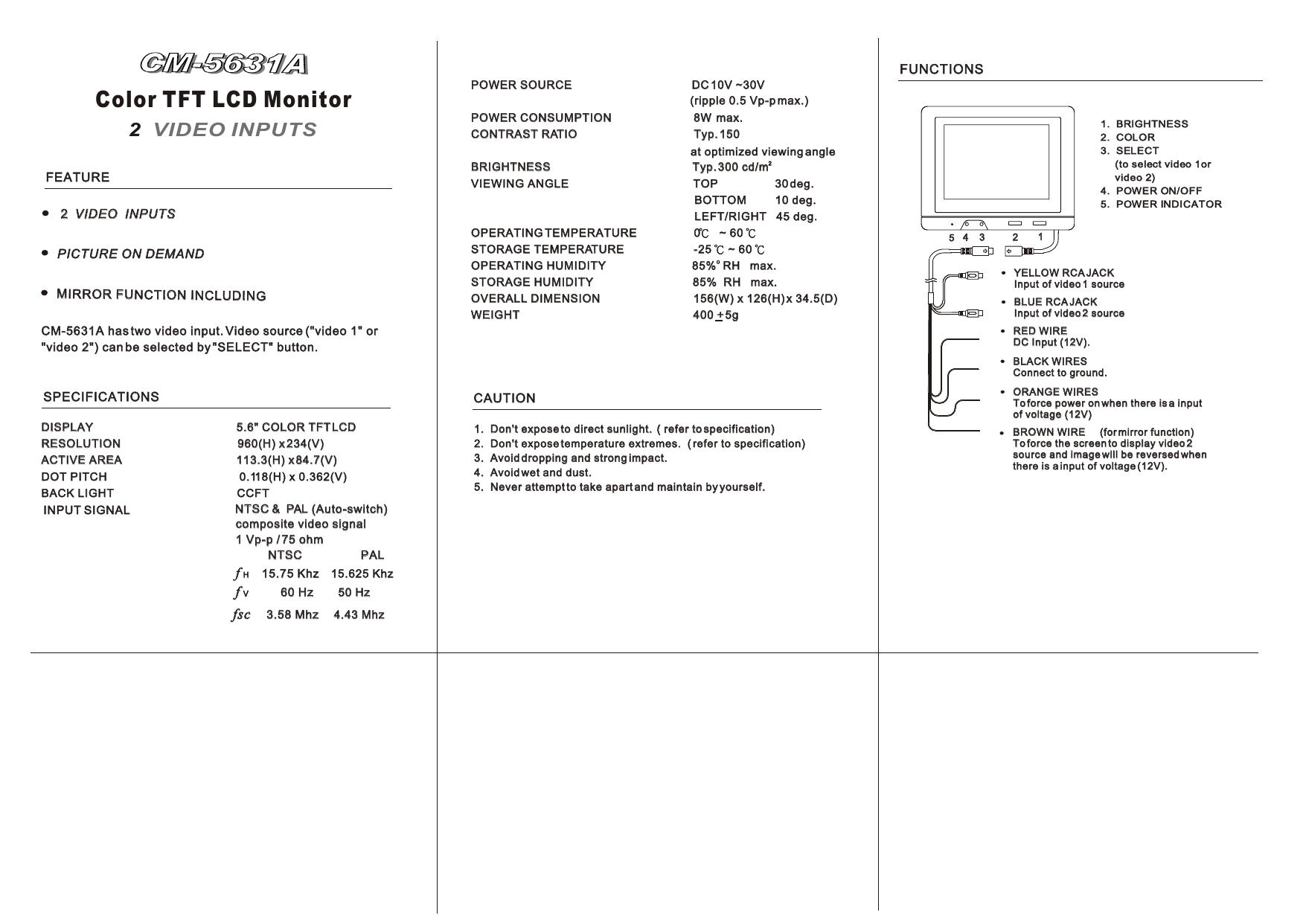 FUNCTIONS
POWER SOURCE
Color TFT LCD Monitor
POWER CONSUMPTION
CONTRAST RATIO
2 VIDEO INPUTS
BRIGHTNESS
VIEWING ANGLE
FEATURE
2 VIDEO INPUTS
OPERATING TEMPERATURE
STORAGE TEMPERATURE
OPERATING HUMIDITY
STORAGE HUMIDITY
OVERALL DIMENSION
WEIGHT
PICTURE ON DEMAND
MIRROR FUNCTION INCLUDING
DC 10V ~30V
(ripple 0.5 Vp-p max.)
8W max.
Typ. 150
at optimized viewing angle
Typ. 300 cd/m2
TOP
30 deg.
BOTTOM
10 deg.
LEFT/RIGHT 45 deg.
0
~ 60
-25 ~ 60
85% RH max.
85% RH max.
156(W) x 126(H) x 34.5(D)
400 + 5g
1. BRIGHTNESS
2. COLOR
3. SELECT
(to select video 1or
video 2)
4. POWER ON/OFF
5. POWER INDICATOR
5 4
3
2
1
O
CM-5631A has two video input. Video source ("video 1" or
"video 2") can be selected by "SELECT" button.
YELLOW RCA JACK
Input of video 1 source
BLUE RCA JACK
Input of video 2 source
RED WIRE
DC Input (12V).
BLACK WIRES
Connect to ground.
SPECIFICATIONS
DISPLAY
RESOLUTION
ACTIVE AREA
DOT PITCH
BACK LIGHT
INPUT SIGNAL
5.6" COLOR TFT LCD
960(H) x 234(V)
113.3(H) x 84.7(V)
0.118(H) x 0.362(V)
CCFT
NTSC & PAL (Auto-switch)
composite video signal
1 Vp-p / 75 ohm
NTSC
PAL
f H 15.75 Khz
fV
60 Hz
15.625 Khz
fsc
4.43 Mhz
3.58 Mhz
50 Hz
CAUTION
ORANGE WIRES
To force power on when there is a input
of voltage (12V)
1.
2.
3.
4.
5.
BROWN WIRE (for mirror function)
To force the screen to display video 2
source and image will be reversed when
there is a input of voltage (12V).
Don't expose to direct sunlight. ( refer to specification)
Don't expose temperature extremes. ( refer to specification)
Avoid dropping and strong impact.
Avoid wet and dust.
Never attempt to take apart and maintain by yourself.

* Your assessment is very important for improving the work of artificial intelligence, which forms the content of this project