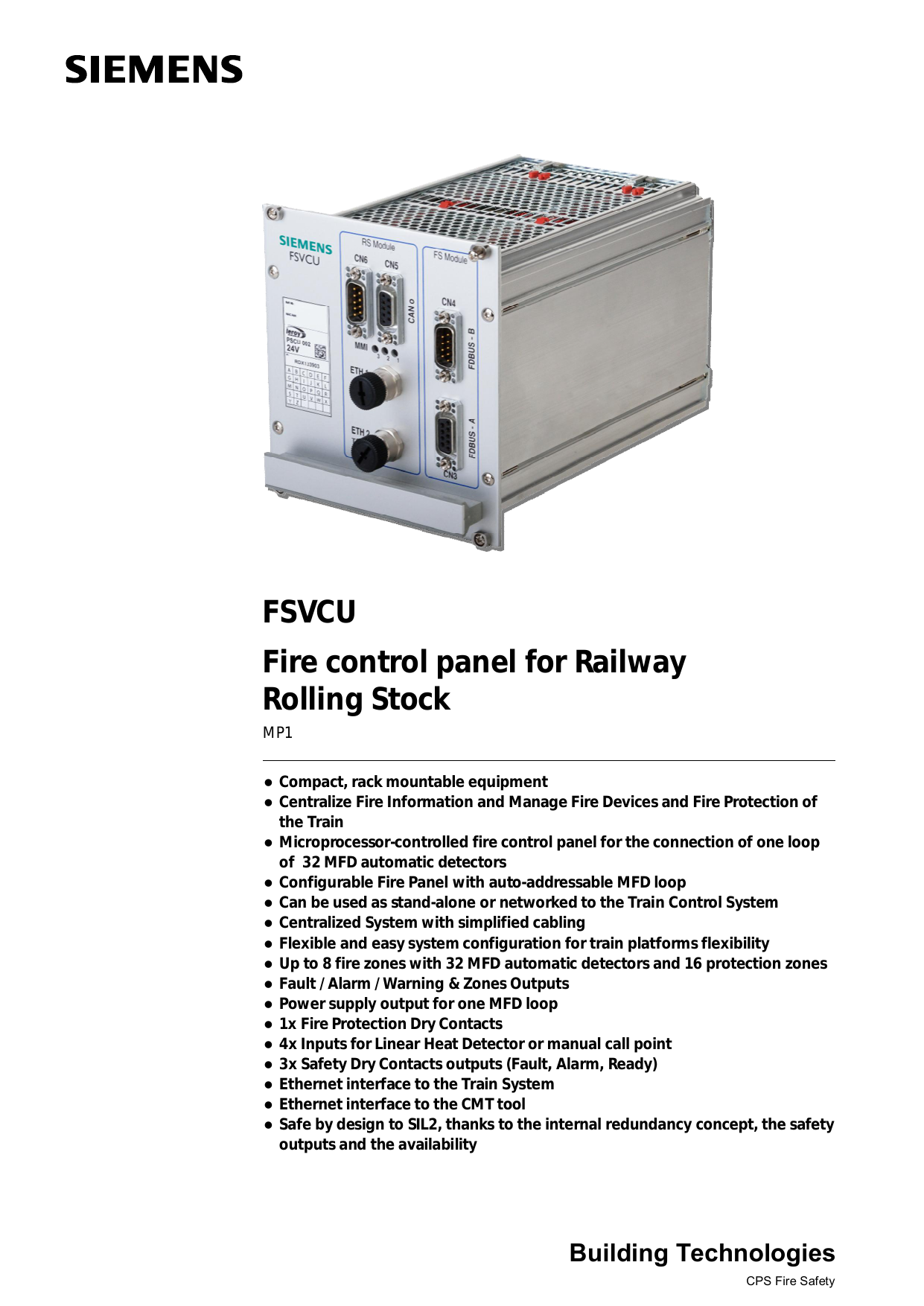 FSVCU
Fire control panel for Railway
Rolling Stock
MP1
Compact, rack mountable equipment
Centralize Fire Information and Manage Fire Devices and Fire Protection of
the Train
Microprocessor-controlled fire control panel for the connection of one loop
of 32 MFD automatic detectors
Configurable Fire Panel with auto-addressable MFD loop
Can be used as stand-alone or networked to the Train Control System
Centralized System with simplified cabling
Flexible and easy system configuration for train platforms flexibility
Up to 8 fire zones with 32 MFD automatic detectors and 16 protection zones
Fault / Alarm / Warning & Zones Outputs
Power supply output for one MFD loop
1x Fire Protection Dry Contacts
4x Inputs for Linear Heat Detector or manual call point
3x Safety Dry Contacts outputs (Fault, Alarm, Ready)
Ethernet interface to the Train System
Ethernet interface to the CMT tool
Safe by design to SIL2, thanks to the internal redundancy concept, the safety
outputs and the availability
Building Technologies
CPS Fire Safety
System overview
The FSVCU control panel can be configured to fit one of the two following train architectures:
1
Trailer architecture (one System per car)
2
Consist Architecture (one System for several cars)
System size
-
Building Technologies
CPS Fire Safety
Up to 32 MFD devices
Up to 8 Fire Detection Zones
Up to 68 Fire Peripherals inputs (LHD, Manual Call points...)
Up to 33 Fire Protection Outputs (Extinguishing activation …)
Characteristics
-
-
-
-
FSVCU is a compact fire control panel that can process signals from MFD devices
It centralize Fire Events with Synthetic I/O indication:
- System Fire Alarm:
- 1 Dry Contact for Fire Alarm Indication (safety output)
- 8 Dry Contacts for Fire Alarm Zones Indication
- System Monitoring:
- 1 Dry Contact for System Failure Indication (Inoperative System)
- 1 Dry Contact for Component Failure Indication (Degraded mode on MFD,
LHD…)
It centralize Fire Events with detailed information on communication bus:
- System Status Detailed Information:
- Alarm information at component level (device identification, fire type,
event logs…)
- Failure information at component level (device failure identification,
troubleshoo-ting data code…)
- Preventive Maintenance Information:
- Degraded Modes management (MFD cleaning warning, cabling failures)
It records Fire Events with detailed information on communication bus:
- Fire events recording with Timestamp (relative time)
- Failure events recording with failure identification and troubleshooting data
It provides 4 monitored inputs for connection of LHD (Linear Heat Detector) or
Manual call points
The control panel can be used as a stand-alone unit or connected to a Train
Communication System
Using the user-friendly engineering tool CMT (Configuration Management Tool),
the control panels can be configured to create a customized solution
Support 3 nominal train voltages: 24VDC, 72VDC and 110VDC
Functional elements
Front panel
Following connectors are located on the front panel:
- MFD devices CAN Loop (2xSUBD-9)
- TCMS Ethernet (M12)
- CMT Ethernet (M12)
In addition, 3 led's visible from outside can display the following indications:
- Green/Red: power ON
- Orange/Red: Alarm/Fault
- Yellow: Ready
Rear panel
Following connectors are located on the rear panel:
- Rear Panel Connector (F48)
- Power Supply (72VDC ..110VDC)
- Safety Dry Contacts (ALARM, FAULT, READY)
- Fire Peripherals I/O (LHD, Sounders…)
- Discrete Inputs (TEST, INHIBIT)
Configuration
The Configuration Management Tool (CMT) permits the system to be adapted to
specific customers' requirements. It allows to configure zones, number of MFD devices per zone, zone behavior and combine alarm events.
During commissioning and/or maintenance operations, the CMT provides high level
diagnostic information's.
Building Technologies
CPS Fire Safety
Technical data
Mains voltage
Power supply voltage for MFD
Mains monitoring
Connectable detector series
Number of lines
– Loops
Number of addresses
Integrated inputs/outputs
– Relay Safety Output
– Alarm
– Fault
– Warning
– Relay Output FPO
– Monitored Inputs (LHD or MCP inputs)
– Discrete Outputs
– Discrete Inputs
– INH (Inhibition)
– Rearm
– Test
Operating unit
Operating temperature
Storage temperature
72VDC to 110VDC
24V – 2A compliant to EN50155
yes
MFD (FDbus) A6V10400978
1
max. 32
1
1
1
1
4 (EOL required)
8
1
1
1
3x LED's
-40… +70°C
-40°C
Dimensions (W x H x D)
Weight
Color
Protection category (IEC 60529)
122 mm x 128 mm x 190 mm
1500g
anodized aluminum
IP31 (Front) / IP20 (Housing)
Compliance to standards
- General Railways standard
- Railway development standards
EN50155
EN50126, EN50128, EN50129
Approvals
- Certifier
System SIL 2 (pending)
Siemens Switzerland Ltd
Infrastructure & Cities sector
Building Technologies Division
International Headquarters
CPS Fire Safety
Gubelstrasse 22
CH-6301 Zug
Tel. +41 41 724 24 24
www.siemens.com/buildingtechnologies
Document no.
A6V10400972_c_en_--
Edition
03.2014
© 2014 Copyright by
Siemens Switzerland Ltd
Data and design subject to change without notice.
Supply subject to availability.

* Your assessment is very important for improving the work of artificial intelligence, which forms the content of this project