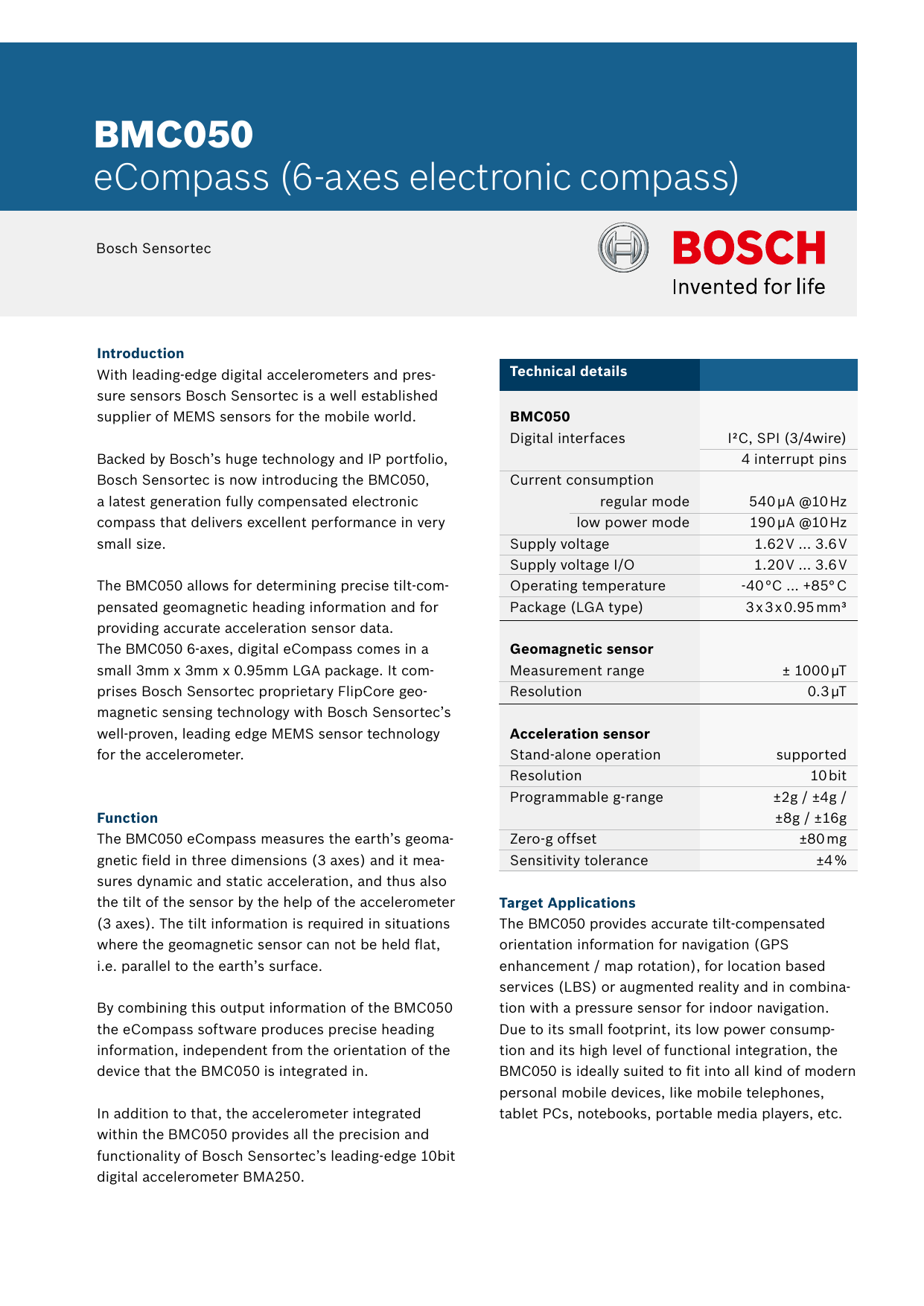 BMC050
eCompass (6-axes electronic compass)
Bosch Sensortec
Introduction
With leading-edge digital accelerometers and pres-
Technical details
sure sensors Bosch Sensortec is a well established
supplier of MEMS sensors for the mobile world.
BMC050
Digital interfaces
Backed by Bosch's huge technology and IP portfolio,
Bosch Sensortec is now introducing the BMC050,
4 interrupt pins
Current consumption
regular mode
540 µA @10 Hz
low power mode
190 µA @10 Hz
a latest generation fully compensated electronic
compass that delivers excellent performance in very
small size.
I²C, SPI (3/4wire)
Supply voltage
Supply voltage I/O
1.62 V ... 3.6 V
1.20 V ... 3.6 V
The BMC050 allows for determining precise tilt-com-
Operating temperature
-40 °C ... +85° C
pensated geomagnetic heading information and for
Package (LGA type)
3 x 3 x 0.95 mm³
providing accurate acceleration sensor data.
The BMC050 6-axes, digital eCompass comes in a
Geomagnetic sensor
small 3mm x 3mm x 0.95mm LGA package. It com-
Measurement range
prises Bosch Sensortec proprietary FlipCore geo-
Resolution
± 1000 µT
0.3 µT
magnetic sensing technology with Bosch Sensortec's
well-proven, leading edge MEMS sensor technology
Acceleration sensor
for the accelerometer.
Stand-alone operation
supported
Resolution
Programmable g-range
10 bit
±2g / ±4g /
±8g / ±16g
Function
The BMC050 eCompass measures the earth's geoma-
Zero-g offset
gnetic field in three dimensions (3 axes) and it mea-
Sensitivity tolerance
±80 mg
±4 %
sures dynamic and static acceleration, and thus also
the tilt of the sensor by the help of the accelerometer
Target Applications
(3 axes). The tilt information is required in situations
The BMC050 provides accurate tilt-compensated
where the geomagnetic sensor can not be held flat,
orientation information for navigation (GPS
i.e. parallel to the earth's surface.
enhancement / map rotation), for location based
services (LBS) or augmented reality and in combina-
By combining this output information of the BMC050
tion with a pressure sensor for indoor navigation.
the eCompass software produces precise heading
Due to its small footprint, its low power consump-
information, independent from the orientation of the
tion and its high level of functional integration, the
device that the BMC050 is integrated in.
BMC050 is ideally suited to fit into all kind of modern
personal mobile devices, like mobile telephones,
In addition to that, the accelerometer integrated
within the BMC050 provides all the precision and
functionality of Bosch Sensortec's leading-edge 10bit
digital accelerometer BMA250.
tablet PCs, notebooks, portable media players, etc.
2 | Bosch Sensortec | BMC050
Integrated interrupt engine
It includes automatic magnetic offset cancellation
Acceleration sensor
and accelerometer tilt-compensation.
ff Data-ready (e. g. for processor synchronization)
For more details on software features and licensing
ff Any-motion (slope) detection (e. g. for wake-up)
conditions, please contact your Bosch Sensortec
ff Tap sensing (e. g. for tap-sensitive UI control)
representative.
ff Orientation change recognition (e. g. for portrait/
landscape & face-up/face-down switching)
ff Flat detection (e. g. for position sensitive
switching)
ff Low-g / high-g detection (e. g. for shock and
Pin configuration (top view)
free-fall detection)
4
Geomagnetic sensor
ff Overflow detection
5
ff Low-g / high-g threshold detection
6
Y
eCompass software
software supporting the BMC050 to provide high
precision.
Z
1
2
16
Pin 1 Mark
15
BMC050
7
8
Bosch Sensortec licenses proprietary leading-edge
3
14
13
9
10
11
12
X
Axis orientation for geo-magnetic sensor + accelerometer
ff Magnetic heading
Axes orientation for geomagnetic sensor and accelerometer
ff 3D device orientation
ff Signal quality information
ff In-use calibration
Pin #
Pin Name
1
INT2
Sensor
Description
Acc.
Interrupt output #2
2
PS1
Acc.
Protocol select #1
3
PS2
Mag.
Protocol select #2
4
INT3
Mag.
Interrupt output #3
5
CSB1
Acc.
Chip select #1
6
CSB2
Mag.
Chip select #2
7
GND
Mag. + Acc.
Ground
8
GND
Mag. + Acc.
Ground
9
DRDY
Mag.
Data ready
10
SDO
Mag. + Acc.
SPI: Data output
11
SDI
Mag. + Acc.
SPI: Data input, I2C: Data
12
GND
Mag. + Acc.
Ground
13
V DD
Mag. + Acc.
Supply voltage
14
V DDIO
Mag. + Acc.
I/O voltage
15
SCK
Mag. + Acc.
Serial clock
16
INT1
Acc.
Interrupt output #1
Headquarters
Bosch Sensortec GmbH
Gerhard-Kindler-Strasse 8
72770 Reutlingen · Germany
Telephone +49 7121 3535 9 00
Fax +49 7121 3535 9 09
contact@bosch-sensortec.com
www.bosch-sensortec.com
Data & Specification subject to change without notice
Doc.-Number: BST-BMC050-FL000-00 / Version_1.0_102011
© Bosch Sensortec GmbH reserves all rights in the event of industrial property rights. We reserve all rights of disposal such as copying and passing on to third parties. BOSCH and the symbols are registered trademarks of Robert Bosch GmbH, Germany.

* Your assessment is very important for improving the work of artificial intelligence, which forms the content of this project