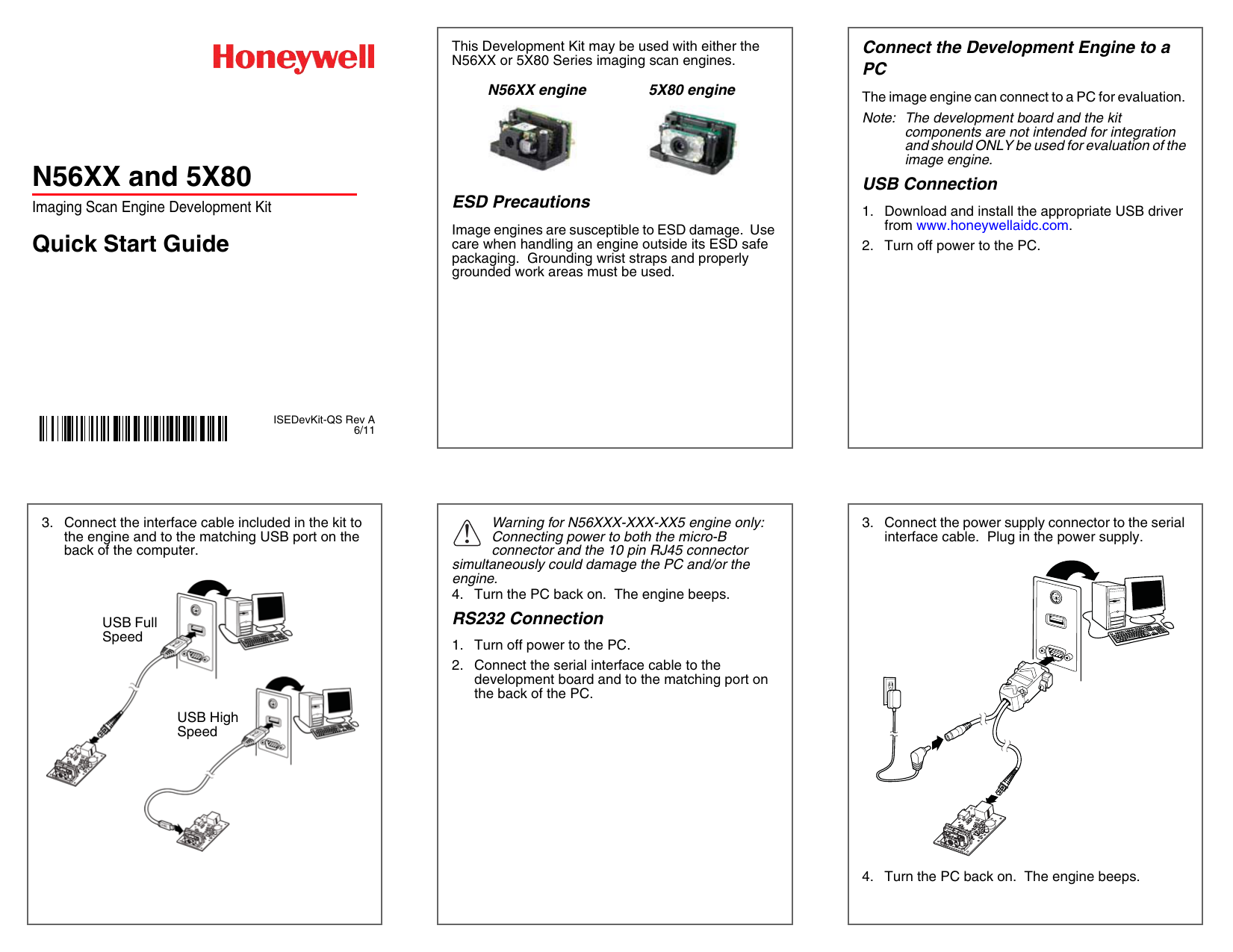 This Development Kit may be used with either the
N56XX or 5X80 Series imaging scan engines.
N56XX engine
5X80 engine
Connect the Development Engine to a
PC
The image engine can connect to a PC for evaluation.
Note: The development board and the kit
components are not intended for integration
and should ONLY be used for evaluation of the
image engine.
N56XX and 5X80
USB Connection
Imaging Scan Engine Development Kit
ESD Precautions
Quick Start Guide
Image engines are susceptible to ESD damage. Use
care when handling an engine outside its ESD safe
packaging. Grounding wrist straps and properly
grounded work areas must be used.
1. Download and install the appropriate USB driver
from www.honeywellaidc.com.
2. Turn off power to the PC.
ISEDevKit-QS Rev A
6/11
3. Connect the interface cable included in the kit to
the engine and to the matching USB port on the
back of the computer.
Warning for N56XXX-XXX-XX5 engine only:
Connecting power to both the micro-B
connector and the 10 pin RJ45 connector
simultaneously could damage the PC and/or the
engine.
4. Turn the PC back on. The engine beeps.
!
3. Connect the power supply connector to the serial
interface cable. Plug in the power supply.
RS232 Connection
USB Full
Speed
1. Turn off power to the PC.
2. Connect the serial interface cable to the
development board and to the matching port on
the back of the PC.
USB High
Speed
4. Turn the PC back on. The engine beeps.
5. Scan the RS 232 interface bar code below. This
programs the development engine for an RS 232
interface at 115,200 baud, parity–none, 8 data
bits, 1 stop bit, and adds a CR LF suffix.
Limited Warranty
Refer to www.honeywellaidc.com/
warranty_information for your product's warranty
information.
Disclaimer
RS-232 Interface
User Documentation
Refer to www.honeywellaidc.com for detailed user
documentation about installing and configuring image
engines.
Technical Assistance
Contact information for technical support, product
service, and repair can be found at
www.honeywellaidc.com.
Patents
Honeywell International Inc. ("HII") reserves the right to
make changes in specifications and other information
contained in this document without prior notice, and the
reader should in all cases consult HII to determine whether
any such changes have been made. The information in this
publication does not represent a commitment on the part of
HII.
HII shall not be liable for technical or editorial errors or
omissions contained herein; nor for incidental or
consequential damages resulting from the furnishing,
performance, or use of this material.
This document contains proprietary information that is
protected by copyright. All rights are reserved. No part of
this document may be photocopied, reproduced, or
translated into another language without the prior written
consent of HII.
Web Address: www.honeywellaidc.com
For patent information, please refer to
www.honeywellaidc.com/patents.
©2011 Honeywell International Inc. All rights reserved.

* Your assessment is very important for improving the work of artificial intelligence, which forms the content of this project