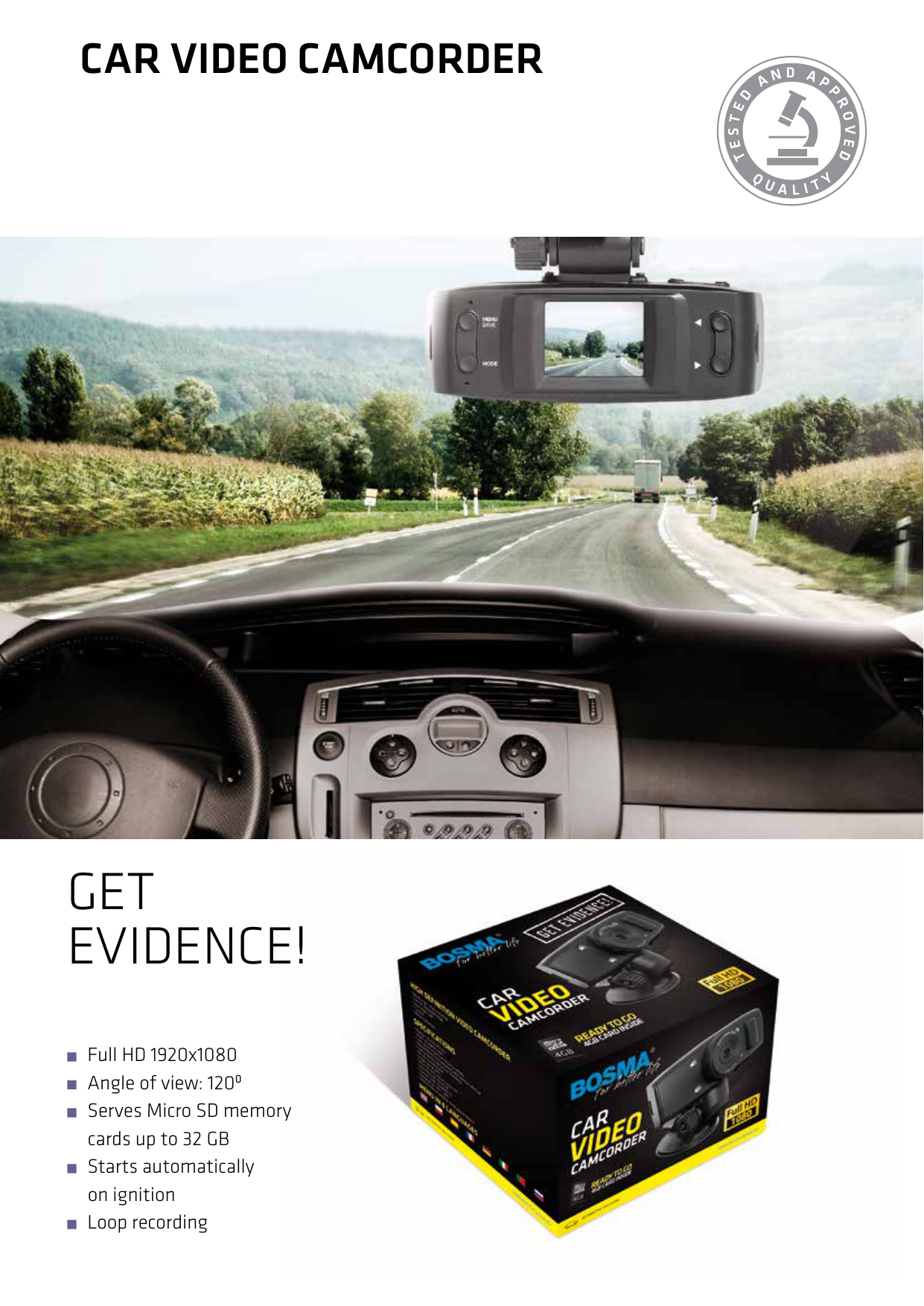 CAR VIDEO CAMCORDER
GET
EVIDENCE!
Full HD 1920x1080
Angle of view: 1200
Serves Micro SD memory
cards up to 32 GB
Starts automatically
on ignition
Loop recording
CAR VIDEO CAMCORDER
VOLT
CODE
NO REF.
12/24
0757
1080HDCVC1
EAN
UNIT PACK.
PACK. SYSTEM
CARTON BOX
1
READY TO GO!
Set contains Micro SD 4GB memory card
BUTTON: POWER
USB
BUTTON: REC/OK
AV OUT
BUTTON: UP
LED LIGHT
BUTTON:
MENU/SAVE
MICRO SD SLOT
HDMI
BUTTON: MODE
MICROPHONE
BUTTON: DOWN
LCD SCREEN
RESET
SPEAKER
CAR VIDEO CAMCORDER
G-SENSOR
Device equipped with gravity
acceleration sensor. When
sudden G-force (sudden
breaking or stroke) is detected,
the G-sensor protects against
overwriting or deletion.
LOOP RECORDING
MODE
A function that allows for
automated overwriting of new
material over the oldest one
in cases where the card memory
is full.
MOVEMENT
DETECTION
The sensor automatically resumes
operation of the camcorder upon
detection of movement in the scene,
saving space on the memory card.
NIGHT
MODE
Device equipped with infrared
diodes, which allows for
registration and collection
of evidence also after dusk.
SCREEN
AND LENS
LCD TFT screen with 1.5-inch
diagonal allows you to freely view
the recorded material and
to conveniently navigate the
menu. Full HD camcorder and
wide-angle 1200 lens allow for
optimum image registration
without deformation of image
edges while maintaining the
accuracy of the record.
FILE
TRANSFER
AND PLAYING
USB adapter and micro SD
memory card are standard
data transfer solutions which
are compatible with the majority
of electronic devices. HDMI
and AV OUT sockets make
it possible to enjoy high quality
recordings on such receivers
as TV sets or full HD projectors.

* Your assessment is very important for improving the work of artificial intelligence, which forms the content of this project