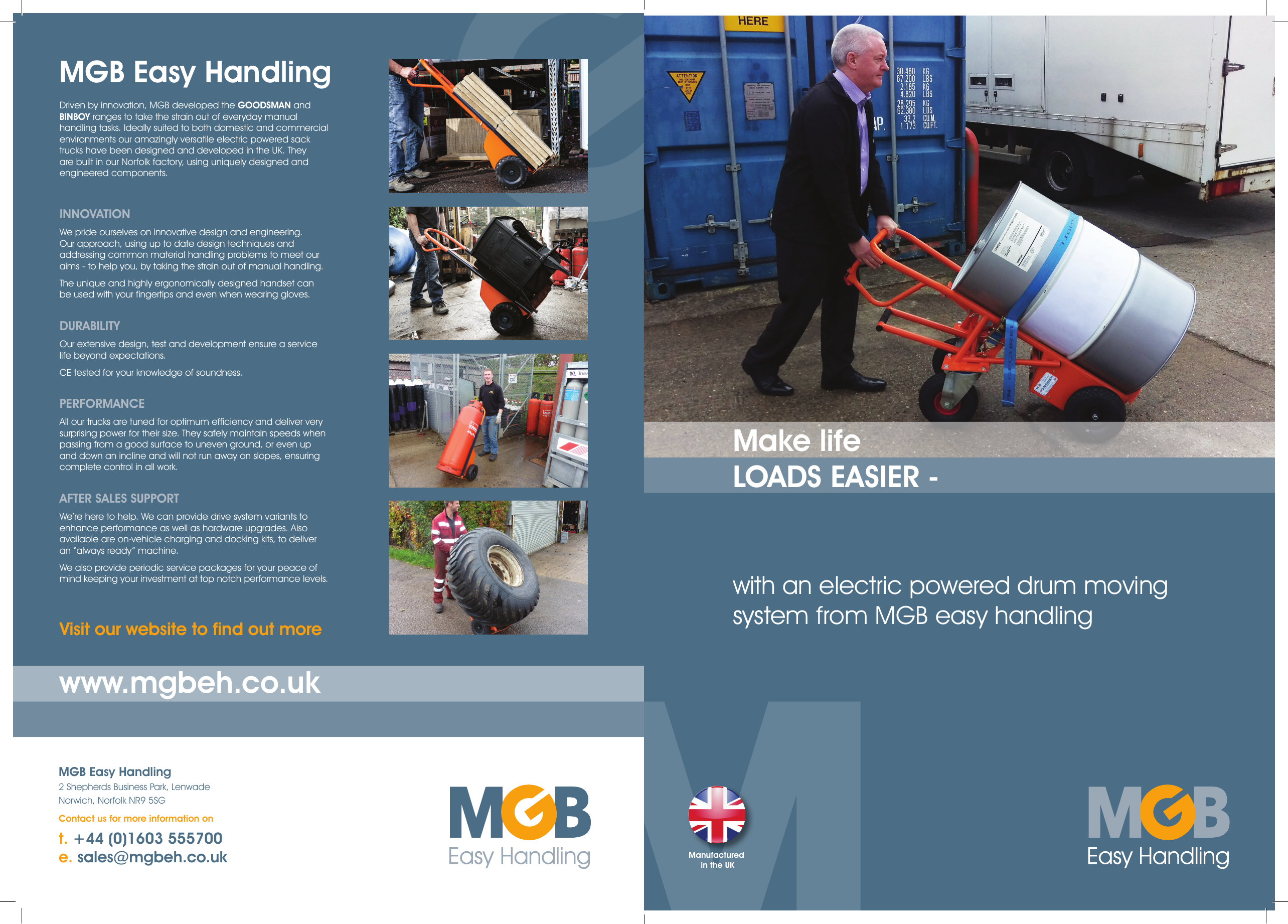 MGB Easy Handling
Driven by innovation, MGB developed the GOODSMAN and
BINBOY ranges to take the strain out of everyday manual
handling tasks. Ideally suited to both domestic and commercial
environments our amazingly versatile electric powered sack
trucks have been designed and developed in the UK. They
are built in our Norfolk factory, using uniquely designed and
engineered components.
INNOVATION
We pride ourselves on innovative design and engineering.
Our approach, using up to date design techniques and
addressing common material handling problems to meet our
aims - to help you, by taking the strain out of manual handling.
The unique and highly ergonomically designed handset can
be used with your fingertips and even when wearing gloves.
DURABILITY
Our extensive design, test and development ensure a service
life beyond expectations.
CE tested for your knowledge of soundness.
PERFORMANCE
All our trucks are tuned for optimum efficiency and deliver very
surprising power for their size. They safely maintain speeds when
passing from a good surface to uneven ground, or even up
and down an incline and will not run away on slopes, ensuring
complete control in all work.
AFTER SALES SUPPORT
Make life
LOADS EASIER -
We're here to help. We can provide drive system variants to
enhance performance as well as hardware upgrades. Also
available are on-vehicle charging and docking kits, to deliver
an "always ready" machine.
We also provide periodic service packages for your peace of
mind keeping your investment at top notch performance levels.
Visit our website to find out more
with an electric powered drum moving
system from MGB easy handling
www.mgbeh.co.uk
MGB Easy Handling
2 Shepherds Business Park, Lenwade
Norwich, Norfolk NR9 5SG
Contact us for more information on
t. +44 (0)1603 555700
e. sales@mgbeh.co.uk
Manufactured
in the UK
GoodsMan
300
Shifting a stone from a van to your door, or around your
premises, distances, grass, gravel and slopes just got easier.
Introducing the GOODSMAN 300.
With a capacity of up to 300kg this electric sack truck
makes light work of moving your work. It's safe, easy to use,
versatile and robust.
•E
rgonomically designed tiller
lever is easy to use - even in
your gloves
• Forward and reverse drive
GoodsMan
DD
• Right and left handed drive
• Lightweight
•1
year return to base limited
warranty
•2
speed operation for safe
and easy transit over even the
roughest terrains
• T orque assisted movement to
transit position
• On-vehicle charging
• Battery charge monitor
Designed for fast and safe drum deliveries, this machines
solves and age old issue of drum handling for those without
significant machinery to do so.
Suitable for all kinds of work the
weather protected GOODSMAN 300
is ideal for indoor and outdoor use.
You can forget fatigue because you'll
be driving, not pushing that load.
GoodsMan
LD
A user can easily lift the drum to the transit position and
driving up a purpose made lightweight 2 piece ramp into
the van, secures the rig to the bulkhead allowing deliveries
to exactly where the customer requires.
Drum handling has never been so easy and flexible...
Utilising an industry standard Bird Beak it is very quick and easy to collect and
release the drum. Specifically designed to collect 120ltr to 208ltr drums from
up to 400mm bunds.
• Eliminates drum mauling
• Typical c1 mile per charge
Once attached and using some body weight the user lifts the drum and the
specially designed struts control the descent to a transit position.
• Mains overnight recharge
• For steel oil and plastic glycol drums
Releasing the slide mechanism, the drum translates to a lower position
where the unit drives easily over poor surfaces to the collection lorry.
• Collect off pallet and drop onto bund
• Safe and mitigates injury to the user
Specifically designed lightweight two piece ramp that will fit onto
most types of van is easily transferable to vehicle allowing higher
delivery fleet flexibility.
• Designed for average fit users to move drums
• Minimal skill level required
• Fast and efficient
• Safe for the drum and the environment
The lip lift system (left)
or a bird beak can be
built onto either machine
depending on the
application.

* Your assessment is very important for improving the work of artificial intelligence, which forms the content of this project