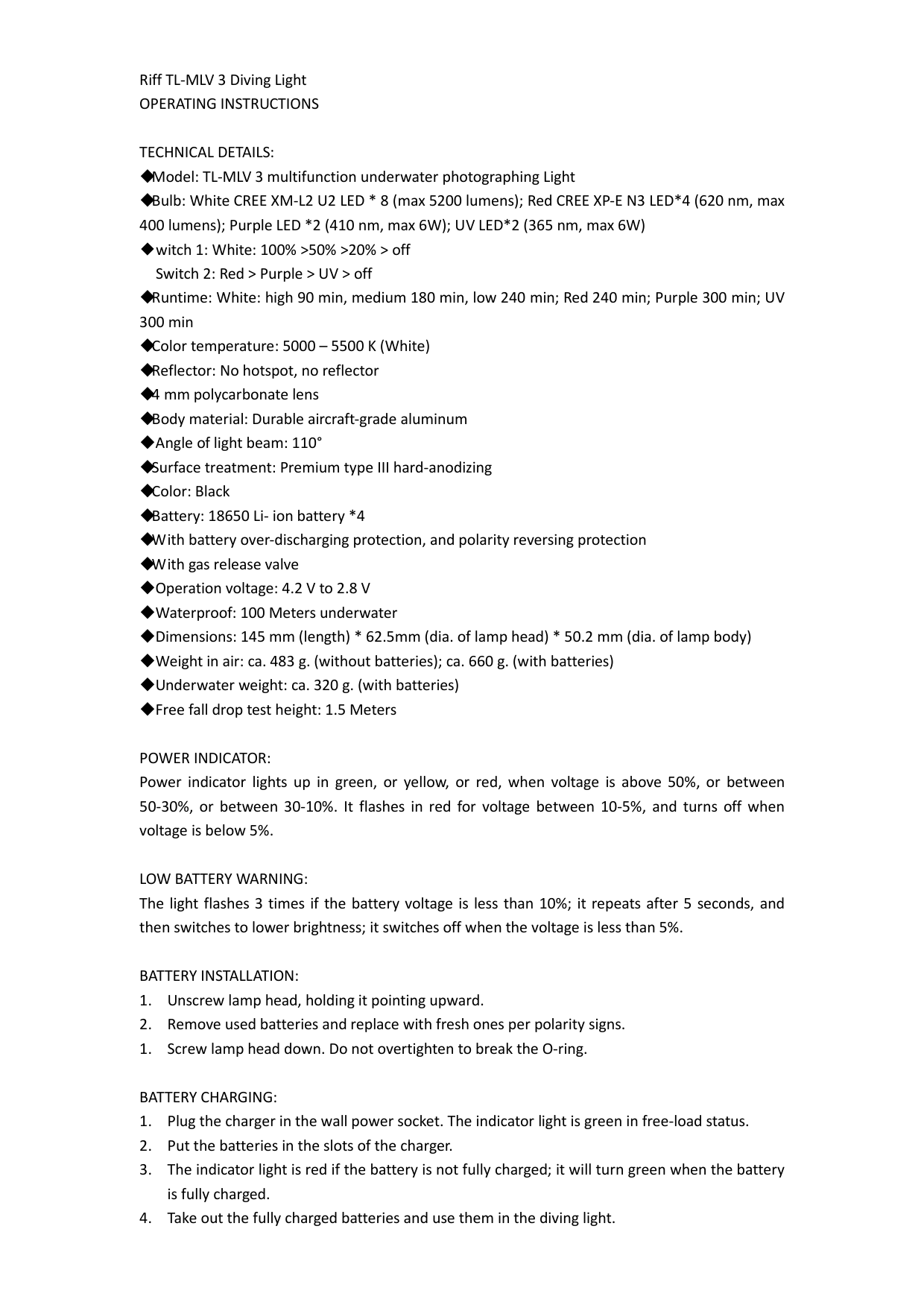 Riff TL-MLV 3 Diving Light
OPERATING INSTRUCTIONS
TECHNICAL DETAILS:
◆Model: TL-MLV 3 multifunction underwater photographing Light
◆Bulb: White CREE XM-L2 U2 LED * 8 (max 5200 lumens); Red CREE XP-E N3 LED*4 (620 nm, max
400 lumens); Purple LED *2 (410 nm, max 6W); UV LED*2 (365 nm, max 6W)
◆witch 1: White: 100% >50% >20% > off
Switch 2: Red > Purple > UV > off
◆Runtime: White: high 90 min, medium 180 min, low 240 min; Red 240 min; Purple 300 min; UV
300 min
◆Color temperature: 5000 – 5500 K (White)
◆Reflector: No hotspot, no reflector
◆4 mm polycarbonate lens
◆Body material: Durable aircraft-grade aluminum
◆Angle of light beam: 110°
◆Surface treatment: Premium type III hard-anodizing
◆Color: Black
◆Battery: 18650 Li- ion battery *4
◆With battery over-discharging protection, and polarity reversing protection
◆With gas release valve
◆Operation voltage: 4.2 V to 2.8 V
◆Waterproof: 100 Meters underwater
◆Dimensions: 145 mm (length) * 62.5mm (dia. of lamp head) * 50.2 mm (dia. of lamp body)
◆Weight in air: ca. 483 g. (without batteries); ca. 660 g. (with batteries)
◆Underwater weight: ca. 320 g. (with batteries)
◆Free fall drop test height: 1.5 Meters
POWER INDICATOR:
Power indicator lights up in green, or yellow, or red, when voltage is above 50%, or between
50-30%, or between 30-10%. It flashes in red for voltage between 10-5%, and turns off when
voltage is below 5%.
LOW BATTERY WARNING:
The light flashes 3 times if the battery voltage is less than 10%; it repeats after 5 seconds, and
then switches to lower brightness; it switches off when the voltage is less than 5%.
BATTERY INSTALLATION:
1. Unscrew lamp head, holding it pointing upward.
2. Remove used batteries and replace with fresh ones per polarity signs.
1. Screw lamp head down. Do not overtighten to break the O-ring.
BATTERY CHARGING:
1. Plug the charger in the wall power socket. The indicator light is green in free-load status.
2. Put the batteries in the slots of the charger.
3. The indicator light is red if the battery is not fully charged; it will turn green when the battery
is fully charged.
4. Take out the fully charged batteries and use them in the diving light.
MODES CHANGING:
1. Successively push the switch 1 ON-OFF to cycle through White high, low, strobe, and off.
(After each push, the switch will slide back to original position automatically.)
2. Successively push the switch 2 ON-OFF to cycle through Red, Purple, UV Light, and off.
3. Both switches can be turned on or off simultaneously or separately.
CAUTION:
1. Never attempt to repair or modify the light yourself.
2. Check the light regularly for sharp edges, scratches or damages to the lens surface or O-ring,
as this can cause the light to flood under pressure.
3. Rinse the product surface thoroughly. Allow sufficient time to dry both inside and outside
before storage. PLEASE LUBRICATE THE THREADS, O-RING GROOVE WITH SILICONE GREASE
TIMELY.
4. Remove the battery for transport or storage. Do not lay the battery in a fire or expose it to
direct heat. Do not wet or hit the battery.
5. Never leave the light unattended when it is on.
6. Keep the device out of the reach of children or pets.
7. Never shoot the light direct to human or pet's eye.
WARRANTY RETURN POLICY:
Please contact your local distributor or retailer for information on how to handle your warranty
items.

* Your assessment is very important for improving the work of artificial intelligence, which forms the content of this project