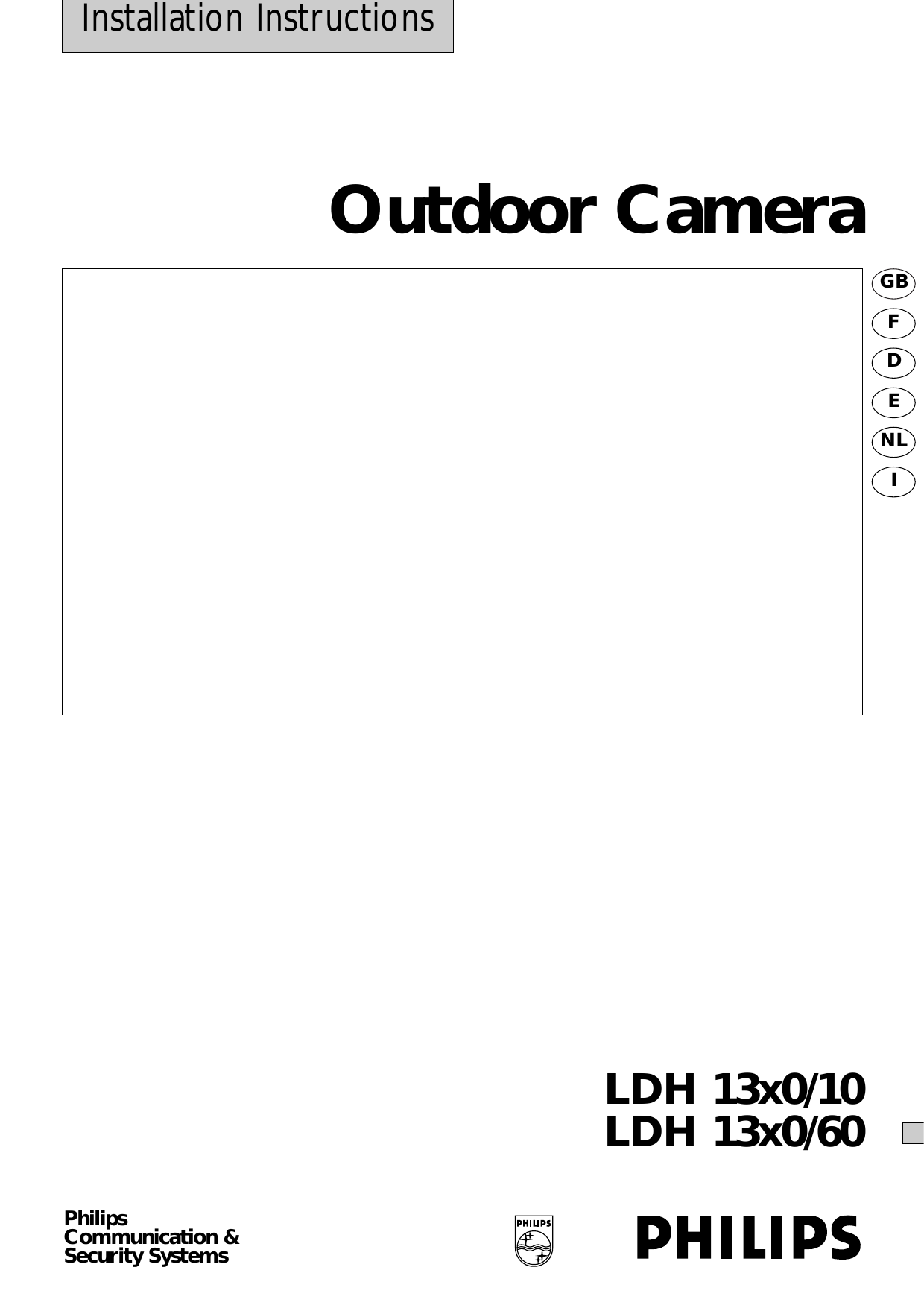 Installation Instructions
Outdoor Camera
GB
F
D
E
NL
I
LDH 13x0/10
LDH 13x0/60
Philips
Communication &
Security Systems
1
2
Open
Close
4
3
Video
1
4
2
3
Mains Connector
1. Neutral
2. Live
3. NC
4. Earth
Version
Outdoor
Camera
Standard
Standard
Standard
Standard
Monochrome
Monochrome
Colour
Colour
GB
INTRODUCTION
LDH
LDH
LDH
LDH
PAL/CCIR
Based on
Camera Type
1350/10
1370/10
1360/10
1380/10
LDH
LDH
LDH
LDH
0350/00
0370/00
0360/00
0380/00
F
The LDH 13x0/x0 Outdoor Camera is available in 4
versions as detailed in the table. They allow easy
installation as they are already assembled including a
Varifocal lens*. Final field of view is selected on site.
INSTALLATION
Refer to figures 1 through to 5.
1. Use wall bracket supplied (4).
2. Mount the bracket using the template (5), (see back page).
Mount the Outdoor Camera onto bracket.
3. Remove the housing cover screw (1-A) and remove cover.
4. Connect power supply and video signal. Refer to Fig. 3 for details.
Adjust the lens (2-1 & 2-2) for optimum picture display. Refer to
the lens installation instructions for details.
5. Fit the housing cover and secure using screw (1-A).
6. Apply power and check for correct operation.
NTSC/EIA
Outdoor
Based on
Camera
Camera Type
LDH
LDH
LDH
LDH
1350/60
1370/60
1360/60
1380/60
LDH
LDH
LDH
LDH
0350/60
0370/60
0360/60
0380/60
INTRODUCTION
La caméra pour extérieur LDH 13x0/x0 est disponible en
quatre versions, comme le montre le tableau. Elles
permettent une installation en toute simplicité dans la
mesure où elles sont déjà assemblées, avec un objectif
Varifocal. * Le champ de vision final est sélectionné sur
site.
INSTALLATION
Se reporter aux figures 1 à 5.
1. Utiliser le support fourni (4).
2. Monter le support à l'aide du gabarit (5), (voir au verso).
Monter la caméra pour extérieur sur le support.
3. Retirer la vis du capot du coffrage (1-A) et retirer le capot.
4. Brancher l'alimentation et le signal vidéo. Se reporter aux Fig. 1
pour plus de détails.
Régler de l'objectif (2-1 & 2-2) pour obtenir une image optimale.
Se reporter aux instructions d'installation de l'objectif pour plus de
détails.
5. Poser le capot du coffrage et fixer à l'aide de la vis (1-A).
6. Mettre sous tension et vérifier le bon fonctionnement.
CAUTION:
*The black lens hood on the housing is designed to be removed if
wide angle lenses are used. If with the required field of view, the
lens hood can be seen in the picture area remove it by loosening the
4 retaining screws.
ATTENTION:
*Le capuchon noir posé sur l'objectif sur le coffrage est conçu pour
être retiré en présence d'objectifs grand angle. Si le capuchon de
l'objectif apparaît toujours dans la zone d'image, compte tenu du
champ de vision nécessaire, il convient de le retirer et donc de
desserrer les 4 vis de retenue.
2
D
EINFÜHRUNG
NL
Die für Außeneinsatz vorgesehene Kamera LDH 13x0/x0
ist in vier Versionen verfügbar, die in der Tabelle
aufgeführt sind. Sie sind leicht zu installieren und bereits
zusammengebaut inklusive eines Varifokel-Objektives*.
Der endgültige Bildausschnitt wird an Ort und Stelle
eingestellt.
INLEIDING
De LDH 13x0/x0 Buitencamera is beschikbaar in 4 versies
welke zijn vermeld in de tabel. De camera's zijn eenvoudig
te installeren en zijn compleet samengesteld inclusief een
varifocus lens. Bij het installeren kan de juiste kijkhoek met
de lens ingesteld worden.
INSTALLATIE
INSTALLATION
Siehe Abbildungen 1 bis 5.
1. Verwenden Sie die mitgelieferten Montagewinkel (4).
2. Befestigen Sie die Winkel unter Verwendung der Schablone (5)
(siehe Rückseite).
Befest Sie die Kamera an dem Winkel.
3. Drehen Sie die Gehäuseschrauben (1-A) heraus und nehmen Sie das
Gehäuse ab.
4. Schließen Sie die Spannungsversorgung und das Videokabel an.
Siehe Abbildungen 1.
Stellen Sie die Objektivs (2-1 ung 2-2) auf die bestmögliche
Bildschärfe ein. Nähere Angaben finden Sie in der
Installationsanweisungen des Objektivs.
5. Setzen Sie die Gehäuse auf und schrauben Sie es fest (1-A).
6. Schalten Sie die Spannungsversorgung ein und überprüfen Sie, ob
das Gerät einwandfrei arbeitet.
Zie figuren 1 t.m. 5.
1. Gebruik de meegeleverde montagesteun (4).
2. Monteer de steun met behulp van de montagemal (5), (zie Laastste
pagina).
3. Draai de bevestigingsschroef van de kap los (1-A) en verwijder de
kap.
4. Sluit de voedingsspanning en de videosignaalkabel aan. Zie Fig. 1
voor details.
Regel de focusering en kijkhoek af op de lens voor een optimaal
beeld (2-1 en 2-2).
Zie de lens installatie handleiding voor details.
5. Verwijder de voedingsspanning, monteer de kap en draai de schroef
aan (1-A). Controleer of er geen interne bekabeling klem zit tussen
kap en bodemplaat.
6. Sluit de voedingsspanning aan en controleer de werking van de
camera
ACHTUNG:
*Die schwarze Gegenlichtblende auf dem Gehäuse kann entfernt
werden, wenn Weitwinkelobjektive verwendet werden. Wenn die
Gegenlichtblende beim gewünschten Bildausschnitt im Bild sichtbar
ist, kann sie durch Lösen der 4 Befestigungsschrauben entfernt
werden.
OPMERKING:
*De zwarte lenskap aan de voorzijde van de behuizing kan worden
verwijderd indien gebruik gemaakt wordt van groothoeklenzen.
Indien de kijkhoek zodanig groot is dat de hoeken van de lenskap
zichtbaar zijn in het beeld, kan de lenskap verwijderd worden door
het losdraaien van de 4 bevestigingsschroeven.
E
INTRODUCCIÓN
I
La cámara para instalación al aire libre LDH 13x0/x0 está
disponible en cuatro versiones, tal y como se muestra en la
tabla. Su instalación es muy sencilla, puesto que ya se
suministra montada e incluye un objetivo Varifocal*. El
campo de visión definitivo se selecciona en el lugar de
instalación.
INTRODUZIONE
La videocamera LDH 13x0/x0 per esterni è disponibile in
4 versioni come descritto in dettaglio nella tabella.
L'onstallazione è semplificata, poiché l'unità è già
assemblata compreso l'obiettivo Varifocal*. Il campo di
vista finale viene selezionato in loco.
INSTALLAZIONE
INSTALACIÓN
Fare riferimento alle figure da 1 a 5.
1. Utilizzare il supporto in dotazione (4).
2. Montare il supporto facendo uso del modello (5), (si veda il retro
della pagina).
Montare la videocamera per esterni sul supporto.
3. Svitare la vite di fissaggio del coperchio (1-A) e rimuoverlo.
4. Collagare l'alimentazione e il segnale video. Per i dettagli fare
riferimento alle Fig. 1.
Regolare il dell'obiettivo (2-1 & 2-2) per ottenere una qualità
dell'immagine ottimale.
Per maggiori dettagli, consultara le istruzioni per l'installazione
dell'obiettivo.
5. Ricollocare il coperchio e stringere la vite (1-A).
6. Alimentare l'unità e verificarne il corretto funzionamento.
Consulte las Figuras 1 a 5.
1. Utilice el soporte suministrado (4).
2. Monte el soporte utilizando la plantilla (5) (consulte el dorso).
Instale la cámara en el soporte.
3. Extraiga el tornillo de la cubierta del compartimento (1-A) y retire
la cubierta.
4. Conecte la fuente de alimentación y la fuente de señales de vídeo.
Consulte las Figura 1.
Ajuste del objetivo (2-1 y 2-2) para obtener una presentación
óptima de la imagen.
Consulte las instrucciones de instalación del objetivo para obtener
detalles al respecto.
5. Encaje la cubierta del compartimento y asegúrela con el tornillo
(1-A).
6. Aplique alimentación a la cámara y compruebe su correcto
funcionamiento
ATTENZIONE:
*Il paraluce nero dell'obiettivo è destinato ad essere rimosso qualora
si usino obiettivi grandangolari. Se il paraluce dell'obiettivo è visibile
all'interno dell'area di ripresa, con il campo di vista desiderato,
rimuoverlo allentando le 4 viti di fissaggio.
PRECAUCIÓN:
*La tapa negra del objetivo situada enel compartimento debe
retirarse si se utilizan objetivos gran angular. Si una vez obtenido el
campo de visión deseado aparece la tapa del objetivo en el área de la
imagen, retírela aflojando los cuatro tornillos de sujeción.
3
5
BRACKET TEMPLATE
116 mm
70 mm
3922 988 79782 96-28
Data subject to change without notice
© 1996 Philips Electronics N.V.

* Your assessment is very important for improving the work of artificial intelligence, which forms the content of this project