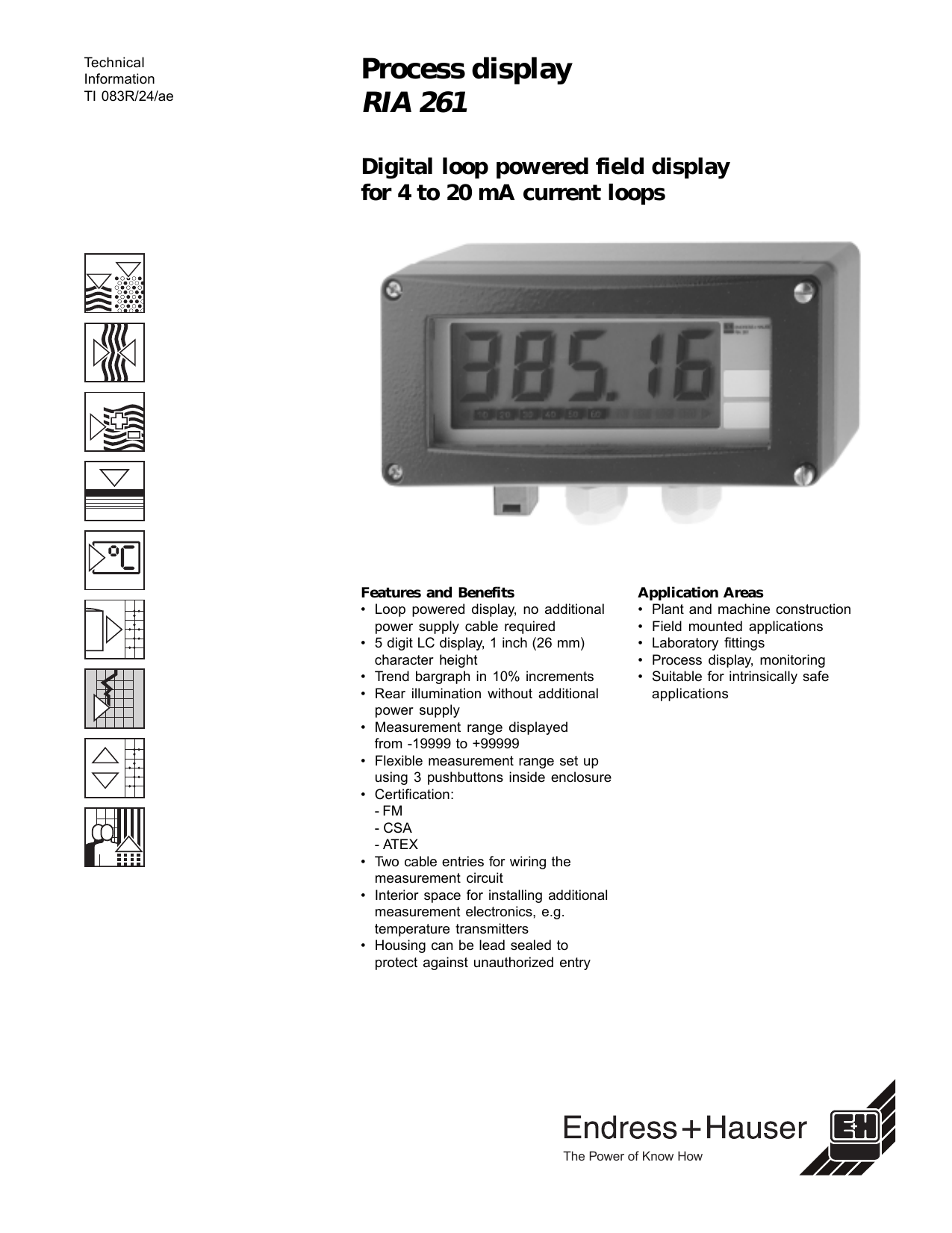 Technical
Information
TI 083R/24/ae
Process display
RIA 261
Digital loop powered field display
for 4 to 20 mA current loops
Features and Benefits
• Loop powered display, no additional
power supply cable required
• 5 digit LC display, 1 inch (26 mm)
character height
• Trend bargraph in 10% increments
• Rear illumination without additional
power supply
• Measurement range displayed
from -19999 to +99999
• Flexible measurement range set up
using 3 pushbuttons inside enclosure
• Certification:
- FM
- CSA
- ATEX
• Two cable entries for wiring the
measurement circuit
• Interior space for installing additional
measurement electronics, e.g.
temperature transmitters
• Housing can be lead sealed to
protect against unauthorized entry
Application Areas
• Plant and machine construction
• Field mounted applications
• Laboratory fittings
• Process display, monitoring
• Suitable for intrinsically safe
applications
The Power of Know How
RIA 261
Operation and system construction
Measurement principle
Field display application area
The display measures an analog measurement signal and indicates this on the
display. The display is connected in a 4 to 20 mA current loop and also derives the
required power from the loop. The measurement influence of the voltage drop of
< 2 V is almost negligible. The dynamic internal resistance (load) assures that the
maximum voltage drop is never exceeded independently from the current loop. The
analog signal at the input is digitized, analyzed and shown on the rear illuminated
display.
Measurement system
Micro-controlled field mounted display with illuminated LC display. Setting up the
measurement range, decimal place, and offset is done easily on an open unit using
the three operational push buttons. Setting up during operation is also possible. The
display rear illumination is always active and requires no further wiring for its energy
requirement.
Input Values
Input type
Current
Measurement range
4 to 20 mA (polarity protected)
Electrical specification
• Voltage drop (load), < 2 V
• Maximum input current (short circuit current), 150 mA
Output
Output signal
The analog input signal (4 to 20 mA) is not converted. The input signal is digitized,
analyzed and shown on the LC display.
Fault signal
Loss of measured value display, no rear illumination
Transmission
The indicator allows transmission of the HART® transmission protocol
2
Endress+Hauser
RIA 261
Power supply
Electrical connection
Non hazardous
area
Terminals 2 and 4
linked internally
I
2
3
4
-
+
+
Y
1
Non hazardous
area
Hazardous
area
Terminals 2 and 4
linked internally
1
+
2
3
4
-
+
Y
I
+
Intrinsically safe
loop power
supply
-
Field mounted display terminal layout
1
2
3
4
Terminal
Measurement signal
Connection terminal
Measurement signal
Connection terminal
(+) 4 to 20 mA
for further instrumentation
(-) 4 to 20 mA
for further instrumentation
Input and Outputs
Signal input
Terminal
Signal input
Terminal
Power supply
The power supply is provided using the 4 to 20 mA current loop power.
Voltage drop, < 2 V
Cable entry
Two 1/2" NPT cable entries, optional two PG 11 (M20) cable entries
Accuracy
Reference conditions
T = 77°F (25°C)
Measurement deviation
< 0.1% of scaled analog range
Influence of ambient temperature
Temperature drift = 0.01%/K ambient temperature
Application conditions (installation)
Installation hints
• Installation area, wall or pipe mounting (refer to accessories)
• Installation angle, no limitations
Application conditions (environment)
Ambient temperature range
0° to +140°F (-20° to +60°C); for hazardous areas, refer to hazardous certificate
Storage temperature range
-15° to +160°F (-25° to +70°C)
Ingress protection
NEMA 4X (IP 66)
Endress+Hauser
3
RIA 261
EMC immunity
RF protection to EN 55011, Group 1, Class B
Interference safety:
ESD to IEC 1000-4-2, 6 kV / 8 kV
Electromagnetic fields to IEC 1000-4-3, 10 V/m
Burst (power supply) to IEC 1000-4-4, 4 kV
Surge to IEC 1000-4-5, 1 kV
Cable high frequency to IEC 1000-4-6, 10 V
Mechanical construction
Dimensions
6.89"
(175)
2.56"
(65)
3.15"
(80)
4.21"
(107)
1.57"
(40)
6.42"
(163)
Enter push
button (E)
2.05"
(52)
E
+
-
Selection push
buttons (+, -)
Dimensions in inches (mm)
• There is room available behind the hinged electronics for additional electronics,
e.g. temperature head transmitter. Take note of manufacturers installation
instructions!
Internal dimensions: H = 2.4" (60 mm), W = 5.5" (140 mm), D = 1.2" (30 mm)
• Housing can be lead sealed to prevent unauthorized entry.
• GORE-TEX® filter is used as pressure compensation, fitted on the left of the
conduit entries.
Weight
< 1 lb (approximately 0.80 kg)
Materials
Housing, die cast aluminum, epoxy coated with glass insert
Wall/stand pipe mounting kit and tension strip, 304 SS.
Wire terminals
• Plug on screw terminals, terminal size 16 AWG (1.5 mm2) for solid core and 18
AWG (1.0 mm2) for stranded with ferrule.
• Earth ground connection (on the housing exterior), 14 AWG (2.5 mm2).
4
Endress+Hauser
RIA 261
Display and operating elements
Display elements
• Display
5-digit LCD, 1" (26 mm) character height, rear illuminated. Bargraph
display in 10% increments, markers for over / under range display.
• Display range
-19999 to 99999
• Offset
-19999 to 32767
• Operation
3 push button operation (- / + / E) integrated in the unit, access when
unit is opened
• Signals
measurement range over / under value
• Rear illumination
illumination brightness increases with an increase in loop current.
Certificates and approvals
CE mark
By attaching the CE mark, Endress+Hauser confirms that the instrument fulfills all
the requirements of the relevant EC directives (89/336/EWG).
Approvals
• FM approved intrinsically safe Class I, Division 1, Group A, B, C, D
• CSA approved intrinsically safe Class I, Division 1, Group A, B, C, D
• ATEX II 1 G EEx ia IIC T6
Details regarding the availability of the intrinsically safe versions (FM, CSA, ATEX,
etc.) can be obtained from Endress+Hauser. Relevant data for application protection
can be found in separate documentation, available upon request.
Endress+Hauser
5
RIA 261
Accessories
Wall / pipe mounting kit
Wall and / or pipe mounting kit, 304 SS with tension strap for pipe mounting.
Order Number: SONDST-AA
B
2.99" 1.57"
(76) (40)
A
5.51"
(140)
6.77"
(172)
(B)
Wall / pipe mounting kit (dimensions in
inches (mm)
Supplemental documentation
6
• Process display, RIA 261 operating manual
• Ex documentation for FM, CSA, ATEX, etc.
BA 111R/09/a3
XA 007R/09/a3
Endress+Hauser
RIA 261
Ordering information
RIA 261 process display
1-channel, scale adjustable for connection to 4 to 20 mA current loop circuit, LC
display with 5-digits, 1" (26 mm) character height, bargraph with 10% resolution,
over/under range, operation using three push buttons, access on opened unit.
1
2
3
RIA 261 1
2
3
Endress+Hauser
Certification
A Version for non-hazardous areas
B ATEX II 1 G EEx ia IIC T6
C FM IS, Class 1, Div. 1, Grps. A, B, C, D
D CSA Ex ia, Class 1, Div. 1, Grps. A, B, C, D
Model
1 Field housing with PG 11 conduit entries
2 Field housing with 1/2" NPT conduit entries
Additional features
K Without accessories, North American region
L Wall / pipe mounting kit, North American region
3 Factory calibration certificate
4 Factory calibration certificate and mounting kit
7
For application and selection assistance,
in the U.S. call 888-ENDRESS
For total support of your installed base, 24 hours
a day, in the U.S. call 800-642-8737
Visit us on our web site, www.us.endress.com
United States
Canada
Mexico
Endress+Hauser, Inc.
2350 Endress Place
Greenwood, IN 46143
Tel. 317-535-7138
Sales 888-ENDRESS
Service 800-642-8737
Fax 317-535-8498
inquiry@us.endress.com
www.us.endress.com
Endress+Hauser Canada
1075 Sutton Drive
Burlington, ON L7L 5Z8
Tel. 905-681-9292
800-668-3199
Fax 905-681-9444
www.ca.endress.com
Endress+Hauser
Paseo del Pedregal No. 610
Col. Jardines del Pedregal
01900, Mexico D.F.
MEXICO
Tel. 525-568-2405
Fax 525-568-7459
Endress+Hauser
The Power of Know How
TI 083R/24/ae/08.04
© 2004 Endress+Hauser, Inc.