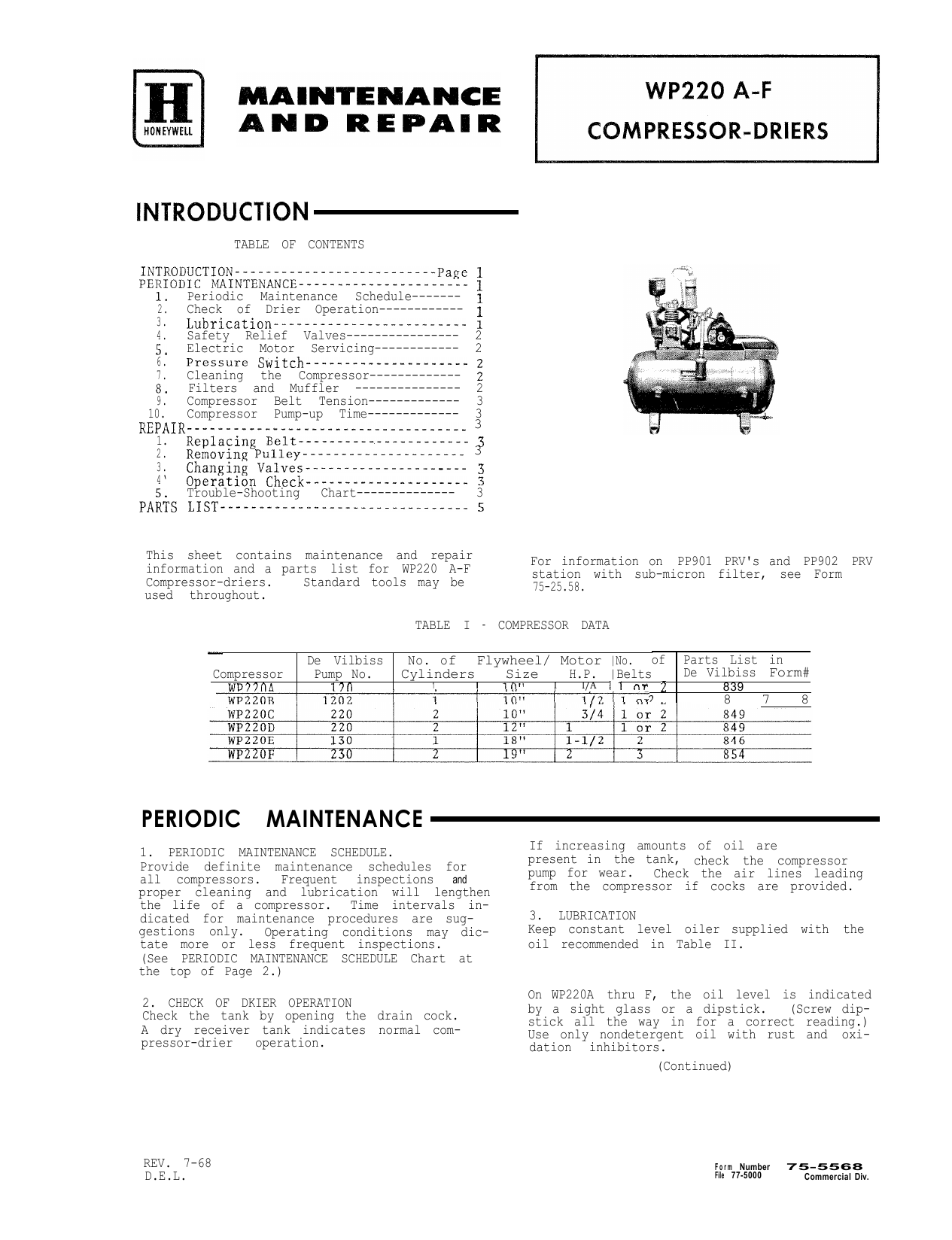 TABLE OF CONTENTS
INTRODUCTION--------------------------page
PERIODIC
~lAINTEh'ANCE----------------------
1
1
Periodic Maintenance Schedule------2. Check of Drier Operation-----------3. Lubrication------------------------4. Safety Relief Valves---------------5, Electric Motor Servicing-----------6. pressure Switch--------------------7. Cleaning the Compressor------------a.
Filters and Muffler --------------9. Compressor Belt Tension------------10. Compressor Pump-up Time------------REPAIR-----------------------------------Belt---------------------1. Replacing
2. Removing Pulley--------------------Valves--------------------3. Changing
4' Operation Check--------------------5.
Trouble-Shooting Chart-------------PARTS LIST-------------------------------1.
1
1.
1
2
2
2
2
2
3
3
3
3
3
3
3
3
5
This sheet contains maintenance and repair
information and a parts list for WP220 A-F
Compressor-driers.
Standard tools may be
used throughout.
For information on PP901 PRV's and PP902 PRV
station with sub-micron filter, see Form
75-25.58.
TABLE I - COMPRESSOR DATA
-
Compressor
WD73flA
PERIODIC
De Vilbiss
Pump No.
No. of 1 Flywheel/ Motor |No. of
Cylinders 1 Size 1 H.P. |Belts
17n
1
I
I
l/A
I1
n-r
3
2
839
8
7
8
MAINTENANCE
1. PERIODIC MAINTENANCE SCHEDULE.
Provide definite maintenance schedules for
all compressors. Frequent inspections and
proper cleaning and lubrication will lengthen
the life of a compressor. Time intervals indicated for maintenance procedures are suggestions only. Operating conditions may dictate more or less frequent inspections.
(See PERIODIC MAINTENANCE SCHEDULE Chart at
the top of Page 2.)
2. CHECK OF DKIER OPERATION
Check the tank by opening the drain cock.
A dry receiver tank indicates normal compressor-drier
operation.
REV. 7-68
D.E.L.
ln"
Parts List in
De Vilbiss Form#
If increasing amounts of oil are
present in the tank, check the compressor
pump for wear. Check the air lines leading
from the compressor if cocks are provided.
3. LUBRICATION
Keep constant level oiler supplied with the
oil recommended in Table II.
On WP220A thru F, the oil level is indicated
by a sight glass or a dipstick.
(Screw dipstick all the way in for a correct reading.)
Use only nondetergent oil with rust and oxidation inhibitors.
(Continued)
F o r m Number
File 77-5000
75-5568
Commercial Div.
PERIODIC
MONTHLY
1. Check
2. Check
ulator
3. Check
4. Check
MAINTENANCE
SCHEDULE
1
drier operation.
compressor tank, pressure regand air lines (para, 2).
oil level (para. 3).
safety relie
TABLE PI RECOMMENDED OIL
--~Ambient
Temperature
Viscosity
Recommended
_____---7Below 3 2 º F
SAE-10
-.32º to 100º II
F
SAE-20
Above 100º F
SAE-30 -_I-_____
I_
Change first oil filling after one week of
break-in operation. Thereafter, change oil
every 3 months, If operating conditions are
exceptionally dirty, change oil more often.
EVERY THREE MONTHS
1. Inspect electric motor (para. 5).
2. Check pressure switch setting
(para. 6).
3. Change crankcase oil (para. 3).
4. Clean compressor (para. 7).
5. Check belt tension (para. 9).
6. Check pump-up time (para. 10).
WP220
TABLE III
COMPRESSOR PUMP OIL CAPACITIES
ANNUALLY
1. Wash muffler.
2. Change paper air intake filter
element.
EVERY TWO YEARS
1. Change desiccant tank.
73±
up
way
out
4. SAFETY RELIEF VALVES
Safety relief valves are factory-set to approximately 15 psi higher than the rated
pressure of the compressor. Check each safety relief valve by pulling on the ring to unseat it, MALFUNCTIONING VALVES SHOULD BE REPLACED OR REPAIRED IMMEDIATELY. Safety relief valves are located near the pressure
switch on the tank.
3 psi. Adjustment is made during pumpby screwing the adjustment screw all the
in and backing off the screw until cutis observed at 75 psi.
7. CLEANING THE COMPRESSOR
Clean the fins on cylinders, heads, intercoolers, aftercoolers and other parts of the
compressor with Trichloroethane, Inhibited
l,l,l. (obtain from any office supply store,)
5. ELECTRIC MOTOR INSPECTION
a. Inspection--The motor should bring its
normal load up to speed within a few seconds,
If not, check connections between the motor
and the power supply. Be sure the power supply is correct as specified on the namealate.
b. Cleaning--If the motor has been exposed to
dirt, grit or moisture, clean and dry thoroughly.
Remove dirt and oil from motor and
stator windings.
c. Lubrication--Use only a light-grade electric motor oil. Lubricate bearings every
year. When oiling, be sure that the oil
wells are completely filled. CAUTION:
DISCONNECT POWER SUPPLY BEFORE OILING THE MOTOR.
CAUTION:
SPECIAL CARE SHOULD BE EXERCISED
IN THE USE OF SOLVENTS, AVOID PROLONGED INHALATION AND/OR CONTACT WITH THE SKIN. CARELESS HANDLING CAN RESULT IN PERMANENT DAMAGE
TO THE RESPIRATORY SYSTEM OR SKIN TISSUE.
8. CLEANING AIR FILTERS AND MUFFLER.
(See Fig. 2)
Wash the muffler in a non-explosive solvent,
dry and reinstall,
The intake filter should be changed annually,
In an emergency, the paper filter may be
washed in a mild detergent solution,
6. PRESSURE SWITCH
Remove exhaust muffler if switch action is
not easily determined, The pressure switch
should divert air out the exhaust pipe at
Figure 1 - Intake air filter (left) and exhaust muffler.
Page
2
10. COMPRESSOR PUMP-UP TIME
Release pressure until motor starts and note
the time the pump takes to build up to cuto f f p r e s s u r e . Check Table IV for correct
times,
If compressor requires substantially more
time than indicated in the chart see the
Trouble-Shooting Chart for corrective measures. NOTE: For this check, there must be
no air usage or leakage. Shut-off valve
must be closed.
9. COMPRESSOR BELT TENSION
(See Fig. 3)
Hand pressure should depress the belt about
l/2 inch, The belt should be tight enough
to prevent slipping but no tighter. Adjust
tension by loosening the motor hold-down
bolts, moving the motor until tension is correct , then retighten the bolts, Ensure that
belt and pulleys are aligned.
FOR MORE EXTENSIVE REPAIRS THAN LISTED HERE,
CONSULT THE NEAREST HONEYWELL BRANCH OFFICE,
1. REPLACING BELT
Loosen the electric motor hold-down bolts
and slide the motor toward the compressor
pump . Remove the old belt and install the
new. Slide the motor away from the pump until proper belt tension is reached and tighten the hold-down bolts, Insure that belt
and pulleys are properly aligned, New belts
may stretch, so recheck tension after one
week of service and readjust if necessary.
[See Para. 9 under Periodic Maintenance for
proper belt tension.)
2. REMOVING PULLEY
Remove belt (See Para. 1). Loosen pulley
set-screw and remove pulley from shaft.
TABLE IV. PUMP-UP
TIMES (NO LOAD)
3. CHANGING VALVES
WP220A, B, C, D, E, and F (See Fig. 4)
Intake Valve--Unscrew valve cap, lift out
valve spacer and valve assembly. Replace in
reverse order,
Exhaust Valve--Unscrew valve cap, remove gasket and unscrew valve plug. Lift out valve
spacer and valve assembly.
Replace in reverse order,
NOTE: The compressor-drier uses a high
quality valve assembly.
It is identified by the use of a washer-type
spring instead of a conical spring for valve
disc return.
4. OPERATION CHECK
Operate compressor and check pump-up time as
outlined in para. 10 on Page 3.
EXHAUST Y
GASKET
VALVE P L U G
VALVE
SEAT S
EXHAUST
VALVE
P
A
C
E
R
-
-
ASSEMBLY
5.
TROUBLE SHOOTING
A.
Noisy
compressor
CHART (For all compressor checks, disconnect
Loose
flywheel
flywheel
Assembly loose
!1 Valve
in compressor head
,I V a l v e A s s e m b l y l o o s e
compressor
from
system)
on compressor shaft
Remove cap screw and tighten retainer screw
Remove
valve assembly, tighten or replace
if necessary
F a r m N o . 75-5568
5.
TROUBLE-SHOOTING
CHART (Continued)
emove
compressor
y is evident,
piston comes
can be rotated
movement of pis-
B. Excessive oil
consumption
(Normal consumption is
below 1 oz.
per 100 H.P.
hours . )
Crankcase
filled
over-
Incorrect type,
grade or viscosity
of oil
Check oiler for leaks, bottle for cracks.
Drain and fill with proper oil (See Pg, 2)
Change filter (See Pg. 2)
Dust talcum on suspected
ssor for leaks. Repair
remote air
Plugged or inoperative crankcase
breather assembly
or crankcase vent
Clean or replace breather assembly or crankcase
vent.
Worn rings or scored Remove head and inspect cylinder for scoring.
cylinder
If scored, replace pump. Wipe top of piston
clean. Run compressor with head removed for 10
minutes,
If oil builds up on top of piston,
rings are worn. Replace or rebuild pump,
C. Compressor takes
too long to
build up pressure.
Too small or restricted air intake
piping
1 Slipping belt
Leaks in system
/ Dirty valves
Warped valve disc
Valve loose
I
Clean piping or replace with proper size
|Tighten belt
Check system
|Clean or replace
Hold valve to light to check for warped disc.
Replace if warped,
| Tighten or replace if necessary.
Intake air filter
clogged or dirty
Change filter.
Pressure switch improperly set
Reset
Compressor
sized
See Honeywell form 77-9364
under-
Worn rings
Leaking check valve
I See last item under
B, above.
Turn off compressor during regeneration cycle and
check for leak thru muffler. If there is air leakage, clean or replace check valve.
Page
4
5,
TROUBLE-SHOOTING
D. Compressor does
not
operate
CHART
(Continued]
Remove belt and see if motor will run,
If motor will not run:
Faulty wiring
Inspect and repair
Motor burned out
Replace motor. Inspect compressor overload
protection, wiring, etc. to determine cause
of motor burn-out,
If motor will run with belt removed:
Compressor starting Turn off power and turn flywheel to detect
air pressure in cylinder. Inspect check
against head pressure. [not unloaded) valve and relief valve.
Compressor
seized
Turn off power and turn flywheel to detect
binding,
If binding is evident, cylinder
walls are scored or bearings are frozen.
Replace pump.
Improper wiring or
overload protection
Inspect and repair
Improper power supply
Use voltage within
on nameplate
Check side play of motor shaft. If loose,
replace motor.
Worn motor bearings
E. Drier not
functioning,
Not in operation
long enough to dry
air in system
Depending on system size, it takes from a day to
more than a week of operation to desiccate air in
system.
Regeneration cycle
too low a % of
total operating
time.
Plugged muffler.
Desiccant tank
ineffective.
To provide for fast, economical
replacement
of parts, all parts and assemblies have been
given a special procurement procedure. A1ways use exact replacement parts when making
repairs .
Parts which are standard hardware items
(screws) washers, etc .) available from
various suppliers: These parts, designated
by a single dagger (t), should be obtained
locally. A complete description has been
provided to facilitate exact replacement.
10% of voltage shown
Change pressure switch and exhaust valve. (After
making sure compressor pumps up properly per
section C) .
If a measurable pressure drop exists across
muffler, replace or clean it.
Replace desiccant tank.
Parts shown in Fig. 6, 7, and 8 are manufactured specifically by Honeywell or processed for specific requirements: These
parts have only the Honeywell part number
and name shown. Replacements must be
ordered from Honeywell (see ordering information on Page 10).
Parts shown in Fig. 5 and 9 are manufactured
by DeVilbiss for Honeywell requirements,
These parts must be ordered from DeVilbiss
on Page 10).
(see ordering information
Page
5
75-5568
NOTE:The filter cartridge in the air intake filter (WPZ20A thru F) is disposable and
should be changed once a year under average operating conditions.
If the intake
is in an unusually dusty or fume-laden location, it should
more _-often.
_------.- be changed
C O M P L E T E Fl L T E R
4 3 6 3 3 - 5 1 6 F O R
COMPLETE FILTER ASSEMBLY
4 3 6 3 2 - 5 1 4 F O R WP22OA
4 3 6 3 3 - 0 0 7 F O R WP220B
EMENT
835-064
,SKET
257-118
COMPLETE FILTER ASSEMBLY
43634-010 F O R WP220E
4 3 6 3 4 - 5 0 7 F O R WP22OF
Fig +
5--Air Intake Filters.
Page
6
ASSEMBLY
WP22OC & D
3 0 4 4 4 9
3 0 5 4 5 1
ELBOW
305458
I I
(MODELS WP220A & B)
(MODELS WP220C & D)
NUT
305262A
CONNECTOR
305051
305151
TEE
LS
305453
WP220C
305454
WP720E
1/2"x10
& D)
1/2" x 13
(MODELS
(MODEL
& F)
WP220A & B )
316473A
(MODELS
WP220C
& D)
I
I
305469 NIPPLE
305084
305483
EET
ow
084
TEE
I
30544.8 (l/2")
305450 (3/8")
E L B O W , 45º
305026 ELBOW
3 0 5 4 7 0
NIPPLE
316150
(3/8")
316151
(l/2")
EXHAUST MUFFLER
(2")
Fig.
6 (Part 1 of Z)--Drier Part s .
Page
7
316480A
C
H
E C K
305088 BUSHING
/
305472
316189A
FILTER-DRIER
NIPPLE
I
0 5 0 7 8 NIPPLE
305473
147
TE
NIPPLE
I
I
i
Fig. 6 (Part 2 of
3160 91
3158 0 9
(WP220E
& F
B O D Y (3/8")
O N L Y
1/2")
)--Drier Parts.
315823A
DIAPHRAGM
ASSEMBLY
313342 CAP
305023
NUT
ELL
†
316039
SPRING
ig. 7--Exhaust Valve (315809A for Q531A 1045
Page
8
3 2 0 0 8 1 S C R E W (6)
#6-32NC,
H E X HD. S E L F - T H R E A D I N G ,
1 / 2 " LONG. *
only;
316091A
for A11 Others).
/
A----
/ 3 2 0 0 0 1 S E T SCREW
/-
O-
R
I N
I
305023 NUT
r
311709
/--
rc-
G
LUBRICATE
WITH 31404
LUBRICANT
315850 CAP
315851
315852
871
ING
SUPPORT
BUTTON
WASHER
DIAPHRAGM
I
,
315824
SPRING
310354
315871
SPRING
SUPPORT
a/
315800J
310779
O-RING
O-RING
HONEYWELL
RDER
ig.
8--Pneumatic
Pressure
SW itch
PART
FROM
NUMBERS
HONEYWELL)
(315820A).
BREATHE!?
ASSY
COMPRESSOR
VALVES
BELT
GUARD
COMPRESSOR
PUMP
Fig.
9--Compressor
Page
9
Parts,
75-5568
Parts
List for Fig, 9
COMPRESSOR PUMP,
0a air
filter,
WP220A
WP220B
WP220C & D
WP220E
WP220F
BELT GUARD
Partially Enclosed
WP220A
WP220B
WP220C & D
WP220E & F
Fully Enclosed
WP220A
WP220B
WP220C & D
WP220E & F
less flywheel and intake
M-120-4512
M-2202-4502-1
M-220-4502
M-%30-4568
M-230-4502
UBH-420
UBJ-420
UBK-420
UBNT-420-l
UBH-470
UBJ-470
UBK-470
UBNT-470
0 BELT
0
Single Drive
WP220A
WP220B
WP220C
WP220D
Double Drive
WP220A
WP220B, C & D
WP220E
Triple Drive
WP220F
WP220A
WP220B
WP220C
WP220D
Double Belt
WP 2 2 OA
WP220B
WP220C
WP220D
WP220E
Triple Belt
WP220F
M-PU-1184
M-PU-1163
M-PU-1185
M-PU-1186
M-PU-1189
M-PU-1190
M-PU-1198
M-PU-1192
M-PU-2218
M-PU-2603
-
C.-l' OIL
BREATHER ASSEMBLY
WP220C, D & F
@ FLYWHEEL
0Single
Bel t
WP220A & B
WP220C & D
Double Belt
WP220A, B, C & D
WP220E
Triple Belt
WP220F
0Single
E PULLEY
Belt
M-120-458
M-1202-457
G OIL GAGE OR FILLER
0
WP2206 & D
WP220E
& F
130-469
PLUG
220-112
342-112
M-%20-463
M-130-458
M-230-457
BT-36
BT-84
BT-69
BT-68
BT-140
BT-142
BT-60
BT-62
ORDERING INFORMATION: (In United States)
--Repair Parts or Assemblies.
-~
Repair parts or assemblies only (except on
DeVilbiss compressor components) should be
ordered from Honeywell Inc., 1885 Douglas
Drive, Minneapolis, Minnesota 55422, Compressor parts may be ordered from DeVilbiss
CO.) 300 Phillips Ave., Toledo, Ohio.
Fig. 10-
Please order by Part No., Description, and
Quantity.
Also give complete Order Specification number of-the Compressor-Drier: The
number is stamped on the plate next to the
compressor pump (See Fig. 10). Example: On
the label shown in Fig.. 10, the O.S. Number
is WP220 E 1010, In some cases it may be
necessary to return the entire device to our
reconditionfactory for complete repair and
ing.
Nameplate
-- Inquiries on Orders.
Direct all inquiries on orders to Honeywell,
Inc., 1885 Douglas Drive, Minneapolis,
Minnesota 55422,
(In Canada, direct all orders and inquiries
to Honeywell Controls Limited, Vanderhoof
Avenue, Leaside, Toronto 17, Ontario).
--Return of Complete Device.
For prices or further information on Iioneywell parts, contact your nearest Honeywell
Branch Office, Such information on DeVilbiss
parts should be obtained from the DeVilbiss
co.
When a complete device is returned for reit should be mailed with a repair
1pairs,
order to Honeywell Inc., 8330 North Austin
Avenue, Morton Grove, Illinois 60053.
Page
10
Mechanical devices must be serviced periodically if they are expected to give continued satisfactory performance, and controls are not an exception. Now accurate and how troublefree your
control system will be in the years to come depends largely on the maintenance given it, For
best results, all devices in your system should be serviced at one time.
Time and trouble can be saved by arranging with Honeywell for a maintenance agreement which
will guarantee expert, economical cam, and insure maximum life and efficiency from your
system.