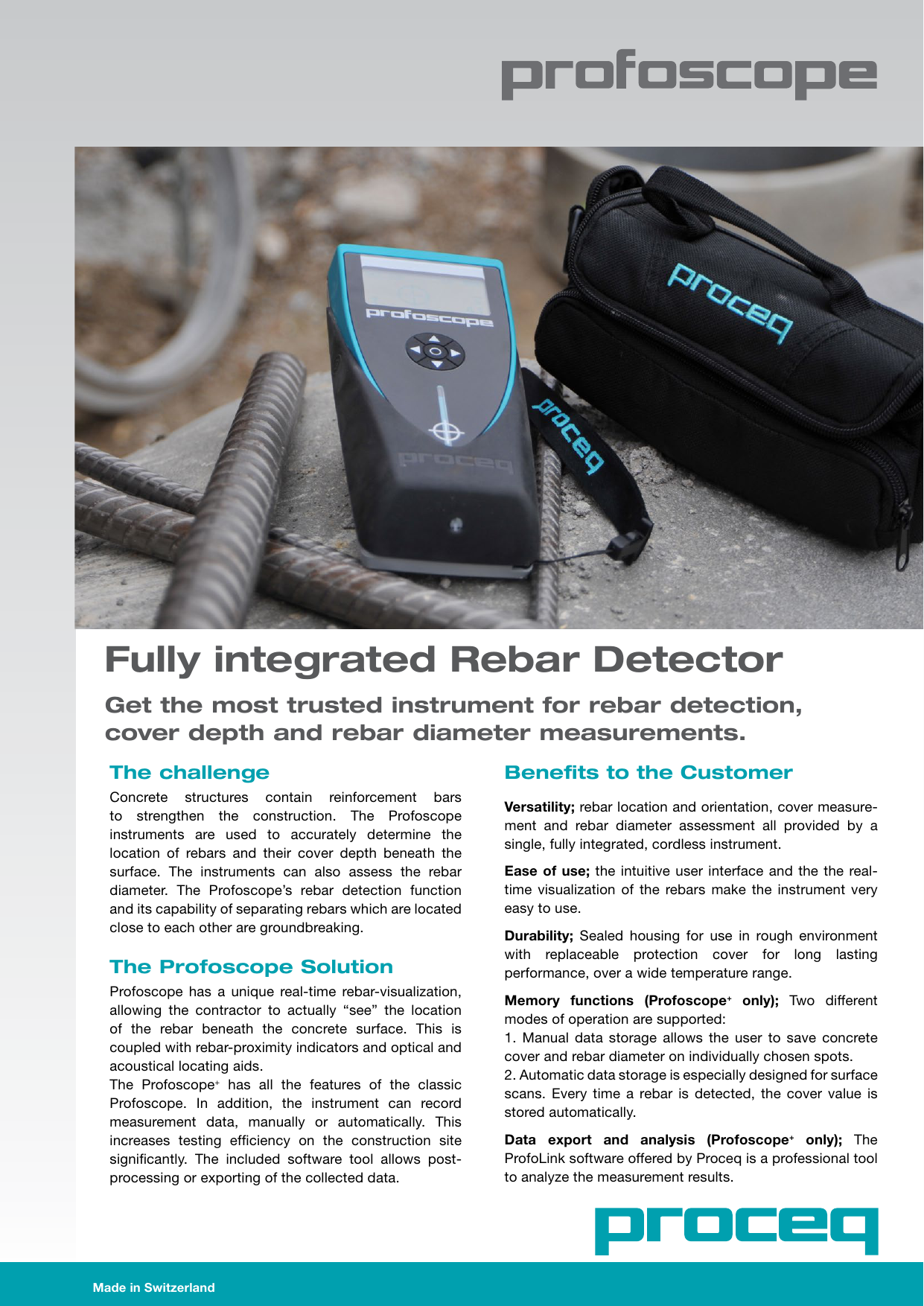 Fully integrated Rebar Detector
Get the most trusted instrument for rebar detection,
cover depth and rebar diameter measurements.
The challenge
Concrete structures contain reinforcement bars
to strengthen the construction. The Profoscope
instruments are used to accurately determine the
location of rebars and their cover depth beneath the
surface. The instruments can also assess the rebar
diameter. The Profoscope's rebar detection function
and its capability of separating rebars which are located
close to each other are groundbreaking.
The Profoscope Solution
Profoscope has a unique real-time rebar-visualization,
allowing the contractor to actually "see" the location
of the rebar beneath the concrete surface. This is
coupled with rebar-proximity indicators and optical and
acoustical locating aids.
The Profoscope+ has all the features of the classic
Profoscope. In addition, the instrument can record
measurement data, manually or automatically. This
increases testing efficiency on the construction site
significantly. The included software tool allows postprocessing or exporting of the collected data.
Made in Switzerland Benefits to the Customer
Versatility; rebar location and orientation, cover measurement and rebar diameter assessment all provided by a
single, fully integrated, cordless instrument.
Ease of use; the intuitive user interface and the the realtime visualization of the rebars make the instrument very
easy to use.
Durability; Sealed housing for use in rough environment
with replaceable protection cover for long lasting
performance, over a wide temperature range.
Memory functions (Profoscope+ only); Two different
modes of operation are supported:
1. Manual data storage allows the user to save concrete
cover and rebar diameter on individually chosen spots.
2. Automatic data storage is especially designed for surface
scans. Every time a rebar is detected, the cover value is
stored automatically.
Data export and analysis (Profoscope+ only); The
ProfoLink software offered by Proceq is a professional tool
to analyze the measurement results.
Fully-Integrated, Cordless Design
8
9
7
The Profoscope is designed for single handed operation.
All functions can be programmed/activated using the two
function keys and the navigation.
The instrument is compact, light and robust. This makes it
suitable for use on a construction site.
1
2
3
6
1 Display
2 Navigation
3 Reset key
4 Center of probe
4
5
5 LED indicator
6 Function key
7 On/off button
8 Battery compartment
9 Center line
Icon Based Menu System
The menus are designed with intuitive icons to make the Profoscope language independent.
Regional Setting
Audio Setting
Reference Rebar Diameter
Neighboring Bar
Correction
Measuring Range
Minimum Cover Alert
Memory Setting *
* Profoscope+ only
Real-time Visualization of Rebars
The Profoscope makes rebar location faster and simpler than ever before. A rifle scope shows the position of the rebar
beneath the instrument in real time. Every Profoscope is supplied with a start-up test kit as standard. This kit allows the
user to familiarize him/herself with the operation of the instrument.
Locating a rebar
Test Kit
Made in Switzerland
Measuring Range
This graph shows the maximum possible measuring range for the Profoscope, compliant with BS1881 part 204.
Please note: This is based on a single rebar with sufficient clearance to neighboring rebars.
The Profoscope is calibrated
for mesurements on nonstainless steel rebars
fastenend with binding wires
only.
When measuring on welded
meshes the displayed values
must be corrected.
Note: The rebar diameter can be measured up to a cover of 64mm (2.5 inch).
Advanced Features of Profoscope+
Manually recording the measurements of a test series is time
consuming and is an unnecessary source of error. With the various data storage modes of the Profoscope+, taking notes is not
necessary anymore.
Memory Function and ProfoLink
The graphic display of the Profoscope+ shows all necessary information while acquiring data on site.
USB connected
Manual Storage Mode
Automatic Storage Mode
Object number
Measurement number
The collected measurement
values can then be analyzed
with the ProfoLink PC tool.
Made in Switzerland
Technical Information
Accessories
Measuring Range
See graph on previous page for maximum range relative to bar
diameter.
Power Supply
Power source
2 x 1.5 V AA (LR6) batteries
Voltage range
3.6 V to 1.8 V
~ 50 mA
Power on, backlight on
~ 200 mA
Sleep mode
~ 10 mA
Power off
< 1 μA
> 50 h
Backlight on
> 15 h
Time Outs
Sleep mode
30 s
Auto shut down
120 s
Battery type AA
391 80 110
Carrying strap
391 80 803
USB cable type A-mini B
391 80 111
Memory card microSD, 2GB
391 80 112
CD incl. ProfoLink
391 10 121S
Self-adhesive protection covers
(Set of 3)
390 00 270
Calibration test block
325 34 018S
Chalk (Set of 10)
Service & Warranty Information
Environmental Conditions
Temperature range
-10º to 60º C (14º to 140º F)
Humidity range
0 to 100% rH
Protection class
IP54
Standards and Regulations Applied
BS1881 part 204; DIN1045; SN 505 262; DGZfP B2
Data Storage (Profoscope+ only)
49'500 measurements total (500 objects with 99 measurements)
Compatibility ProfoLink: Windows 2000, XP, Vista, 7, 8
Proceq is committed to providing complete support for the
Profoscope by means of our global service and support
facilities. Furthermore, each Profoscope is backed by the
standard Proceq 2-year warranty and extended warranty
options.
Standard Warranty
•
•
Electronic portion of the instrument: 24 months
Mechanical portion of the instrument: 6 months
Extended Warranty
Ordering Information
Unit
Part Number
Canvas bag
350 74 025
Optional Accessories
Battery Lifetime
Backlight off
391 80 100
Additional Accessories delivered with the
Profoscope+ only
Current Consumption
Power on, backlight off
Standard Accessories delivered with the
Profoscope / Profoscope+
391 10 000
Profoscope unit consisting of:
391 88 001
Additional 1-year warranty*
391 88 002
Additional 2-year warranty*
391 88 003
Additional 3-year warranty*
* An extended warranty of one, two or three years can be purchased
at time of order or within 90 days thereafter.
Profoscope incl. start-up test kit and
accessories (batteries, canvas bag,
carrying strap, chalk, documentation)
Part Number
391 20 000
Profoscope+ unit consisting of:
Profoscope+ incl. start-up test kit and
accessories (batteries, memory card,
USB-cable, canvas bag, carrying
strap, chalk, documentation,
ProfoLink software)
Subject to change without notice. All information contained in this documentation is presented in good faith and believed to be correct. Proceq SA makes no warranties
and excludes all liability as to the completeness and/or accuracy of the information. For the use and application of any product manufactured and/or sold by Proceq SA
explicit reference is made to the particular applicable operating instructions.
Head Office
Proceq SA
Ringstrasse 2
CH-8603 Schwerzenbach
Switzerland
Phone:+41 (0)43 355 38 00
Fax: +41 (0)43 355 38 12
info@proceq.com
www.proceq.com
81039101E ver. 04 2017 © Proceq SA, Switzerland. All rights reserved.

* Your assessment is very important for improving the work of artificial intelligence, which forms the content of this project