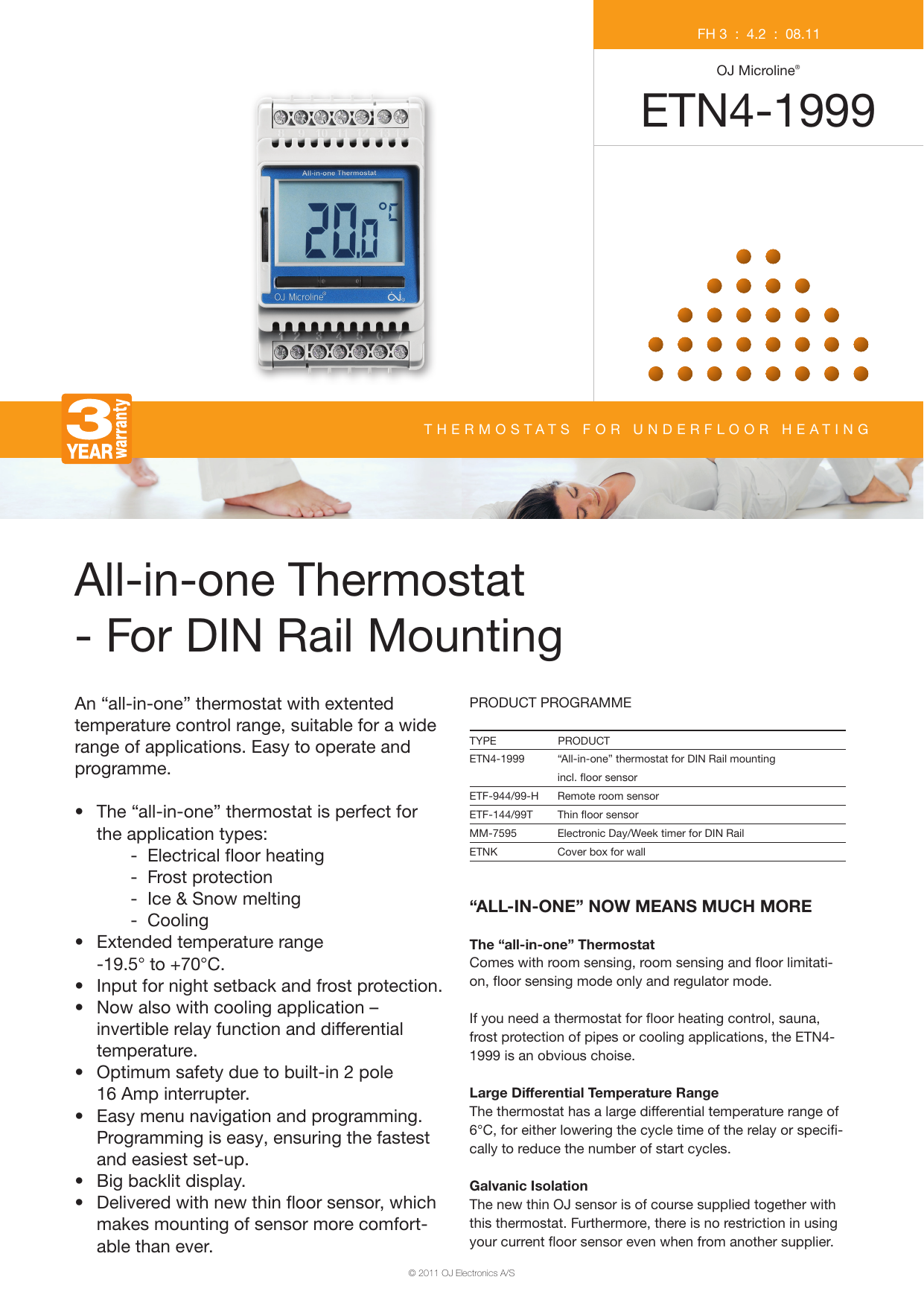 FH 3 : 4.2 : 08.11
OJ Microline®
ETN4-1999
T H E R M O STATS F O R U N D E R F LO O R H E AT I N G
All-in-one Thermostat
- For DIN Rail Mounting
An "all-in-one" thermostat with extented
temperature control range, suitable for a wide
range of applications. Easy to operate and
programme.
• T
he "all-in-one" thermostat is perfect for
the application types:
- Electrical floor heating
- Frost protection
- Ice & Snow melting
- Cooling
• Extended temperature range
-19.5° to +70°C.
• Input for night setback and frost protection.
• Now also with cooling application –
invertible relay function and differential
temperature.
• Optimum safety due to built-in 2 pole
16 Amp interrupter.
• Easy menu navigation and programming.
Programming is easy, ensuring the fastest
and easiest set-up.
• Big backlit display.
• Delivered with new thin floor sensor, which
makes mounting of sensor more comfortable than ever.
PRODUCT PROGRAMME
TYPE PRODUCT
ETN4-1999
"All-in-one" thermostat for DIN Rail mounting
incl. floor sensor
ETF-944/99-H
Remote room sensor
ETF-144/99T
Thin floor sensor
MM-7595
Electronic Day/Week timer for DIN Rail
ETNK
Cover box for wall
"All-in-one" now means much more
The "all-in-one" Thermostat
Comes with room sensing, room sensing and floor limitation, floor sensing mode only and regulator mode.
If you need a thermostat for floor heating control, sauna,
frost protection of pipes or cooling applications, the ETN41999 is an obvious choise.
Large Differential Temperature Range
The thermostat has a large differential temperature range of
6°C, for either lowering the cycle time of the relay or specifically to reduce the number of start cycles.
Galvanic Isolation
The new thin OJ sensor is of course supplied together with
this thermostat. Furthermore, there is no restriction in using
your current floor sensor even when from another supplier.
© 2011 OJ Electronics A/S
T. +45 73 12 13 14
STENAGER 13B
F. +45 73 12 13 13
DK-6400 SØNDERBORG
OJ@OJELECTRONICS.COM
DENMARK
WWW.OJELECTRONICS.COM
BR-0991-A04b
OJ ELECTRONICS A/S
The thermostat can also decrease the heating period in %,
when set to regulator mode.
Frost Protection
The input for frost protection can be set in thermostat mode
as well as in regulator mode.
Invertible Relay Feature
The relay function can be inverted so that the thermostat
can be used for cooling applications. Here the variable
differential, up to 6°C, is also an advantage.
Two External sensors
It is possible to attach two external sensors to the thermostat for controlling a room thermostat with a floor limit
sensor, protecting expensive wooden floor coverings from
overheating.
TECHNICAL DATA
Supply voltage 230V AC ±10% 50/60Hz
Standby power
0,5 Watt
Output relay SPST 16A, resistive load or
1A inductive load
Interrupter 2-pole, 16A
Control temperature range (extended)
-19.5 to +70°C
Control accuracy
±0,4°C
Floor limit range
-19,5/+70°C
Ambient temperature -19,5/+55°C during operation
Night setback relative
-19,5/+30°C
Night setback regulator
1-100%
Frost protection Abs.
0-10°C
Frost protection regulator
1-100%
Regulation principle
PWM / PI or ON/OFF
Housing IP20
Sensor type
NTC (12 KΩ) 3m. max. 100m
Display
Segment – backlit
Dimensions, (H/W/D)
88,5 / 52,9 / 57,3 mm
Two individual inputs for setback temperatures
The thermostat has built-in individual connectors for setting
night setback and frost protection mode.
MODE
TEMPERATURE
NIGHT SETBACK
Lowering or increasing temperature by 10°C
FROST PROTECTION
Securing temperatures between 0 to +10°C
Connector for easy "daisy chain" of control wire.
The thermostat can easily be mounted and wired side by
side due to the spare live connector.
Built-in 2 Pole Interrupter
The built-in interrupter gives the best safety, and according
to local regulations in some countries an external interrupter
can be left out.
© 2011 OJ Electronics A/S
3.4.2-08.11-ETN4-1999-GB · Subject to alterations · ® The OJ trademark is a registred trademark belonging to OJ Electronics A/S
Night Setback
The input for night setback can be set to increase and decrease the temperature.

* Your assessment is very important for improving the work of artificial intelligence, which forms the content of this project