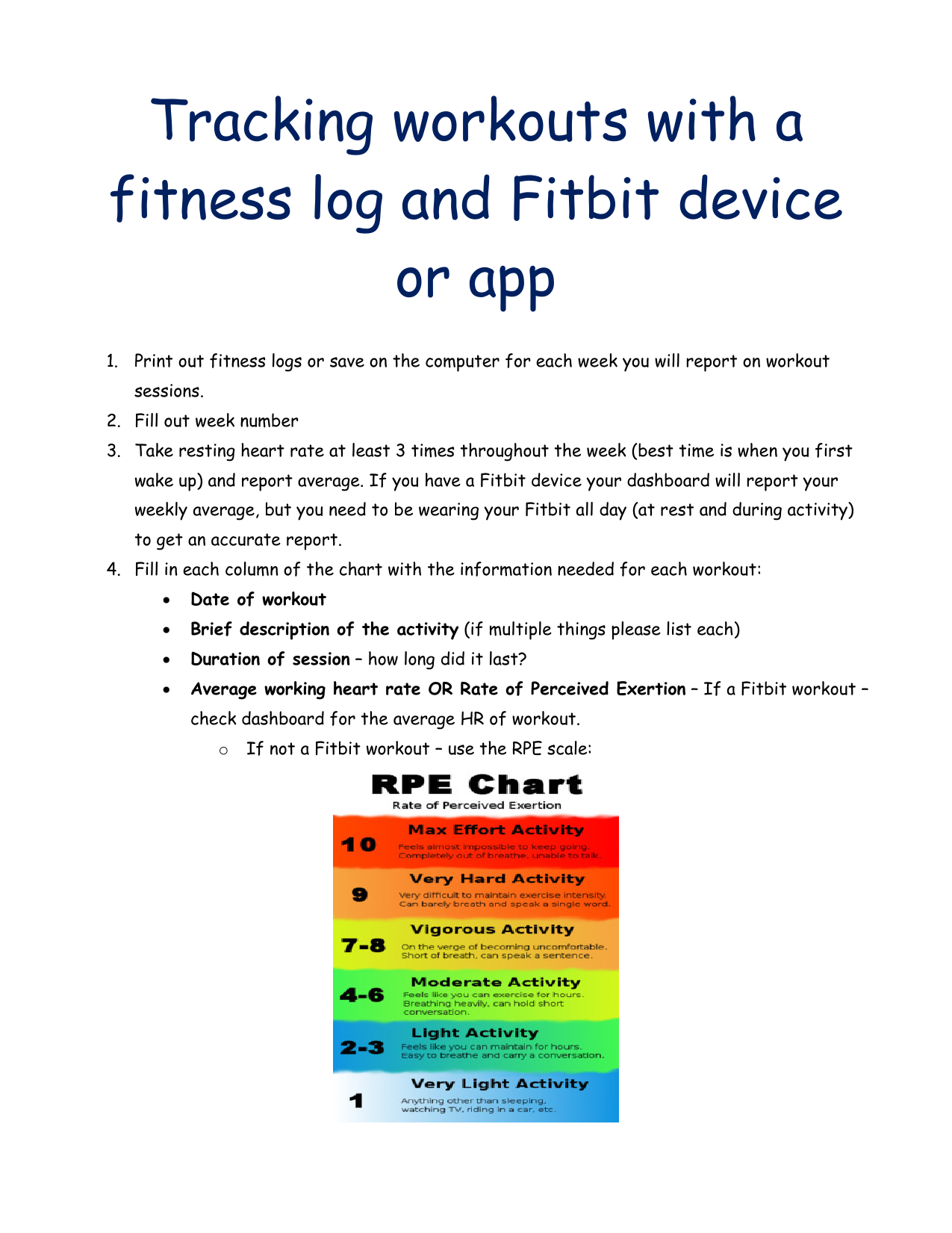 Tracking workouts with a
fitness log and Fitbit device
or app
1. Print out fitness logs or save on the computer for each week you will report on workout
sessions.
2. Fill out week number
3. Take resting heart rate at least 3 times throughout the week (best time is when you first
wake up) and report average. If you have a Fitbit device your dashboard will report your
weekly average, but you need to be wearing your Fitbit all day (at rest and during activity)
to get an accurate report.
4. Fill in each column of the chart with the information needed for each workout:

Date of workout

Brief description of the activity (if multiple things please list each)

Duration of session – how long did it last?

Average working heart rate OR Rate of Perceived Exertion – If a Fitbit workout –
check dashboard for the average HR of workout.
o
If not a Fitbit workout – use the RPE scale:
Example of heart rate data from the Fitbit dashboard for 1 workout:

Component of Fitness – list one or multiple components you may have worked during
the session (Cardiovascular, Muscular Strength, Muscular Endurance, Flexibility or
Body Composition)

Obtain a signature of your fitness sponsor for any workout not saved to your
Fitbit account. This may be a parent, guardian, teacher, coach, or personal trainer.
Be sure to provide your fitness sponsor information below the chart (name, phone
number and email).

At least HALF of your weekly workouts need to be downloaded (verified) via
your Fitbit app or device. You will need to log in to your Fitbit account and access
your dashboard and "activities list". Watch the video provided on how to grab the
appropriate information needed and paste into your validation column.

http://www.kaltura.com/tiny/qwq5s

Example of Fitbit App use for a workout (reports pace, distance, time, and date):

Example Fitbit Charge HR or Charge 2 workout from dashboard (reports date, time,
miles or steps, minutes, average heart rate, calories burned):
5.
Scan or take a picture of your completed fitness log with signatures and submit to the
correct weekly dropbox. Don't forget to save your Fitbit workouts to verify those specific
workouts. If you do all your workouts with a Fitbit device or app (you do not need
signatures) you will not need to print out your document for signatures. It can be turned in
electronically.
*Tip: Cam Scanner is a great app to use on your phone to take a picture of your signed logged
and save as a pdf to put in the dropbox. It is a free app. A pdf is the preferred file to turn in
a picture document. Also, remember you only need to take a picture of your document if you
are getting signatures for some of the workouts. If you do all your workouts with a Fitbit –
your activity screenshot will provide proper validation.
.

* Your assessment is very important for improving the work of artificial intelligence, which forms the content of this project