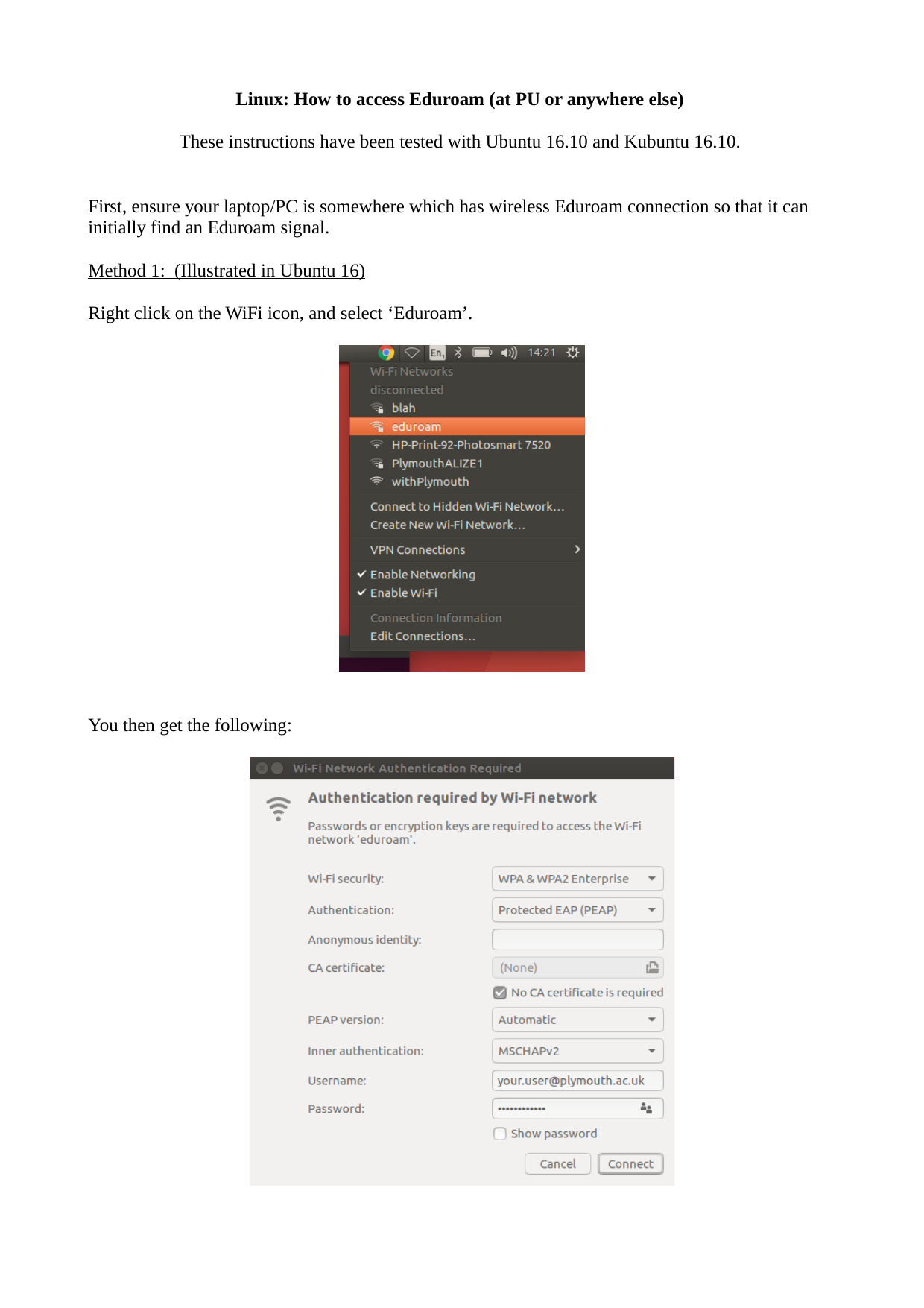 Linux: How to access Eduroam (at PU or anywhere else)
These instructions have been tested with Ubuntu 16.10 and Kubuntu 16.10.
First, ensure your laptop/PC is somewhere which has wireless Eduroam connection so that it can
initially find an Eduroam signal.
Method 1: (Illustrated in Ubuntu 16)
Right click on the WiFi icon, and select 'Eduroam'.
You then get the following:
Fill out as illustrated above, replacing your.user with your PU username e.g.
awills1@plymouth.ac.uk. NOTE: Use your username@plymouth.ac.uk, do not use your email
address, which may be different.
Method 2:
Open the Network Connections manager
Search → Network Connections
and select 'Eduroam'
Click 'Edit connections'.
If 'Eduroam' has appeared, click 'Edit', then insert the settings below. Many of them are the
defaults that appear automatically.
If 'Eduroam' has not appeared, you can click 'Add' then proceed as below, although if 'Eduroam'
hasn't appeared you may either be in the wrong place (no signal) or your wireless card or dongle
may not be working and/or configured correctly.
For Kubuntu: Let click on the network connections icon, then in the window that pops up click on
the edit connections icon (looks like a couple of sliders) in the top right-hand corner.
Don't forget to Click 'Save'! Then 'Close'.
Back at the Network Connections box, click 'Close'.
Right-click on the WiFi icon, then click on the Eduroam connection you have just created, and after
a few seconds (may be slower the first time), your laptop or PC should connect.
Settings
General tab:
Connection name: [A label this connection – e.g...] Eduroam
You can leave the other settings as the network manager offers them. .
Wi-Fi tab:
SSID: eduroam [all lower case]
Mode: Client [from the drop-down list]
BSSID: [Leave blank]
Device: [This will have completed itself automatically with the six pairs of characters showing the
MAC number of your machine. It is unique to your machine but will look something like this:
19:15:C7:C5:01:B8 ]
Cloned MAC address: [Leave blank]
MTU: Automatic [Its initial default setting]
Wi-Fi Security tab:
Security: WPA & WPA2 Enterprise [from the drop-down list]
Authentication: Protected EAP (PEAP) [from the drop-down list]
Anonymous identity: [Your usual PU user-name in full, i.e. in the form:
dr.somebody@plymouth.ac.uk ]
Password: [Your usual current PU password]
IPv4 Settings tab:
Method: Automatic (DHCP) [from the drop-down list]
Leave everything else blank.
IPv6 Settings tab:
Method: Automatic [from the drop-down list]
IPv6 privacy extensions: Disabled [from the drop-down list]
Leave everything else blank.
There is also a 'Routes...' button. No need to do anything here. Should you decide to have a look
anyway, all the boxes in the 'Editing IPv6 routes for eduroam' window should be blank, and no
boxes ticked.
Rod Sheaff
Andy Wills
Paul Sharpe
2017-02-23
This document is released under a Creative Commons BY-SA 4.0 International licence.

* Your assessment is very important for improving the work of artificial intelligence, which forms the content of this project