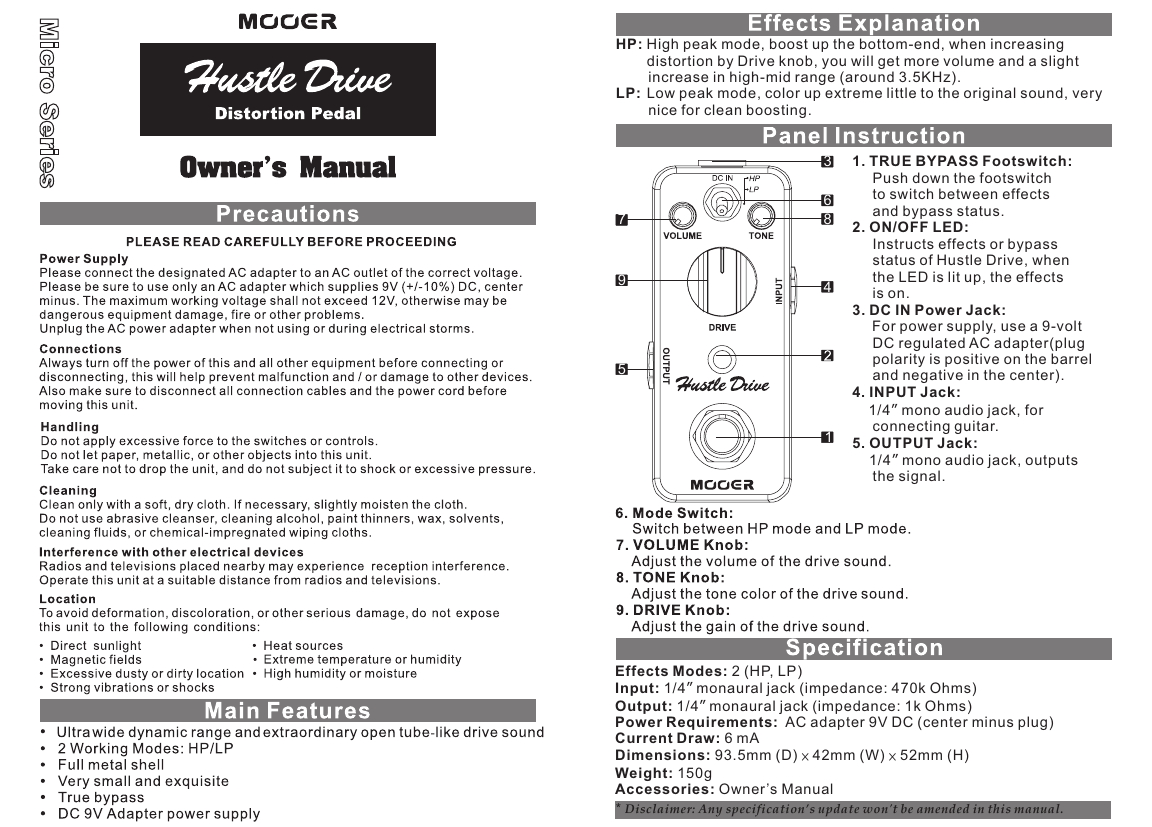 HP: High peak mode, boost up the bottom-end, when increasing
distortion by Drive knob, you will get more volume and a slight
increase in high-mid range (around 3.5KHz).
LP: Low peak mode, color up extreme little to the original sound, very
nice for clean boosting.
3
7
6
8
9
4
5
1
1. TRUE BYPASS Footswitch:
Push down the footswitch
to switch between effects
and bypass status.
2. ON/OFF LED:
Instructs effects or bypass
status of Hustle Drive, when
the LED is lit up, the effects
is on.
3. DC IN Power Jack:
For power supply, use a 9-volt
DC regulated AC adapter(plug
polarity is positive on the barrel
and negative in the center).
4. INPUT Jack:
1/4" mono audio jack, for
connecting guitar.
5. OUTPUT Jack:
1/4" mono audio jack, outputs
the signal.
Effects Modes: 2 (HP, LP)
Input: 1/4" monaural jack (impedance: 470k Ohms)
Output: 1/4" monaural jack (impedance: 1k Ohms)
Power Requirements: AC adapter 9V DC (center minus plug)
Current Draw: 6 mA
Dimensions: 93.5mm (D) × 42mm (W) × 52mm (H)
Weight: 150g
Accessories: Owner's Manual
* Disclaimer: Any specification's update won't be amended in this manual.

* Your assessment is very important for improving the work of artificial intelligence, which forms the content of this project