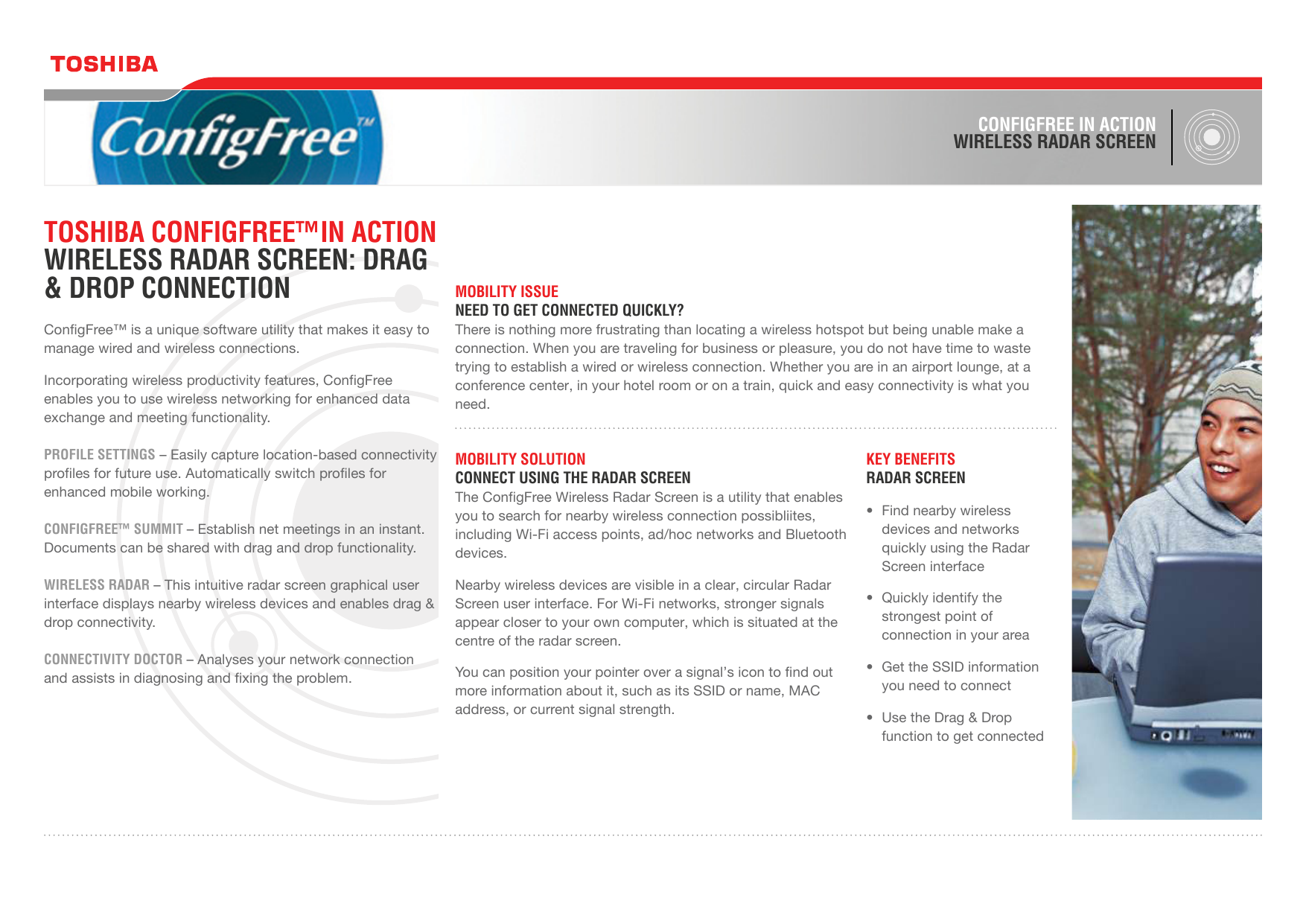 ConfigFree in action
Wireless Radar Screen
Toshiba ConfigFree™in action
Wireless Radar Screen: Drag
& Drop Connection
ConfigFree™ is a unique software utility that makes it easy to
manage wired and wireless connections.
Incorporating wireless productivity features, ConfigFree
enables you to use wireless networking for enhanced data
exchange and meeting functionality.
Profile Settings – Easily capture location-based connectivity
profiles for future use. Automatically switch profiles for
enhanced mobile working.
ConfigFree™ Summit – Establish net meetings in an instant.
Documents can be shared with drag and drop functionality.
Wireless Radar – This intuitive radar screen graphical user
interface displays nearby wireless devices and enables drag &
drop connectivity.
Connectivity Doctor – Analyses your network connection
and assists in diagnosing and fixing the problem.
Mobility ISSUE
need to get connected quickly?
There is nothing more frustrating than locating a wireless hotspot but being unable make a
connection. When you are traveling for business or pleasure, you do not have time to waste
trying to establish a wired or wireless connection. Whether you are in an airport lounge, at a
conference center, in your hotel room or on a train, quick and easy connectivity is what you
need.
mobility SOLUTION
Connect using the radar screen
The ConfigFree Wireless Radar Screen is a utility that enables
you to search for nearby wireless connection possibliites,
including Wi-Fi access points, ad/hoc networks and Bluetooth
devices.
Nearby wireless devices are visible in a clear, circular Radar
Screen user interface. For Wi-Fi networks, stronger signals
appear closer to your own computer, which is situated at the
centre of the radar screen.
You can position your pointer over a signal's icon to find out
more information about it, such as its SSID or name, MAC
address, or current signal strength.
KEY Benefits
Radar screen
• Find nearby wireless
devices and networks
quickly using the Radar
Screen interface
• Quickly identify the
strongest point of
connection in your area
• Get the SSID information
you need to connect
• Use the Drag & Drop
function to get connected
Wireless connections are easy
1
Connecting to a hotspot can be difficult at times for a number
of reasons.
On the radar screen
With the Radar Screen, you can see all of the nearby wireless devices in the
area. The devices with the strongest signal are easily identifiable, enabling you to
choose the best possible wireless connection.
First, it is often tempting to think that the closest access point
offers the best connection. However, this is not always the
case. The strongest connection possible may be to a device
that is further away.
Once a wireless connection has been found, Radar Screen indicates the type of
wireless network technology in use (802.11b or g). A small lock icon shows that
the network is protected via a WEP key.
Second, the user may find it difficult to find the information
needed to connect to a wireless network, such as the SSID.
Third, navigating the Windows settings in order to change
network connections may be difficult for users who rarely or
infrequently reconfigure their wireless settings.
The Radar Screen helps to identify the strongest point of
connection, provides the information needed to get connected
and prompts the user to change the settings.
2
Click on the access point or wireless device, then drag to draw a line to your
computer.
Overall, wireless connectivity is simpler and faster with
ConfigFree's Radar Screen for Drag & Drop connectivity.
Toshiba ConfigFree in Action: Wireless Radar Screen
Drag and drop connectivity for wireless and Bluetooth
For wireless networks, if this is the first time you are making a connection to this
SSID, the ConfigFree software presents you with a settings screen so you can
enter the SSID/WEP information. When connecting to this SSID in the future,
ConfigFree will open the Windows Connection dialog for you.
©2005. Toshiba Europe GmbH. While Toshiba has made every effort at the time of publication to ensure the accuracy of the information provided
herein, product specifications, configurations, prices, system/component/options availability are all subject to change without notice. For the
most up-to-date product information about your computer, or to stay current with the various computer software or hardware options, visit
Toshiba's Web site at www.toshiba-europe.com.

* Your assessment is very important for improving the work of artificial intelligence, which forms the content of this project