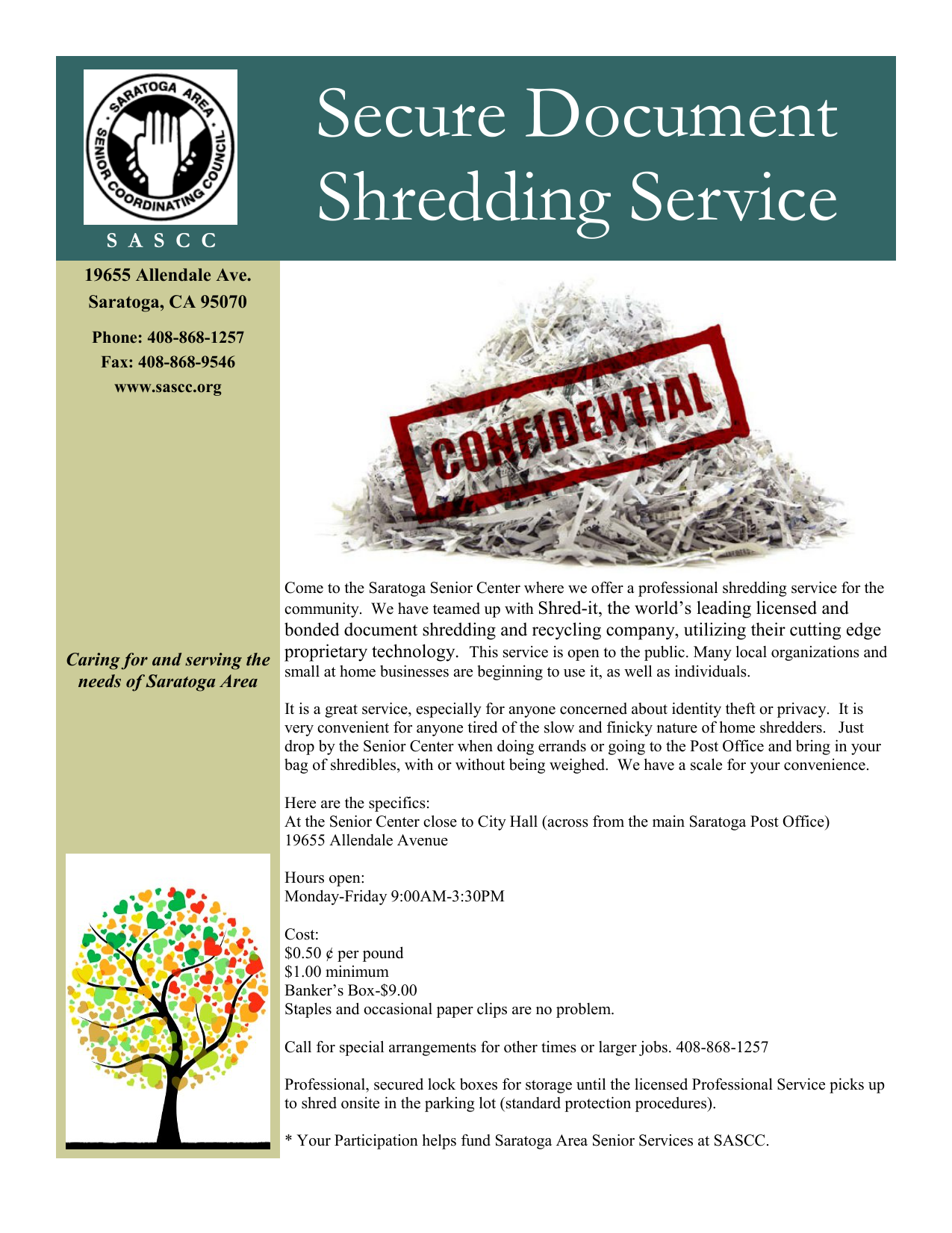 S A S C C
Secure Document
Shredding Service
19655 Allendale Ave.
Saratoga, CA 95070
Phone: 408-868-1257
Fax: 408-868-9546
www.sascc.org
Come to the Saratoga Senior Center where we offer a professional shredding service for the
community. We have teamed up with Shred-it, the world's leading licensed and
bonded document shredding and recycling company, utilizing their cutting edge
Caring for and serving the proprietary technology. This service is open to the public. Many local organizations and
small at home businesses are beginning to use it, as well as individuals.
needs of Saratoga Area
It is a great service, especially for anyone concerned about identity theft or privacy. It is
very convenient for anyone tired of the slow and finicky nature of home shredders. Just
drop by the Senior Center when doing errands or going to the Post Office and bring in your
bag of shredibles, with or without being weighed. We have a scale for your convenience.
Here are the specifics:
At the Senior Center close to City Hall (across from the main Saratoga Post Office)
19655 Allendale Avenue
Hours open:
Monday-Friday 9:00AM-3:30PM
Cost:
$0.50 ¢ per pound
$1.00 minimum
Banker's Box-$9.00
Staples and occasional paper clips are no problem.
Call for special arrangements for other times or larger jobs. 408-868-1257
Professional, secured lock boxes for storage until the licensed Professional Service picks up
to shred onsite in the parking lot (standard protection procedures).
* Your Participation helps fund Saratoga Area Senior Services at SASCC.

* Your assessment is very important for improving the work of artificial intelligence, which forms the content of this project