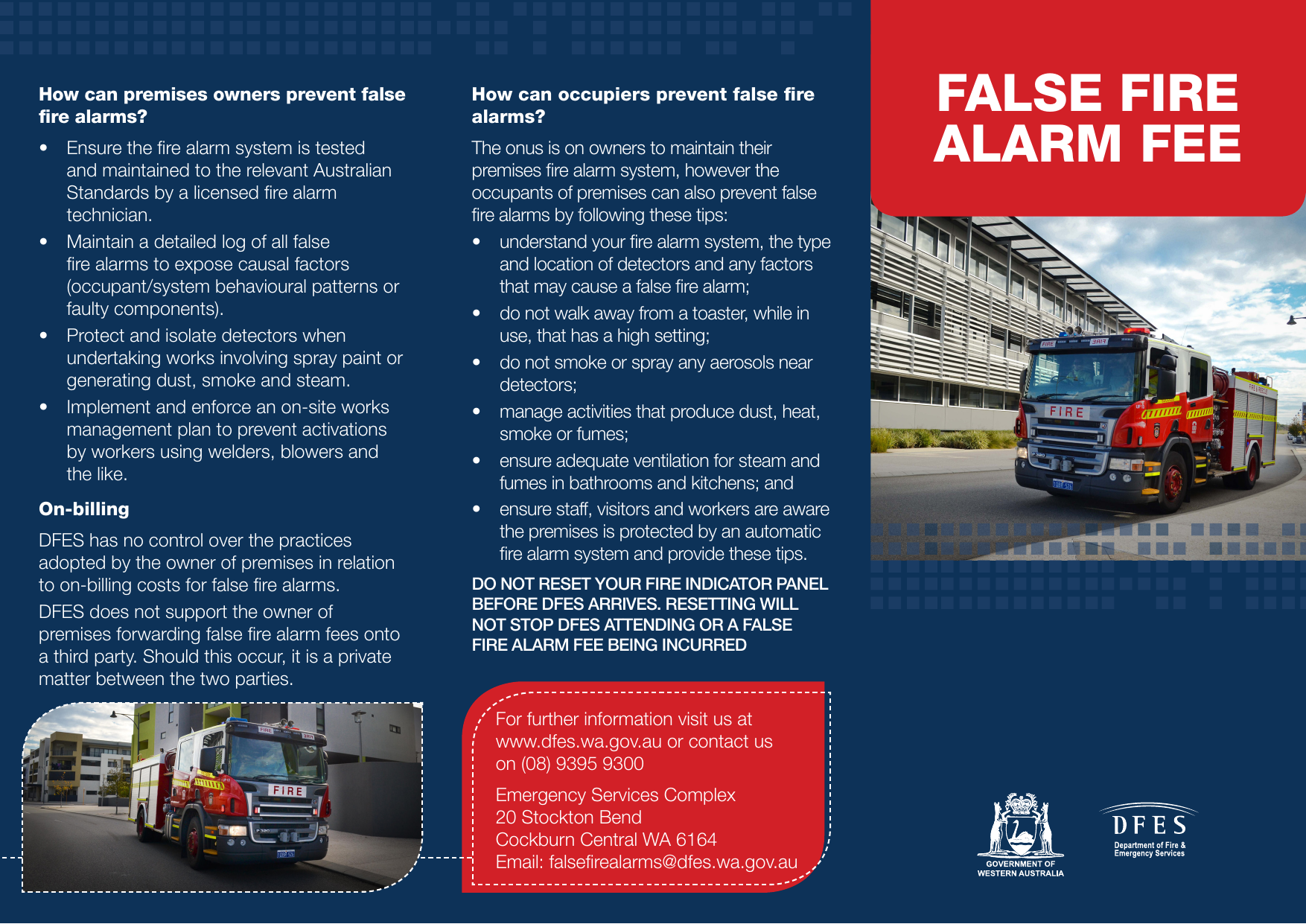 How can premises owners prevent false
fire alarms?
How can occupiers prevent false fire
alarms?
• Ensure the fire alarm system is tested
and maintained to the relevant Australian
Standards by a licensed fire alarm
technician.
• Maintain a detailed log of all false
fire alarms to expose causal factors
(occupant/system behavioural patterns or
faulty components).
• Protect and isolate detectors when
undertaking works involving spray paint or
generating dust, smoke and steam.
• Implement and enforce an on-site works
management plan to prevent activations
by workers using welders, blowers and
the like.
The onus is on owners to maintain their
premises fire alarm system, however the
occupants of premises can also prevent false
fire alarms by following these tips:
• understand your fire alarm system, the type
and location of detectors and any factors
that may cause a false fire alarm;
• do not walk away from a toaster, while in
use, that has a high setting;
• do not smoke or spray any aerosols near
detectors;
• manage activities that produce dust, heat,
smoke or fumes;
• ensure adequate ventilation for steam and
fumes in bathrooms and kitchens; and
• ensure staff, visitors and workers are aware
the premises is protected by an automatic
fire alarm system and provide these tips.
On-billing
DFES has no control over the practices
adopted by the owner of premises in relation
to on-billing costs for false fire alarms.
DFES does not support the owner of
premises forwarding false fire alarm fees onto
a third party. Should this occur, it is a private
matter between the two parties.
DO NOT RESET YOUR FIRE INDICATOR PANEL
BEFORE DFES ARRIVES. RESETTING WILL
NOT STOP DFES ATTENDING OR A FALSE
FIRE ALARM FEE BEING INCURRED
For further information visit us at
www.dfes.wa.gov.au or contact us
on (08) 9395 9300
Emergency Services Complex
20 Stockton Bend
Cockburn Central WA 6164
Email: falsefirealarms@dfes.wa.gov.au
FALSE FIRE
ALARM FEE
INTRODUCTION OF $750 FEE FOR ATTENDANCE TO A FALSE FIRE ALARM
What is a false fire alarm?
Why is DFES introducing the fee?
Legislation
A false fire alarm is when DFES is alerted to
attend a premises in response to an alarm
where there is no fire.
The fee is part of an overall DFES strategy
to minimise the number of false fire alarms
attended by firefighters. It is anticipated that
reducing the number of false fire alarms will
help to resolve the following problems:
• firefighters being unable to attend to a
genuine emergency;
• the ineffective use of DFES resources,
which means that DFES is not serving the
community as effectively as possible; and
• the increased risk to firefighters and the
community when firefighting vehicles are
driven under emergency conditions.
Section 36ZL(1)(d) of the Fire and Emergency
Services Act 1998 allows the Fire and
Emergency Services Commissioner to charge
for firefighters attending false fire alarms.
All other states within Australia charge for
false fire alarm attendances and have done
so for many years.
The risks
False fire alarms disrupt the community, lead
to complacency, cause business down time
due to evacuations and divert firefighters
away from genuine emergencies, which could
result in loss of life and property.
The facts
In 2014/15, firefighters responded to
9839 false fire alarm activations. This is
approximately 27 false fire alarm attendances
each day.
What is the false fire alarm fee?
DFES will introduce a fee of $750 during the
2015/16 financial year for repeat attendances
to false fire alarms. The owners of premises
will be given 30 days notice prior to the fee
being introduced.
The false fire alarm fee will apply after the third
false fire alarm attendance to a premises in a
financial year. DFES will issue an invoice upon
the fourth false fire alarm attendance and
every false fire alarm attendance thereafter.
Who makes the decision to apply the
false fire alarm fee?
The decision to issue a false fire alarm fee is
NOT made by firefighters attending the false
fire alarm. The firefighters only determine the
reason for the fire alarm activation.
DFES determines whether a false fire alarm fee
will be issued, in accordance with DFES' False
Fire Alarm Policy and the Fire and Emergency
Services Act 1998.
What are the main causes of false fire
alarms?
The main causes are:
• poor building maintenance
• detectors are:
- inappropriately placed and installed
- inadequate for their intended purpose
- dirty and require cleaning
• smoke from burning food
• steam from cooking and showers
• aerosol sprays (deodorant and hair spray)
• cigarette smoke and
candles
• building works
• damage to fire alarm
systems.

* Your assessment is very important for improving the work of artificial intelligence, which forms the content of this project